For security reasons, people would like to encrypt their PDF documents in many cases especially for confidential papers. Frankly, we could not stand the fact that we are unable to read or modify the PDF files because of forgetting password. The hinder of PDF security is so bothering. However, to hack PDF document security on Windows 7 is a good solution. Here what I must illustrate is this "hack a PDF" is a legal behavior authorized by PDF owners.
What is PDF Security Hacker?
Briefly, the being recommended PassFab PDF Password Remover is the very PDF Password hack software that can break PDF 1.7 password. You can use it to recover PDF owner/permission password so that to edit, copy, print PDF files directly. It is compatible with all Adobe PDF versions including PDF 1.0-1.7, Acrobat 9X, 10, and all Windows OS with fast and efficient work speed. The below guide will explain how to use it to unlock secured Adobe PDF files.
How to Hack PDF Document with Security?
With 3 simple steps, you can find your PDF permission password and to edit, copy, print PDF files without restriction. We provide the free PDF Password Remover trial version for a try. Download it below by pressing the icon.
Step 1: Import Secured PDF files
Launch the PDF 1.7 Password Hacker, you will get the interface as follows.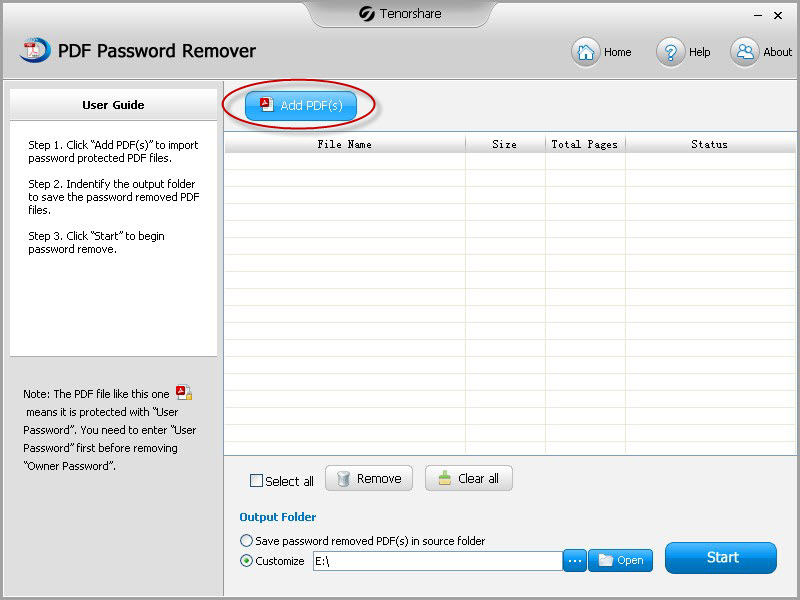 Click "Add PDF(s)", and navigate the folder containing the secured PDF files to import them into this program.
Note: you can click "Remove" to delete files respectively or "Clear all" to remove the task at one time.
Step 2: Specify PDF Files Output Path
You can output the password removed files to the same source an the original file or customize the path.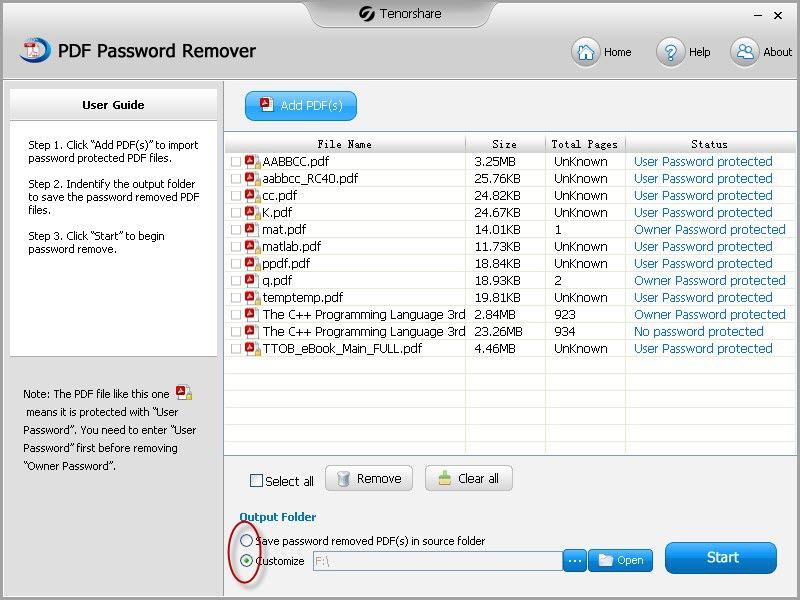 Step 3: Perform PDF Password Remove
Check the files whether they are the files you want to remove password for. If so, tick "Select all" and then you can click "Start" to begin the PDF decryption.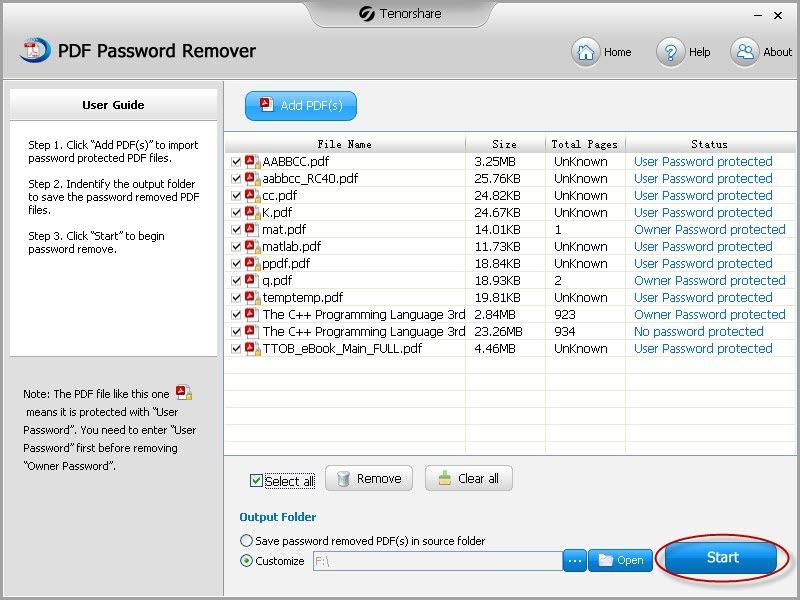 This process may take you a while, please wait for it patiently. When done, the following box will display.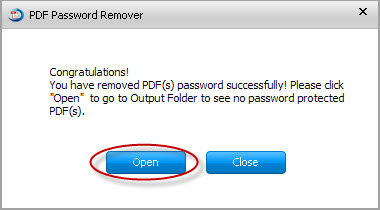 Now it is successful to open password protected PDF files. You can modify, copy and print the PDF secured files at once.
Note: If the PDF file is protected with "User password", please click the file and enter user password before removing owner Password. If you don't remember user password, either, you can get PDF Password Recovery from this link to recover open password and permission password at one time.