"Hi, I recently upgraded from Windows 7 to Windows 10. I didn't realize it was going to mess with my log in credentials just to get into my PC. Well, I'm locked out of my PC. I can't log on."
Maybe you have rushed to upgrade to Windows 10, but now the most annoying thing you are faced with is: you are entirely locked out of Windows 10! Sounds incredible? This page will cover details on how to reset Windows 10 password of both local account and Microsoft account.
Part 1. Reset Windows 10 Microsoft/Local Account Password with Windows Password Recovery Tool
A professional Windows 10 password reset tool is able to create password reset disk for locaL/Microsoft user account and easily reset Windows 10 password. 4 Steps are listed.
Step 1: Download and install Windows 10 password recovery tool into an available computer and launch it.
Step 2: Burn the Windows 10 password recovery program into CD/DVD/USB flash drive with Quick Recovery or Advanced Recovery Wizard.
Step 3: Going to BIOS and set your computer to boot from the newly burned disk.
Step 4: Select your operating system, then you can choose to reset password for any login account or create a new account with administrator privilege.
Followed the all of the steps stated to reset Windows 10 password, you will be able to login to your Windows 10 system. It's very convenient and time-saving.
Part 2. Reset Windows 10 Password with Password Reset Disk (Apply to Local Account)
It is the most traditional way to reset a Windows 10 password with a password reset disk you created. Note that this method requires you to create a password reset disk before you forgot the password. Below is how to use it for Windows 10 password recovery.
Step 1: Click "Reset Password" after entering an incorrect password for your local account on the sign in screen
Step 2: Plug the password reset disk into your computer's available USB port.
Step 3: Follow the steps on Password Reset Wizard window to reset your Windows 10 admin password.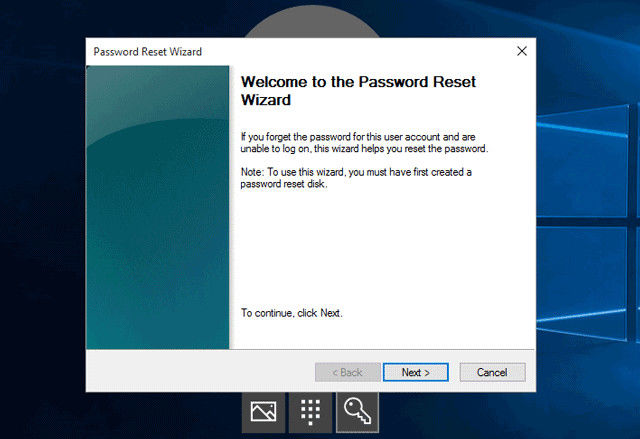 Part 3. Reset Windows 10 Password Free Online (Apply to Microsoft Account)
Many users use Microsoft account to sign in Windows 10. Toreset a lost Microsoft account password, you can use any device (for example, another PC, a smartphone or tablet) that is connected to the Internet and go to the Microsoft online password reset tool.
Step 1. Viste the Microsoft Account Password Reset page: http://go.microsoft.com/fwlink/p/?LinkId=242000 and click on "Forgot my password" link.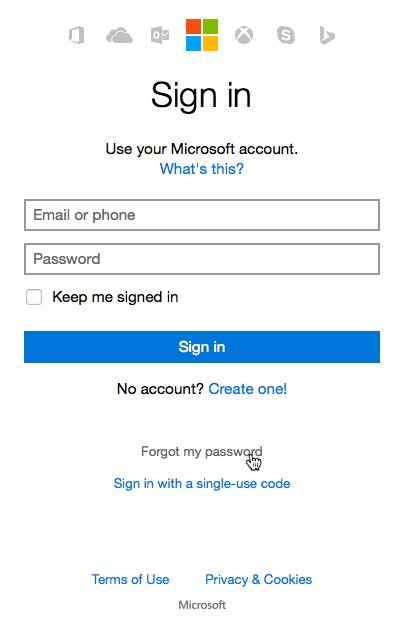 Step 2. Enter the email address you use as your Microsoft account. For security purpose, type the letters represented by the captcha to prove you're human.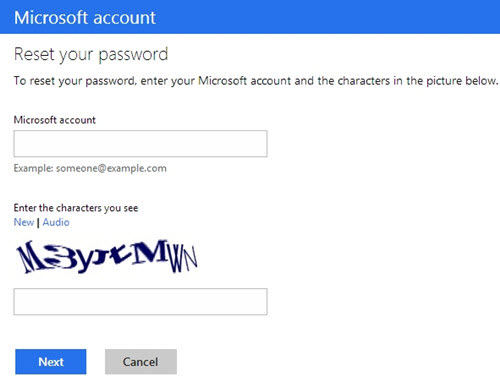 Step 3. Next, you will see We need to verify your identity screen. Here, either select the alternative email address that you had provided while creating the account to receive the security code
Check your email account or cell phone and get the security code. Enter the security code you just received and click Next to reset your password.
Part 4. Login with Other Sign-in Option (PIN, picture password or another administrator account)
If you can still log into Windows 10 with PIN, picture password or another administrator account, then you can login to your PC and open an elevated Command Prompt to reset/bypass Windows 10 password easily.
Here's how to bypass administrator password Windows 10 using Command Prompt:
Step 1. Press Windows + R to open Run and type in cmd and hit Enter to open it.

Step 2. Enter the following command into the Command Prompt Window and press Enter.
net user Administrator *

Step 3. Press the Enter key twice without entering a password
So we have offer you 4 options to reset or bypass Windows 10 password efficiently. Windows Password Reset tool offers you the easiest way to perform Windows 10 password reset/bypass. Go ahead and give it a try.
Free Try Windows Password Recovery Tool
World's 1st Windows Password Recovery Software to Reset Windows Administrator & User Password.
Free Download
Free Download