After spending a lot of time on searching on the Internet, you downloaded a PDF file you thought it would help you. When you are trying to copy the texts on it, but only found the PDF file is protected with a password. You failed to perform any task on this file.
Is there a tool available that can hack PDF 1.7 password? Someone asked me this question on Twitter the other day and the answer is obviously YES.
Adobe PDF 1.7 Password Cracker is one piece of easy yet professional software that enables you to crack PDF security and let you edit, copy and print PDF files flexibly. This program use advanced password-cracking techniques like Brute-force Attack, Mask Attack and Dictionary Attack to finish the PDF password cracking task in an easy method. Compared with some PDF password cracker online or PDF password cracker freeware, it is 100% safe since it never leak out your content on PDF files.
Following you can find a step-by-step tutorial of how to crack PDF password:
Part I. How to Crack Password-Protected PDF Files?
Step 1: Import Encrypted PDF Files
Download, install and launch this PDF Password Remover. On the main interface, click "Add PDF(s)" to import password-encrypted PDF files to this program. It supports batch decryption – decrypt PDF password for up to 200 PDF files.
Open Password Protected PDF Files for up to 200 PDF files.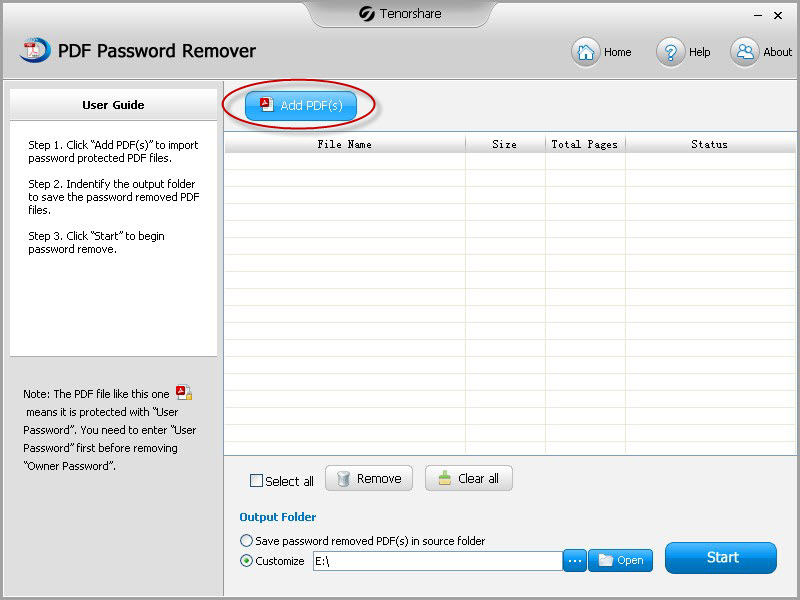 Step 2: Select the PDFs that You need to Crack Password
All the files are listed with size, pages, and status (like user password protected) shown. Tick the ones you want to crack password from, or choose "Select all" to select all the files you have loaded.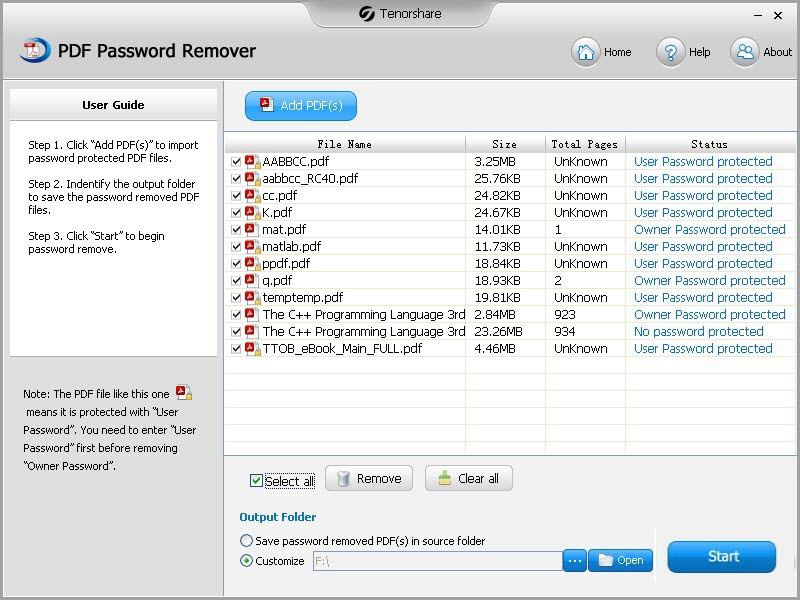 Step 3: Specify the Output Folder to Save the Decrypted PDF
Click "Open" and select a location as the output folder. Or save the password-cracked PDF files in source folder.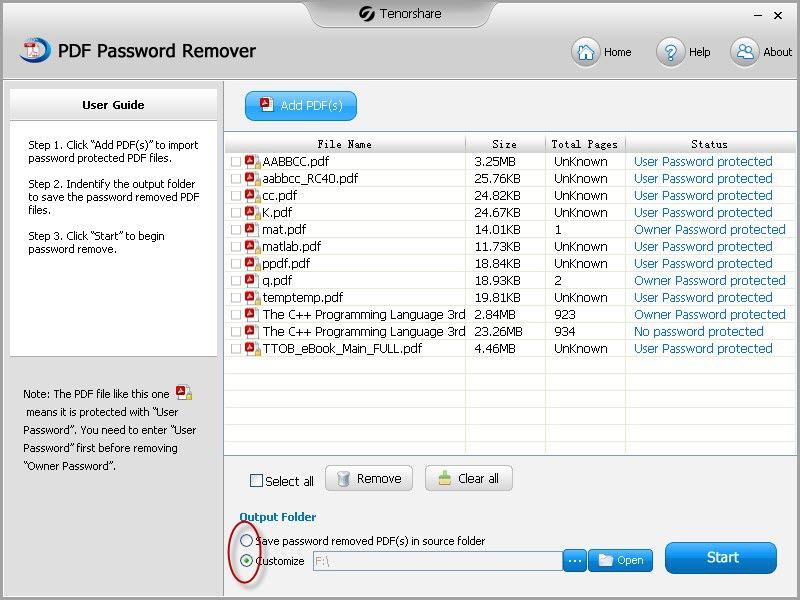 Step 4: Start PDF Password Cracking
After everything is ready, hit "Start". Then you have finished the task: Crack PDF print password, crack PDF print password and crack PDF copy password.
Part II. Get Foxit Reader and CutePDF Writer to Crack PDF Password Free
Step 1: Download the two tools
The Foxit Reader and CutePDF Writer are both free. Get Foxit Reader to open secured PDF file and write it to a PDF printer. CutePDF Writer is a PDF printer. Trying this process using the Adobe reader and printer will result in the security preventing the writing process.
Step 2: Get Foxit Reader to open secured PDF file and print file to CutePDF Writer
Use Foxit Reader to open the secured PDF file. Select File, then Print to open the printer menu. Print the secured PDF file to CutePDF Writer. Save the printed file to your computer as a new PDF file.
Step 3: Save printed file
Save the printed file to your computer as a new PDF file and then open the file. Go to File - Properties - Security tab to see your new PDF file's restrictions.
Open your new file. You can check the security settings by clicking File, then Properties. The security settings are detailed under the Security tab.