When you order an eBook or other proprietary documents online in PDF format, usually the owners of the document make it read-only and set up protection for the PDF files with passwords. You can't perform any operation on them, like editing, printing and copying. That' so annoying. Especially if they are the applications or the documents that needs your editing.
If you can unsecure Adobe files, fill out the information and send it back, it would be much easier than typing the contents on it again, printing the sheet out, finding a pen that works, filling the form out. Stuffing it in to your fax machine or scanning it back in and uploading the file to your Email! Well, thank God! There is an easier way. Just unlock PDF 1.6 password .
Part I: How to Unlock PDF Free Online?
Note: If the locked PDF file is no larger than 5 MB with Owner Password/Permission Password, you may try the below method.
Step 1: Upload locked Adobe file
Go to pdfunlock dot com, you can upload PDF files via "My Computer", "Dropbox" or "Google Drive". If you choose "Dropbox" or "Google Drive", you have to sign your account to select locked PDF files. Then uploading will begin once click "Unlock!" button. Just waiting...
Step 2: Save unlocked PDF file
If uploading completes, you will need save your unlocked PDF file on your computer. Open the file to see whether the permissions are still there. Go to File - Properties - Security - Security Method - No Security. Also, you will many items are labled "Not Allowed", such as Commenting, Signing, Creation of Template Pages, etc. This needs you pay for Pro version.
Part II: How to Unlock PDF (the Short and Sweet Version):
What you need to prepare for unlocking secured PDF files:
The first method you can try is Safe Mode in Windows 8. It takes great time and has no internet. But it is worth a try if you can get into Safe Mode.
A working computer
Secured PDF files
A piece of useful PDF Unlocker software: PDF 1.6 Password Remover for Windows 8 is a reliable program that allows you to unlock secured PDF files. You can unlock PDF editing, unlock PDF print protection, and unlock PDF copy protection.
Step 1: Import Secured PDFs
After downloading this PDF Password Remover program, install and launch it. You will get a simple and user-friendly interface like below. Click "Add PDF(s)" and navigate the PDF files in the popup. You can import up to 200 files at one time if needed.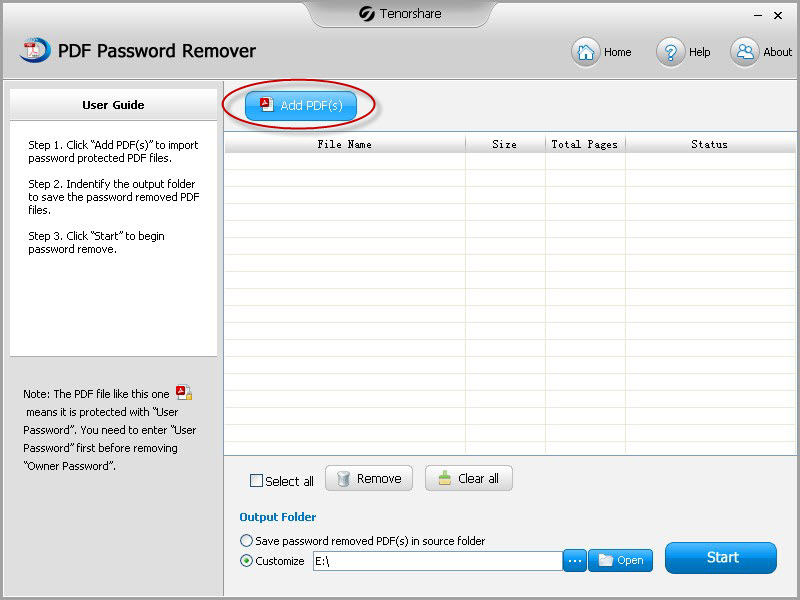 Step 2: Select the PDF Files You Want to Unlock
Tick "Select all" to choose all the files you have imported. If you changed your mind and just want to unlock particular PDF files, just select them selectively.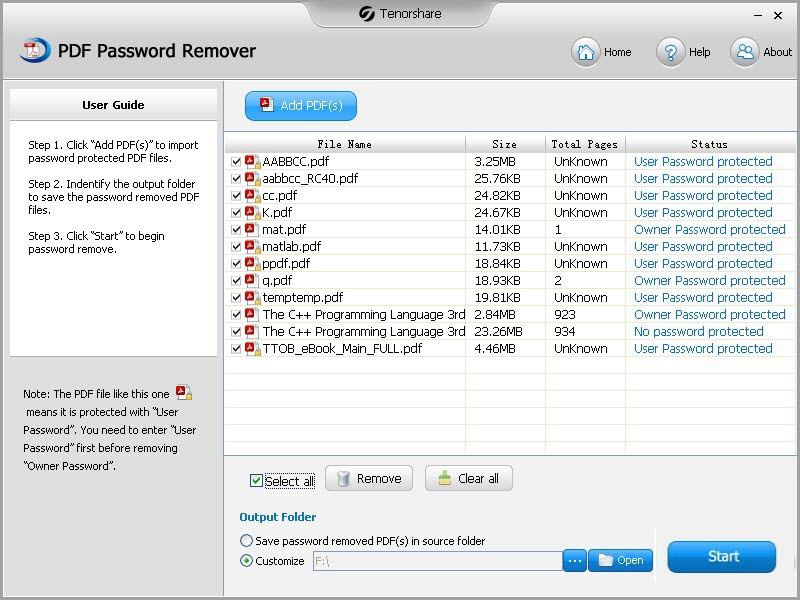 Step 3: Specify a Folder to Save the Password-unlocked PDFs
Click "Open" next to "Start" to choose a location on your computer to save the to-be decrypted PDF files. Otherwise, choose to save them to the source folder.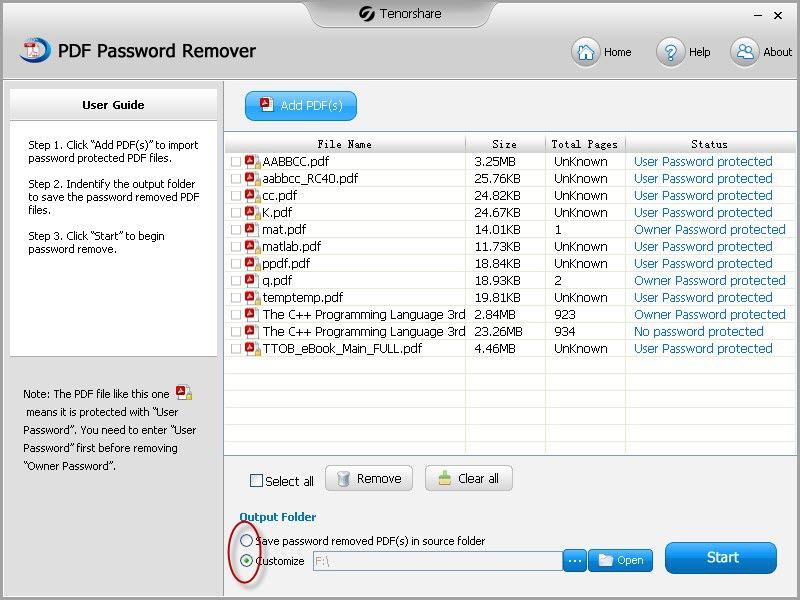 Step 4: Start to Unlock PDF Security
Then you can start to unlock password protected PDF now. After a while, a window pops up and reminds you have already remove PDF owner password.