Why Need iPhone Backup Password Recovery
iTunes keeps requesting iPhone backup password but you never set.
Lost or forgot password for iTunes backup and can't restore backup to your new iPhone.
iTunes prompts you the password you entered to unlock your iPhone backup was incorrect or unworking.
Want to remove password from your encrypted iTunes backup but iTunes can't do.
Instantly Recover iPhone, iPad, iPod Backup Password
Can't unlock iPhone backup? iBackupUnlocker is here to save you out from any encrypted iPhone backup password problems.
Crack iPhone backup password and enable you to access your data successfully.
Turn off iPhone backup password to get rid of the annoying password prompting.
Fully support iPhone X, iPhone 8, iPhone 8 Plus, iPhone 7, iPhone 7 Plus, iPhone SE, iPhone 6s, iPhone 6s Plus, iPhone 6, iPhone 6 Plus, iPhone 5s, iPhone 5c, iPhone 5, iPhone 4S, iPhone 4, iPhone 3GS, iPad Pro, iPad Air 2, iPad mini 3, iPad Air, iPad mini 2 (iPad mini with Retina Display), iPad 4, iPad mini, iPad 3, iPad 2, and iPod Touch (all generations) devices.
Compatible with all versions of iTunes and iOS (including iOS 11/10.3/10.2/10.1/10/9/8/7).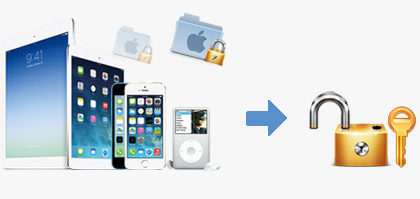 3 Powerful Decryption Techniques
This powerful iOS backup unlocker offers 3 methods for you to decrypt iPhone backup encryption with 100% recovery rate.
Brute-force Attack. If you forgot the password completely, this type of attack will try all possible characters combination randomly.
Brute-force with Mask Attack. You can use this attack if you still remember part of your password. Such as password length, character set, etc.
Dictionary Attack. This attack is intended to seek the possible password based on a dictionary. This dictionary can be the integrated one or the one you provide.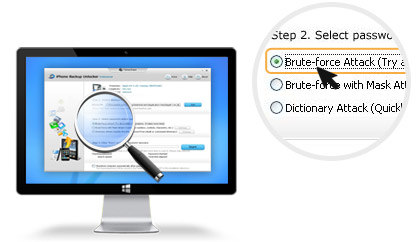 Fast and Efficient iPhone Backup Unlocker
Providing a much faster speed in cracking iPhone backup password with GPU acceleration when one or several ATI or NVIDIA video cards are installed.
5x faster: Average decryption speed is 4000 password/second, with GPU acceleration the speed could reach to 20000 passwords/second.
Support AMD Radeon HD 7000 series and GeForce GTX 650。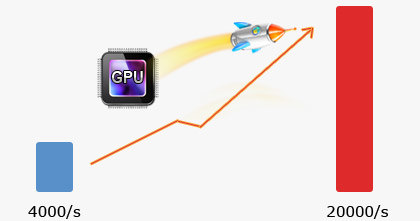 3 Steps Only, Easy to Use for Everyone
It is the easiest tool to hack iTunes backup, with which you can unlock iPhone, iPad and iPod touch backup password in iTunes with only 3 steps.

Choose the perfect iBackupUnlocker (iPhone Backup Unlocker) for You!
 Features
 Standard
Professional

Support for iOS 7/8/9/10/10.1/10.2/10.3/11/12
Support for iPhone 4/4S/5/5c/5s/6/6 Plus/6s/6s Plus/SE/7/7 Plus/8/8 Plus/X
Support for iPod touch and iPad
Brute-force Attack
Brute-force with Mask Attack
Recover iTunes backup password
Remove iTunes backup password
-

GPUs supported, 5X faster

-
Price:

$49.95


Buy Now

$69.95


Buy Now
Free Trial:
Free Trial
Free Trial
Users of iBackupUnlocker Have Surpassed 840,000+ Worldwide.
The user evaluation
"The program did a great job. I just used it to delete password from my encrypted iTunes backup which iTunes didn't allow me to do. I will recommend it to anyone I know that need this kind of product."

--Geoff Hunt