When you are trying to open a critical sales report in PDF format your former colleague created before, you find that it is protected with a password. In his absence, you have no choice, but to find a solution to unlock and open the encrypted PDF files.
Here you should figure out what kinds of passwords you need to decrypt. Normally, you are allowed to apply two types of password: owner password (permission password) and user password(document open password). User password is protected you from opening this encrypted PDF file, while owner password will restrict you in certain actions like printing, editing and copying.
To unsecure encrypted PDF, you need to remove user password firstly. PDF Password Recovery is a program to decrypt password-protected and restricted Adobe Acrobat PDF files which have either owner password or user password, preventing file from opening, editing, copying, and printing. Decryption is done instantly. Decrypted file can be opened in any PDF viewer (e.g. Adobe Acrobat Reader) without any restrictions. All versions of Adobe Acrobat (including 11.0) are supported. 
Just as a quick disclaimer: PDF decryption should be only be used legally, like you have permission to view the PDF but you forgot the password.
The process is straightforward, here is how to open secured PDF files.
Part I: For PDF File with Owner Password, to Hack Adobe File Password with Google Drive
Pros: Get text from PDF file.
Cons: Limitation for per file uploaded size: 2 MB; Couldn't save all formats.
Step 1: Access Google Drive with Your Google Account.
After you login your Google account and open Drive, on the right last corner, click the Setting icon and open its menu. Choose "Convert text from uploaded PDF and image files." from the "Upload settings".
Step 2: Upload PDF file.
Click the red UP arrow button next to the left red Create button. Then select your encrypted PDF file by choosing "Files…" from the drop down menu. Then Drive will upload the chosen PDF document and convert it to test PDF file under Drive folder.
Part II: How to Open Password-Protected PDF File?
Step 1: Import Password-protected PDF files
Download PDF Password Remover, and then install it on your computer. Click "Add PDF(s)" to load open-restricted PDF files.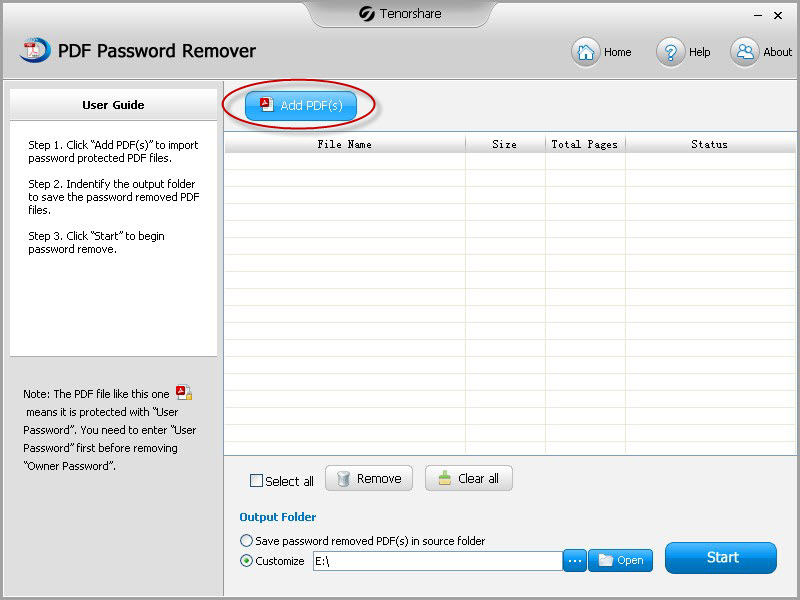 Step 2: Select PDF Files to Unprotect
All the files are displayed on the interface, and you need to tick the ones you need to remove PDF open protection. There are also several shortcut options, like "Select all", "Clear all" if needed.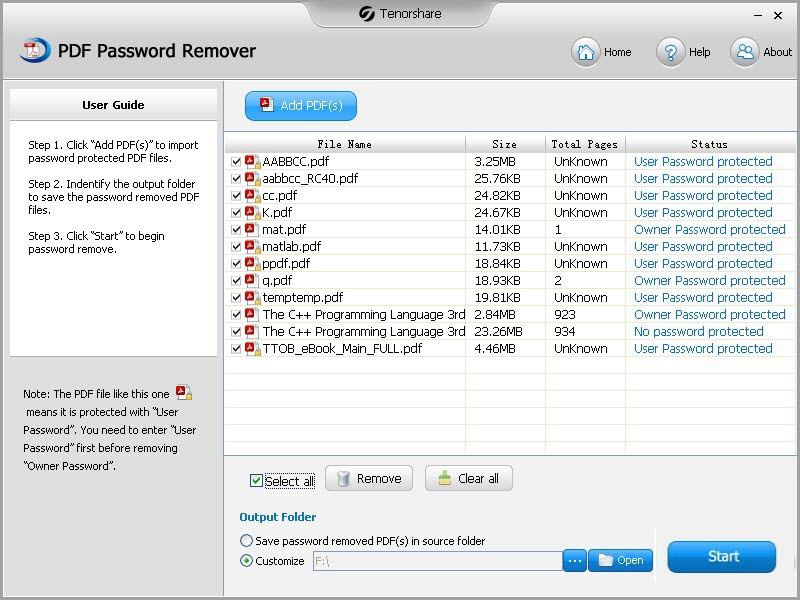 Step 3: Specify a Location to Save the Unsecured PDF Files
Specify a folder on your computer to save unsecured PDF files by clicking "Browse" button and navigating a folder. Alternatively, choose the source folder.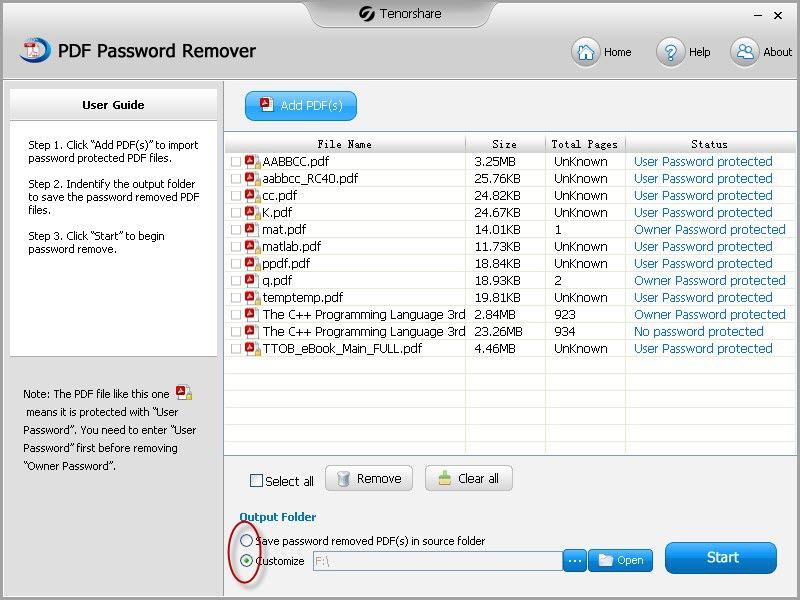 Step 4: Start to Unprotect PDF Open Protection
Click "Start" to unsecure PDF files with open passwords. After a while, a window pops up and reminds you have already done.
Step 5: Open Password-protected PDF document
Click "Open" to open the output folder. Right-click on a secure PDF document, Select "Open With..." and then select Adobe Acrobat or Reader from the context menu. Enter the password for the secure PDF into the login prompt. The PDF document will open instantly.