With its beautiful interface and diversified editions, Windows 10 is now available for download. If you have upgraded to Windows 10, it would be necessary for you to make a bootable disk immediately to avoid Windows boot problems in the future. A boot disk can contain Windows startup files that your computer could use to start Windows if Windows system files became damaged or unusable.
Usually it is time-consuming and complicated for Windows users to follow the instructions to make a boot disk by themselves. Is there any easier way to make a bootable disk for Windows 10? How to do that? Here we recommend you Windows Boot Genius, which can help you to create a boot disk in an efficient and easy way.
Things You Need to Know Before Start
1. There are two choices to make a bootable disk for Windows 10. You can choose either USB disk or DVD. Generally speaking, USB offers some advantages like faster read and write speeds. These days USB is much popular since you are also likely to have a USB drive lying around. And many computers today may not have a DVD drive.
2. Make sure that the USB or DVD (if rewritable) you pick to be your Windows 10 bootable media has no important data on it.Since the process will format the drive, and you will lose everything on it.
3. Make sure that the drive is of minimum 4GB capacity, as the process requires at least 3GB of space.
Detailed Steps to Create a Windows 10 Boot Disk
1. Download Windows Boot Genius and install it on your computer.
2. Insert your chosen CD/DVD or USB flash drive to thecomputer. Then launch Windows Boot Genius. Choose CD/DVD or USB flash drive in the main interface, and then click "Burn" to begin boot disk creation.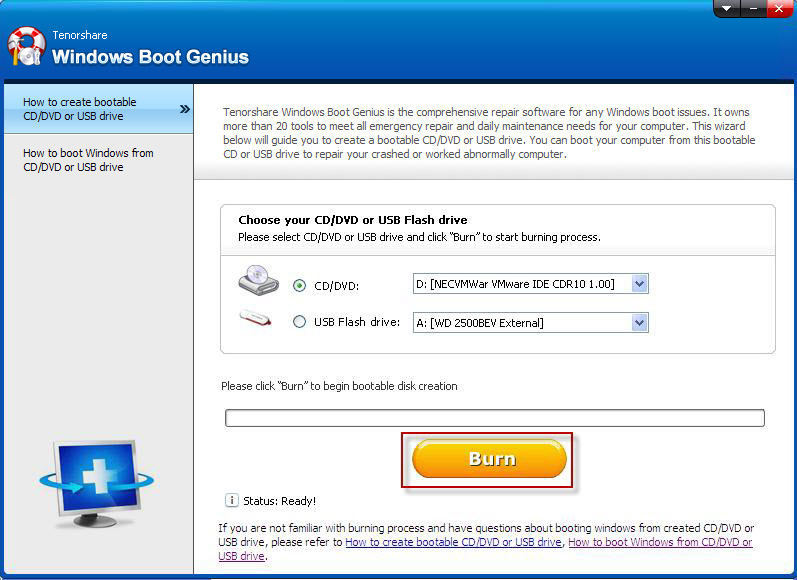 That's all for creating a Windows 10 bootbale CD/USB. After this, you can boot up computer to Windows 10 from the newly created boot disk.
After successfully creating the Windows 10 bootable disk, you can preserve it and use it when necessary. You can use it when you come across some problems when you boot your computer, such as blue screen of death, Windows 10 boot loop, freeze or Windows crash. In addition, it is also able to recover lost photos, videos and documents from a crashed computer.