"Why does it take so long to delete files in Win 10? Over last few weeks I have been noticing that when I go to delete a file or move it another folder it will actually take around 5-10 minutes to actually execute. The process hangs for a bit and weird thing is that it doesn't do it every single time. How can I improve files transfer speed on Windows 10 quickly?"
We all know that when moving files on Windows 10, the large size of the files, the longer time it will take. However, sometimes the copy speed is very slow in Windows 10 and seems like the process won't end forever. Running too many applications at the same time will be one of the reasons for this issue, but in most cases, lack of memory space may be the real reason. Here we car going to list you the most common methods to fix Windows 10 slow transferring or copying speed.
Way 1: Fix Windows 10 Very Slow File Transfer by Optimizing Hard Disk
Whenever Win 10 takes a long time to delete files, the first thing we can do is to check the hard disk and optimize it.
Go to My Computer, This PC, right click on any drive and choose properties
Go to Tools tab and choose "Optimize"; under Optimize and Defragment drive
Select all the drivers and click on Analyze, if any drive shows that it needs optimizing, optimize it.

Way 2: Turn off Thumbnails to Speed up Copying Files on Windows 10
When you organize files using File Explorer, it will generate a thumbnail of each file, which will slow down the file operations. Follow the steps to disable thumbnails to fix Win 10 file transfer stuck at 99 percent, 5 seconds remaining and other circumstances.
Click the File Explorer icon on the Taskbar and check "View"; on the Ribbon interface
Now you can see the pane and settings, click "Option"; and a new dialog "Folder Options"; will open
Click the "View"; and check "Always show icons, never thumbnails";, click "Apply"; and "OK"; to turn off the thumbnails.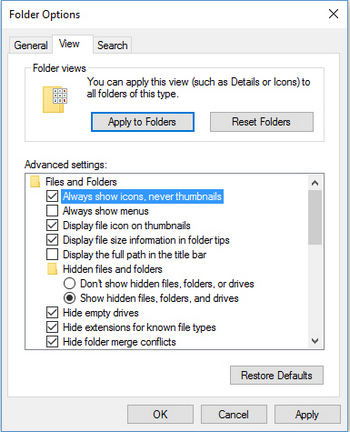 Way 3: Disable Remote Differential Compression to Optimize Win10 File Moving
The Remote Differential Compression enables syncing data using compression techniques, when Win 10 copy or delete files slow; you can turn off this feature to speed up the process.
Type "Windows Features"; in the search box
Open "Turn Windows Features On or off";, uncheck the box named "Remote Differential Compression"; and click "OK";.
After that, turn off your computer and start it again.
Way 4: One Click to Fix Windows 10 Taking Long Tine to Delete or Move Files and Folders
If your Windows 10 computer still stuck in copying files after trying the methods above, you may need some professional help. Free Download and try Windows Care Genius, the professional PC cleaner and optimizer to speed up your computer to gain its top performance.
Run the software and click "Checkup" to check the health of your PC'S health status.
After that, click "Fix"; to settle potential risks and release memory.
When the fixing process completes, you can also switch to "System Cleaner"; and "System Tuneup"; to clean your Windows computer deeply.
With the effective methods above, Windows 10 copying or deleting files slow issue must be fixed successfully. If you still have any questions, feel free to contact us.