"Hi, how to stop System Idle Process? At times my laptop Windows 7 is very slow and when I check the task manager, the SIP's are running, using up to 98% of CPU. All I have running are routine programs such as a word or card game and IE. Just wondering if this is normal and if not, what can I do to resolve this. Thanks!";
When opening the Windows Task Manager , and then clicking on the "CPU"; column to sort by CPU Usage, you may notice that the "System Idle Process" is high and almost takes up a full 70%~99% of your CPU's resources. But you have no idea about what System Idle Process is and why it is using most of the CPU? Don't worry! You'll get the answers here.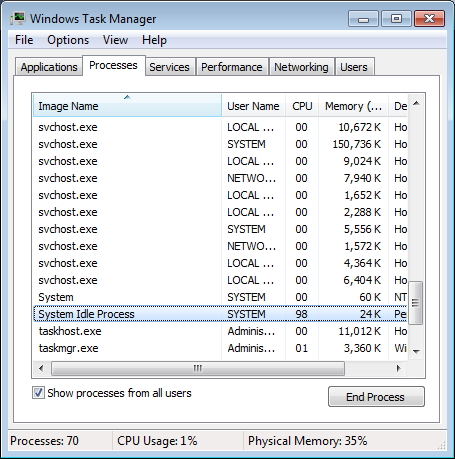 Part 1: What is System Idle Process?
In Windows, System Idle Process contains one or more kernel threads which run when no other runnable thread can be scheduled on a CPU. "Idle" means "not doing anything." If the System Idle Process usage at 100%, indicating that nothing is using your CPU resources.
Part 2: Why System Idle Process Use Most of the CPU on Windows 10/8/7?
There are a lot of people confuse that why System Idle Process on their computer is so high. Actually, the "System Idle Process"; is the software that runs when the computer has absolutely nothing better to do.
If you are not running any programs or just a few programs on the computer, a high idle is possible because the processor is not doing much and just waiting for more commands to process.
So if your PC runs slow it is not the fault of System Idle Process, and the issue lies elsewhere. Below we will show you how to health check your computer and speed up it for best performance.
Part 3: How to Fix High CPU Usage on Windows 10/8/7 PC?
CPU usage can sometimes go out of control because of junk files, invalid registry, etc. The easiest way to diagnose it is giving a comprehensive health check of your computer. Windows Care Genius is such a program that can fully health check your PC to find the causes leading your PC slow and fix them efficiently.
Run Windows Care Genius and click "Checkup" button, then the software will automatically find the potential security problems.
After scanning, Windows Care Genius will list the whole health state of your PC and the existing junk files, useless files and invalid registry entries on your PC. Click "Fix" button to clean up all of them in one click.
Switch to System Cleaner to deeply clean all invalid registry entries, useless files, download history, browsing history, form history, invalid shortcuts, traces, cache, cookies, etc. and slims down your system.
Finally use System Tuneup to speed up system, defrags registry and disk, and manages startup and service with 1 click.
So we have showed you what System Idle Process is and why it is using most of the CPU, and also introduce an easy way for you to fix high CPU on Windows 10/8/7.