Recently, statistics from the Net Applications website shows that Windows 8 surged dramatically over the last month (August), gaining 2.01 percentage points – up from 5.4% to 7.41% versus 7.3 percent for all OS X installs.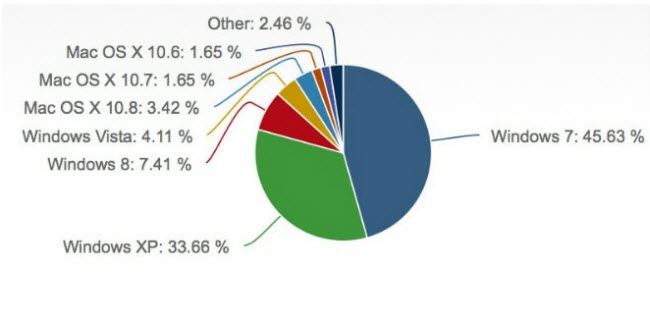 This is the first time that Windows 8 overtakes Apple OS X. But this is a fact we need to notice that Apple's dominance in tablets means that it is still beating Windows 8 where most observers believe it counts.
Last fall, Microsoft launched Windows 8, its touch screen-friendly reboot of its desktop OS. It has takes half a year for it swung from zero to a 7.4% market share. Earlier at the beginning of July, Windows 8 has barely surpasses Windows Vista OS.
From Net Applications website's statistics, Windows 7 remains the most popular desktop operating system in the world with a 45.6 percent share, up from 44.5 percent in July. The next most popular is Windows XP, released in August of 2001 but still running on 33.66 percent of sampled desktops. Windows Vista accounted for only 4.11 percent share.
Though, Windows 8 has been complained as a flop since it was released. But now Windows 8 is starting to build momentum despite the criticisms. When it comes to desktop operating systems, Windows is a juggernaut, so it would be a hard time to get move at first, but you can't stop it.
The Reasons for Windows 8's Surge
Reasons for Windows 8's surge are hard to say. One reason can be Microsoft's introduction of the Windows 8.1 preview last June. The altered version of Windows 8 adds more functionality and gives back a certain degree of user choice with regard to interface options. What's more? It can be downloaded for free by all Windows 8 users via the Windows Store.
Other possible reasons could be that Microsoft recently announced to cut the price on its Pro tablets and Surface RT and Pro tablets, and the demise of Windows XP –on April 8, 2014, Microsoft will stop delivering security updates for Windows XP.
No matter for what reasons, the fact is that Windows 8 is starting to be accepted by people and there will more market share for Windows 8 after the release of Windows 8.1 in October 17.
Free Try Windows Password Recovery Tool
World's 1st Windows Password Recovery Software to Reset Windows Administrator & User Password.
Free Download
Free Download