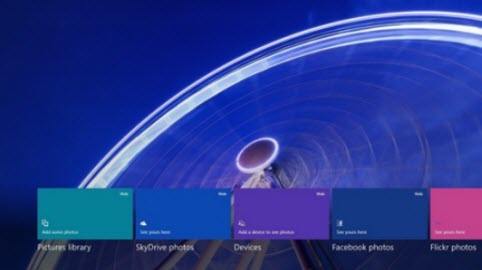 It is said that Microsoft will drop Flickr and Facebook photo integration in Windows 8.1. Moreover, the Photos app in the Windows 8.1 preview also no longer shows images from network storage or from SkyDrive. But these changes haven't been confirmed permanently.
Once in Windows 8, Microsoft was very much eager to show that the apps built on both the system for viewing photos have been exclusively made for synchronizing all the data related to pictures from the various networking sites such as Flickr and Facebook, so why Microsoft drops the integration for Facebook and Flickr from the Photos App in Windows 8.1?
Why Microsoft Drops Integration for Facebook and Flickr from the Photos App in Windows 8.1?
According to Microsoft Community Forum Post, the reason is that the Facebook and Flickr integration would be a temporary fix for the mean time till more apps are ready to be launched in the Windows App Market.
"In Windows 8, we wanted to provide a way for users to view their photos on other services knowing there would be few apps in the store at launch that would do so," a Microsoft spoke-person commented on a post in the forum said: "Now there are many apps in the store that offer ways to view photos on other services, and soon there will even be a Facebook app from Facebook."
Is There Any Other Apps to See Integration for Facebook and Flickr in Windows 8.1?
Of course, there is. From the report we can see that social network integration is still available through the other apps in Windows 8.1. Facebook recently committed to building a Windows 8 app, and it's possible Microsoft could be planning to allow the Photos and Facebook apps to share data. Microsoft also welcomes Flickr to do the same. And the People app in Windows 8.1 will continue to include the usual Facebook integration.
By now, we are still waiting Microsoft to confirm whether the decision to remove the Facebook and Flickr photos integration is final, but it seems likely. As a user disappointed with the dropping the integration for Facebook and Flickr from the Photos App in Windows 8.1 can either continue using Windows 8 or turn to other apps which provide the same service.
P.S.:Want to view more changes in Windows 8.1? Click here directly.
Free Try Windows Password Recovery Tool
World's 1st Windows Password Recovery Software to Reset Windows Administrator & User Password.
Free Download
Free Download