Microsoft Corp. has decided to return the Start button to Windows 8.1 "Blue" operating system, according to a new screenshot that was published on Wednesday. Unfortunately, it will not work as the good-old Start button from Windows 7, but users will be able to customize how it works and therefore improve their comfort with the Windows 8.
Microsoft will first demonstrate Windows 8.1 updates at Build Conference June 26th in San Francisco. A public preview of Windows 8.1 will be available for anyone to download at that point. Let's see the improvements in Windows 8.1 and the enhancements of Windows 8.1 over Windows 8 respectively.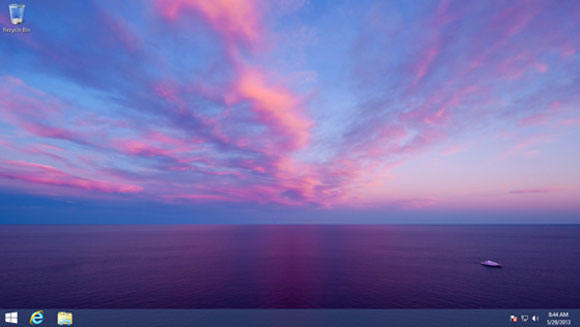 Improvements in Windows 8.1
1. Windows 8.1 will allow to boot directly to desktop and skip the Windows 8 Start Screen.
2. Users will be able to substitute the stock Start screen with the All Apps view, a set of tile-like icons for every installed program, but no live updating functionality. Users will also be able to arrange the icons by usage, allowing the most commonly used apps to be first. This view is the closest it is possible to get to the Windows 7 Start Menu, albeit it will be full-screen, not a list
3. Microsoft Windows 8.1 will be delivered as a free and seamless update to Windows 8 and to Windows RT, which means that customers today who have Windows 8 or who plan to buy a new device will get all the advantages of Windows 8.1.
Note: Windows 8 system computer often boots with blue or black screen of death or gets crashed on the loading bar, which really annoys. Here Windows Boot Genius can help to repair Windows 8 system.
Besides, it is projected that the Windows 8.1 updates will improve battery life on new-generations of microprocessors and will possible bring other performance advantages. While the full picture of Blue updates remains generally unfinished, the enhancements of Windows 8.1 over Windows 8 have already been published.
Enhancements of Windows 8.1 over Windows 8
New split-screen App options.
Improved modern UI PC settings.
New tile sizes.
New search interface.
Enhanced SkyDrive.
Internet Explorer 11.
Swipe up from Start Screen to access list of apps.
More personalization options.
Picture frame mode.
New gestures.
New Apps: Calculator, Alarm, Sound Recorder, Movie Moments (video editing application).
Free Try Windows Password Recovery Tool
World's 1st Windows Password Recovery Software to Reset Windows Administrator & User Password.
Free Download
Free Download