After months of rumors, Apple finally held the long-awaited iPad event in San Francisco on Tuesday. Apple announced significantly upgraded versions of its tablets at an event including an iPad Air and the new iPad Mini with retina display. The company also releases OS X Mavericks for free, Mac Pro and Mac Book Pro. Now let's take a look at the details about what we get from Apple's iPad Event.
1. Apple's Fifth-Generation iPad: iPad Air
iPad Air is the anticipated iPad 5, a peculiar naming choice for Apple's feature new tablet "iPad Pro". The new named iPad Air with Retina display features a design that's reminiscent of the iPad mini released last year. It's 7.5mm thick and weighs just 1 pound which is thinner and lighter than prior versions.
Moreover, iPad Air equips the 64-bit A7 processor, M7 motion coprocessor found in the iPhone 5S features, and a 5-megapixel iSight camera and FaceTime HD front-facing camera and 10 hour battery life. It will be available November 1 starting at $499 for the 16GB model and $629 for the cellular version.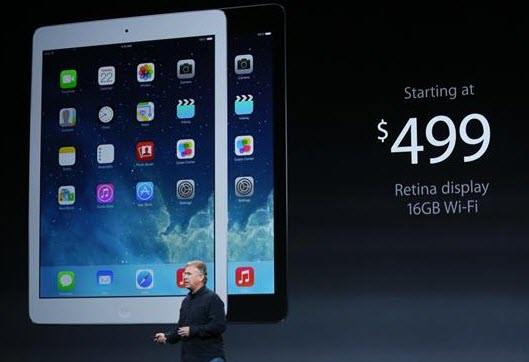 2. iPad mini with Retina display
Apple's Phil Schiller unveils a new iPad Mini with Retina Display. The new tablet features a 2,048x1, 536-pixel display, and houses Apple's A7 processor. Pricing starts at $399 for the Wi-Fi 16GB model; it will be available in November at at $399 for 16GB of storage for the Wi-Fi version, continuing to $499 for 32GB, $599 for 64GB, and $699 for the brand-new 128GB configuration. Cellular Minis start at $529 for 16GB and from there it's $629 for 32GB, $729 for 64GB, and finally a whopping $829 for 128GB.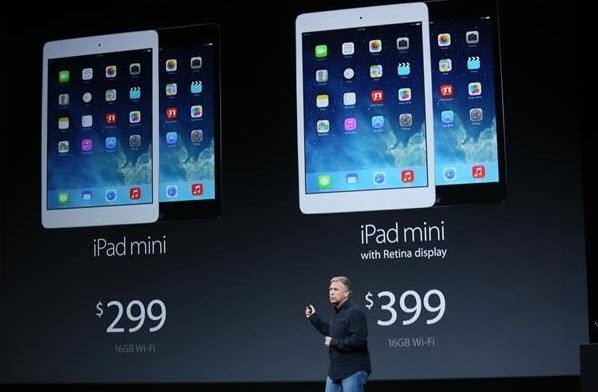 3. Original iPad mini now available for $299
Although the new versions of available in November, Apple will continue to sell the first iPad mini and at a lower price. The Cupertino, Calif., company said the non-Retina iPad mini will be available for $299 with 16 GB of storage.
4. Mavericks OS X released and available for free
Today we're going to revolutionize pricing," Craig Federighi, Apple's chief of iOS and OS X, said. The software is available today. Mavericks OS X adds a number of new features, including new Maps and iBooks apps, and will also improve the battery life and speed of Macs it is installed on. Mavericks will be available for free in the App Store. Apple's iLife and iWork suites are also free, starting today.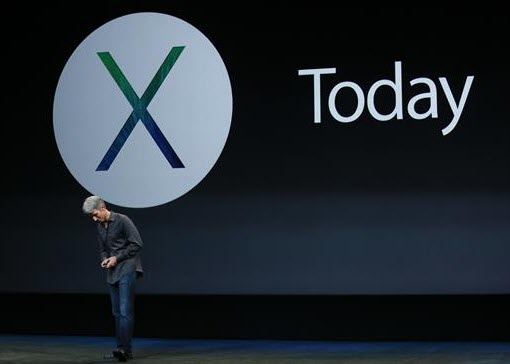 5. New, faster Retina MacBook Pros
Apple releases the new, faster Retina MacBook Pros available in two models: 13.3-inch and 15.4-inch.
For the 13.3-inch model starting at $1,299 is thinner and lighter than its predecessor: 3.46 pounds and 0.71 inch thick. The entry configuration features a fourth-gen dual-core Intel Core i5 2.4GHz processor (Haswell), PCIe-based 128GB SSD, 4GB of memory, and Intel Iris graphics.
The 15.4-inch version will be available for $1,999 running on a fourth-gen quad-core Intel Core i7 2.0GHz processor (Crystalwell), 8GB of memory, PCIe-based 256GB SSD, and Iris Pro graphics.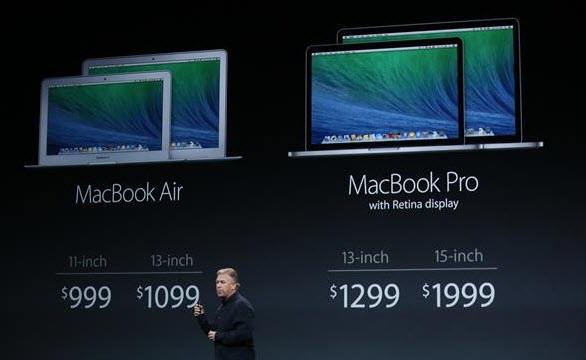 6. Mac Pro to sell for $2,999 later this year
Mac Pro is originally previewed at Apple's WWDC conference in June 2013, now has a price and something closer to an actual release date. The powerful desktop, with its new cylindrical design, will be available on a still-unspecified date in December, starting at $2,999.
To sum up, these six things are what we get from Apple's iPad event. Are you exciting about these or be disappoint at the missing of other rumored Apple products?