We are going to bring you some juiciest rumors about iPad 5: release date, how it will look, features, and so on.
iPad 5 Release Date
Here we can narrow the new iPad 5 release date down by following speculation.
We can look at Apple's history with iPad release dates. It's interesting to note that the first iPad was released less than two years ago in April 2010. Apple then followed that with an iPad 2 in March 2011, iPad 3 in March 2012, and a surprise iPad 4 in November 2012. March 2013 would seem a good date to set for the new iPad 5 release.
However, the new iPad 4 was released in November 2012, just seven months after the iPad 3. And a new iPad 5 March 2013 release this would mean just five months between the iPad 4 and iPad 5 release date. It may be that Apple decides to more the iPad 5 to Q3 in the year, to match up with a pre-Christmas launch of other products like iPod and iPhone.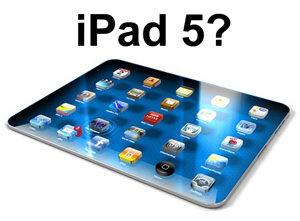 iPad 5 Rumors
iPad 5 will be thinner and lighter
It is said that a single LED Light Bar is used in the upcoming new iPad 5. Removing one of the LED Light Bars will free up some space inside the new iPad 5, enabling Apple to produce a lighter and thinner device. It also has an advantage of reducing the power requirement of the new iPad 5, again enabling Apple to create a smaller and thinner new iPad 5 because it will not require so much battery space
iPad 5 will look like the iPad mini
The new iPad 5 could have a design similar to the iPad mini, and could be available in the same black and slate and white and silver designs as the smaller tablet.
As with the iPad, it comes in two colors: white and black (although further colors have been introduced to the iPod Touch, and these are a possibility).
It is possible the the new iPad 5 will also come with more colorful options.
iPad 5 will have one LED Light Bar Retina Display
The new iPad 5 will keep the 9.7in Retina Display, however rumors suggest that the new iPad 5 will have just one LED Light Bar inside (the current iPad has two LED Light Bars). This is rumoured to be because Apple will be using newer, more efficient LED Light Bars than previously.
The LED Light Bars enable the iPad to display brightness and color accurately, and two are currently required to power the the iPad Retina Display.
iPad 5 will have IGZO display
Analysts believed Apple's fifth-generation iPad would have an IGZO (Indium gallium zinc oxide) display. These displays allow for smaller pixels which enable a device to have a higher resolution, or a higher reaction time for the display.
Reduce power consumption
Apple may adopt for future iPhone and iPad chips. The process should boost performance and reduce the power consumption of new Apple products.