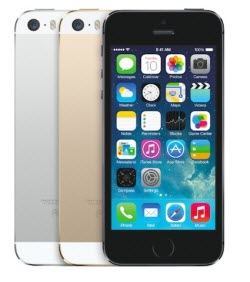 Apple has officially unveiled its next generation iPhone – iPhone 5S at its 9/10 special event. This is the first debut of iPhone 5S. In this article, we will probe into the 10 new features for iPhone 5S. If you are Apple fans or considering to buy this new iPhone 5S, read on to see what's new in iPhone 5S.
1. New A7 Chip with 64-bit Architecture
iPhone 5S is the first smartphone equipped with a chip with a 64-bit architecture. And the new A7 chip gives iPhone 5S' CPU and graphics performance up to 2x faster than the A6 chip. Moreover, A7 supports OpenGL ES version 3.0 to deliver the kind of detailed graphics, complex visual effects and gives you up to 2x faster autofocus, faster photo capture, and higher video frame rates.
2. Touch ID - Fingerprint Scanner
The Touch ID is an easy and secured way for you to access your iPhone. Compared the traditional entering a passcode, Touch ID is easier and faster. The fingerprint can also approve purchases from iTunes Store, the App Store, and the iBooks Store, so you don't have to enter your password. It is capable of 360-degree readability allowing users to enter fingerprints in portrait, landscape, or any other position and supports multiple fingerprints.
3. A New Processor – M7 Coprocessor
The new processor – M7 coprocessor is a support for the A7 processor used to measure motion data from the accelerometer, gyroscope, and compass sensors of the phone, sending them to new fitness apps without waking up the A7 processor, leading to improved battery life.
4. A New iSight Camera
Anyone anywhere can take amazing photos with iPhone 5S, thank to its advanced technologies custom designed for the iSight camera's hardware and software. iPhone 5S is equipped with a new 8-megapixel camera which has a 15 percent larger sensor, bigger pixels measuring 1.5 microns and an aperture of f/2.2. And the Burst mode lets you capture multiple shots of the action by snapping 10 photos per second. Moreover, the camera has a white LED and an amber LED work with intelligent software algorithms to adjust the flash intensity and color temperature, using over 1000 unique combinations to light your subject perfectly.
5. FaceTime HD Camera
The all-new FaceTime HD camera on iPhone 5s features larger pixels (1.2-megapixel) and an improved backside illumination sensor (BSI sensor) and supports for 720p HD video recording.
6. Support for a Large Number of 4G LTE Bands
iPhone 5s has up to 13 LTE bands which enable its users experience fast download and upload speeds in more places around the world. The iPhone 5S supports Band 40, which is the same frequency band on which Airtel's 4G service has been deployed in India.
7. New Color Available to Choose
The iPhone 5S will be available in three colors: back, white and the groundbreaking color of champagne (or gold). So you have two new color options.
8. iOS 7
iOS 7 is a great highlight of iPhone 5S. The new iPhone 5S will run iOS 7 that leverages its 64-bit A7 chip, the Touch ID fingerprint identity sensor, and the new iSight camera. And iOS introduces great new features, such as smarter multitasking, AirDrop, and Control Center etc.
9. Better battery life
iPhone 5S has a longer battery life that up to 10 hours of talk time on 3G and standby time of 250 hours.
10. Built-in Apps
iPhone 5S will come with an amazing collection of apps for you to send email and texts, browse the web, shoot and share photos and videos, etc.
After knowing these wonderful new features about iPhone 5S, are you ready to buy this new iPhone 5S? iPhone 5S is definitely worth to have. For more iPhone tips, click here.