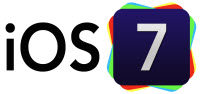 San Francisco, June 10, 2013, Apple officially unveils iOS 7 at WWDC 2013 featuring all-new designs and all-new features. Apple CEO Tim Cook described the new iOS 7 as "the biggest change to iOS since the introduction of the iPhone".
At WWDC 2013, the executive gave a detailed introduction of the new iOS 7. "iOS 7 is the most significant iOS update since the original iPhone," said Craig Federighi, Apple's senior vice president of Software Engineering. "To create it, we brought together a team with a broad range of expertise from design to engineering. With what we've been able to achieve together, we see iOS 7 as an exciting new beginning.
"There is a profound and enduring beauty in simplicity, in clarity, in efficiency. True simplicity is derived from so much more than just the absence of clutter and ornamentation - it's about bringing order to complexity," said Jony Ive, Apple's senior vice president of Design. "iOS 7 is a clear representation of these goals. It has a whole new structure that is coherent and applied across the entire system."
The New Design on iOS 7
The new design on iOS 7 aims to make it much simpler, more useful and more enjoyable, but still feel instantly familiar. The new iOS 7 features remarkable simplicity. Simplicity is not just means the absence of clutter or the removal of decoration but about offering the right things in the right places, right when you need them. That is what iOS 7 does for its users. The new Control Center is a great example for this: it gives users one- swipe access to the things you often want to do on a moment's notice.
The New Features on iOS 7
Notification Center: Notification Center is now available on the lock screen. There is a today view allowing you see friends' birthdays, upcoming invitations, calendar, stocks, and a quick look at tomorrow.
UI motion response: The new UI responds to the device's movements and creates a 3D effect that moves the perspective and shadows on the screen as the device moves in the user's hand.
Multitasking: The new iOS 7 can learn when you like to use your apps and can update your content before you launch them.
Control Center: Control Center gives you quick access to the controls and apps you always seem to need right this second.
Camera and Photos: Camera in iOS 7 puts all shooting formats still, video, panorama, and square - front and center. And there is an overhauled Photos app that automatically organizes photos by date and location instead of keeping all images in one giant camera roll.
Safari: Safari in iOS 7 will come to our eyes with a brand new interface, a new full-screen more, a smart search field and more.
…
There are many other new features in iOS 7. For more details you can visit the official website of Apple. In addition, Apple plans to release this new iOS 7 in this fall. At that time, many people will update iOS 7 for their Apple devices. And for iOS update problems such as lost iPhone data after update can turn to iPhone Data Recovery for helps.