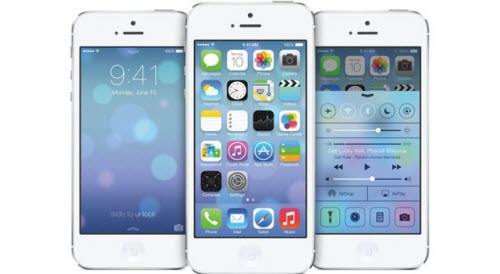 Apple has finally released its all-new operating system iOS 7 to the wild in September 18. This new iOS 7 will be available for the iPhone 4, iPhone 4S, iPhone 5, the iPad 2, iPad third and fourth generation, the iPad mini and the iPod touch fifth generation.
This new iOS 7 includes some 200 feature enhancements. The most obvious change is an overhauled, less-cluttered design that has refined typography, a new color palette and a translucent interface. Just as Apple claimed, iOS 7 is the biggest revamp to the platform since the first iPhone launched in 2007.
"Nothing we've ever created has been designed just to look beautiful. That's approaching the opportunity from the wrong end. Instead, as we reconsidered iOS, our purpose was to create an experience that was simpler, more useful, and more enjoyable - while building on the things people love about iOS. Ultimately, redesigning the way it works led us to redesign the way it looks. Because good design is design that's in service of the experience."
New Features of iOS 7
There are many new features in iOS 7 including overhauled interface, improved multitasking, better photo navigation and filtering, and Apple's own streaming music service – iTunes Radio, new Control Center providing access to controls and apps with a swipe up from any screen, including the Lock screen, plus a notification center, transparent animations and more.
1. iOS 7 Overhauled Interface
Apple's iOS has been almost the same for the last six years. iOS 7 finally has an overhauled change to its interface. In general, iOS 7 is flatter, more colorful, and lacks skeuomorphism (interface elements that resemble real-world objects/materials, such as wood paneling or a leather ledger).
2. iOS 7 Control Center and Notification Center
Control Center is one of the big features in iOS 7. It allows you to control the main guts of the phone; swiping up from anywhere on your iPhone or iPad will bring up the new hub for loads of options no matter where you are.
Notification Center has been significantly updated in iOS 7. With it, you'll have three - Today, All, Missed - that show you your notifications, appointments, emails, stock tickers, and so on.
3. iOS 7 Multitasking
iOS 7 has improved multitasking which once was one of iOS' weaknesses. Now when you double tap the Home button, you can get a full-screen interface with app thumbnail. And now you can just swipe the preview image off the screen to close program instead of pushing and holding to close programs. In addition, iOS 7 can learn your app usage schedule, and trigger updates just before you open an app.
4. iOS Camera and Photos
In iOS 7, the camera app now lets you shoot in square format (ideal for Instagram), and a range of filters can be applied in real time, you can also remove filters from images later, if you don't like it.
5. Airdrop
Airdrop is now finally available on iDevices, allowing you to share anything from an app that supports Share Sheet. You can easily share any file on your iPhone or iPad via WiFi or Bluetooth, with any other iOS 7 device that's in range.
After talking about so much, you may want to have an update immediately. Users can obtain the update either by connecting their devices to iTunes and clicking the "Check for Update" button or checking for over-the-air updates on their devices via Settings -> General -> Software Update. It may, however, take a few minutes for the update to propagate to all users.
P.S.: Lost iPhone data after iOS 7 update? Don't worry! iPhone Data Recovery is already here to recover lost data from iPhone after iOS 7 update.