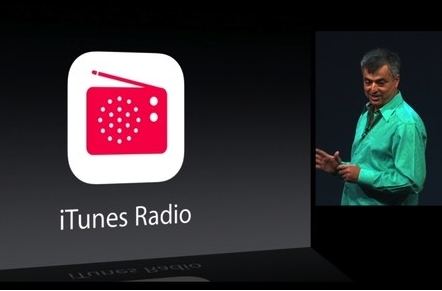 At WWDC 2013, Apple finally announces the arrival of its own streaming music service – iTunes Radio just a month after Google introduced its Play Music All Access, a streaming subscription service for Android devices.
The rumors about apple's streaming music service have been long rumored, now it finally lifts the veil and comes to the public. According to Apple, iTunes Radio is a streaming radio with the best selection of music. It builds and brings together stations you will love from day one. And the more you listen, the more personalized your stations become.
In following passage, we will talk about some details of iTunes Radio.
Part1: Will iTunes Radio be Free?
iTunes Radio will be available free of charge which is different from the internet giant's pay-to-use facility. But you have to listen to the advertisements. To listen to iTunes Radio completely ad-free, you can subscribe to iTunes Match ($24.99 per year).
Part 2: What Radio Stations Will iTunes Radio Have?
With iTunes Radio on iPhone or on iPad (other Apple devices), you will have the access to thousands of new songs every week. iTunes Radio also serve up exclusive music from new and popular artists first. It will feature more than 200 stations and is designed to provide customers with an experience based on the music they listen to or download.
Part 3: iTunes Radio VS All Access for Google Play VS Pandora VS Spotify
All Access for Google Play is Google's streaming music servi. Users can upload up to 20,000 of their own songs, and they can stream unlimited music on demand from Google's library of millions of tracks. It will cost users $9.99 per month after June 30 and provides complete access to 18 million songs available on Play.
iTunes Radio will be a free service (with ads) and will be ad-free with a subscription to iTunes Match which is a $25 a year service. It offers its users thousands of new songs every week and is an incredible way to listen to personalized radio stations which have been created just for you.
Pandora is one of the biggest music – streaming service. It is another free service (with ads) allowing users to stream music to their computer or handheld device and, up to a certain extent, skip songs that they don't like, favorite songs that they'd like to hear more often, and discover new music or similar music to artists they already like.
Spotify is a commercial music streaming service providing DRM-protected content from a range of major and independent record labels, including Sony, EMI, Warner Music Group and Universal.
Now you may have a general idea about iTunes Radio. Apple's iTunes Radio will first arrive sometime in the fall for U.S. users. At that time, users across iOS 7, Mac, PC, Apple TV will have the access to use Tunes Radio.
Tips: If you are looking for other iPhone tips or iTunes tips click here.