The Importance of Protecting Your Computer Privacy
The web is open and wild. We go online to search for information, shop, bank, stay in touch with friends, register forums, etc. If you think you are secure enough to do all these things, it is completely wrong. All your personal information including credit card info, photos, location can be hacked and leaked.
There are many potential risks to your computer. To list some of these dangers:
Identify thieves and hackers may be able to get access to your PC and steal your personal information.
Spyware can steal your bank/account information.
Malicious viruses slow down your PC or even destroy it.
Someone can break into your system and alter files.
Therefore, Securing your computer to maintain your privacy is essential and of vital importance. Windows Care Genius is the best computer privacy protection software to protect your computer from hackers, virus, and spies.
Free Download
How to Protect your Computer Privacy
Windows Care Genius protect your valuable personal information by erasing your history while surfing on the Internet, erasing deleted files from being recoverable, shredding files from being restored, and generating stronger password from being hacked.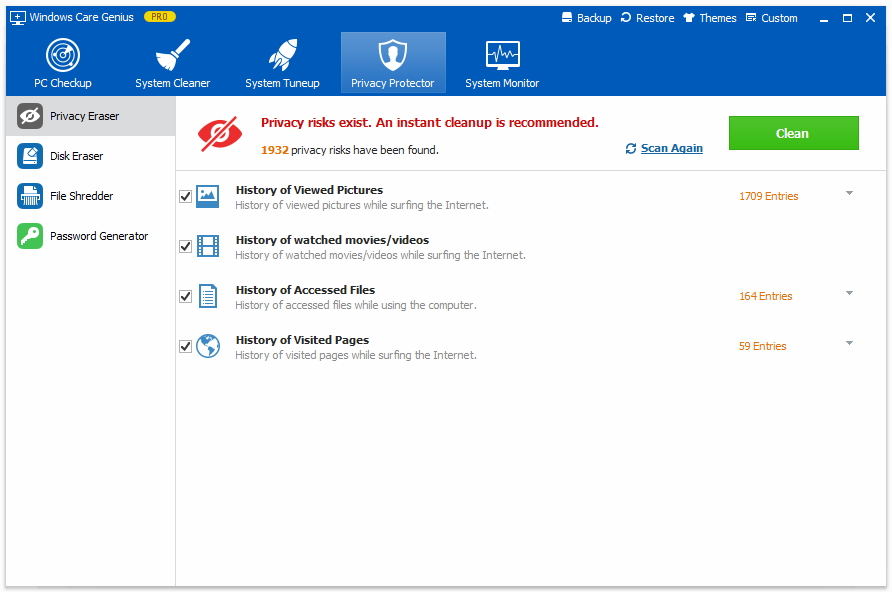 Open Windows Care Genius, choose "Privacy Protector" tab in function center on the interface. Windows Care Genius secures your personal privacy from four aspects: Privacy Eraser, Disk Eraser, File Shredder and Password Generator. Here are the steps to secure your computer privacy by optimizing the four parts separately.
#1 Privacy Eraser
In "Privacy Eraser", you can erase all your browsing history of pictures, videos, movies, an visited pages while surfing the Internet. Click Clean button to remove all these history records immediately.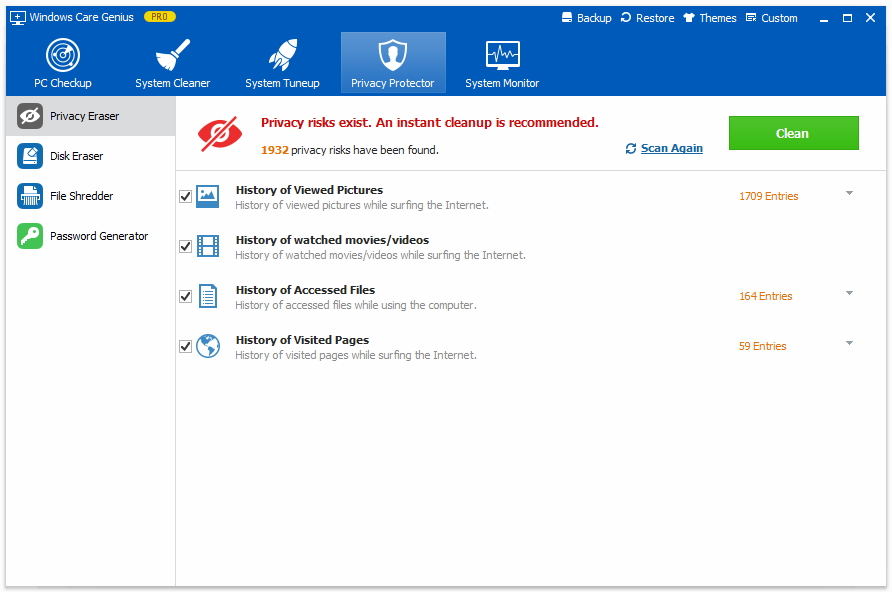 #2 Disk Eraser
Disk Eraser protects your computer by a complete removal of deleted files to prevent that data recovery software may recover these files.
You can select drives that you want to erase and click Erase button.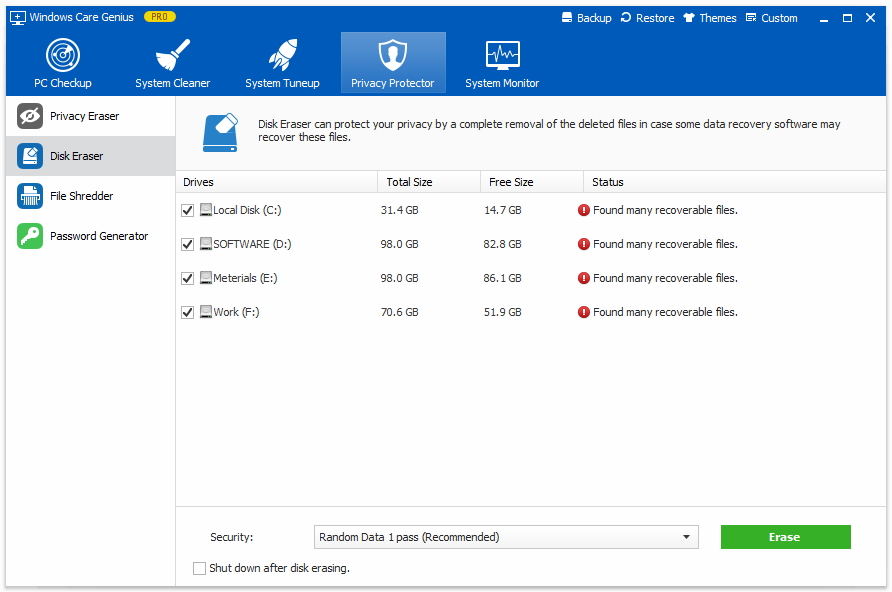 #3 File Shredder
You can add files or folders to shred. Once shredded, there is no chance to restore these files any more.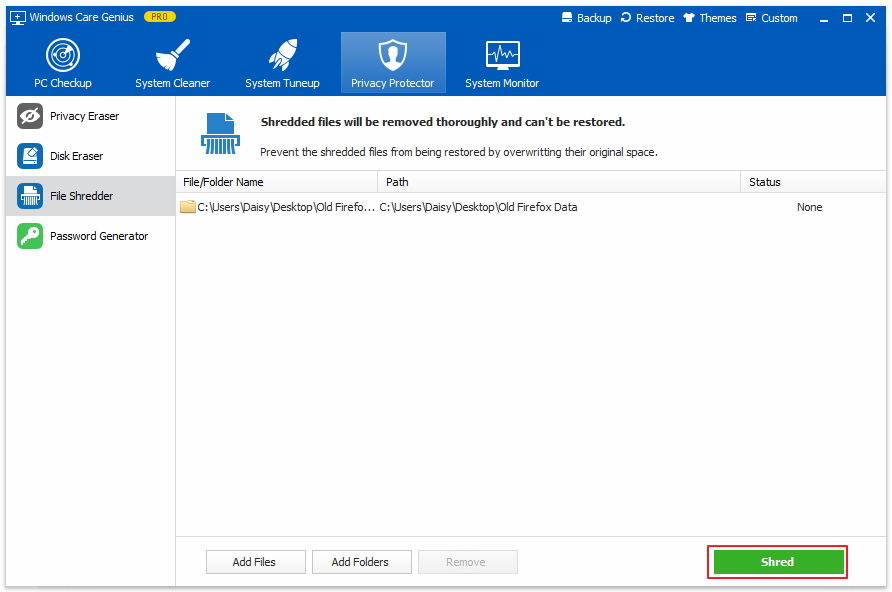 #4 Password Generator
Generate a stronger password is a good way to guide your personal information. Password Generator can judge whether you are using a secure enough password.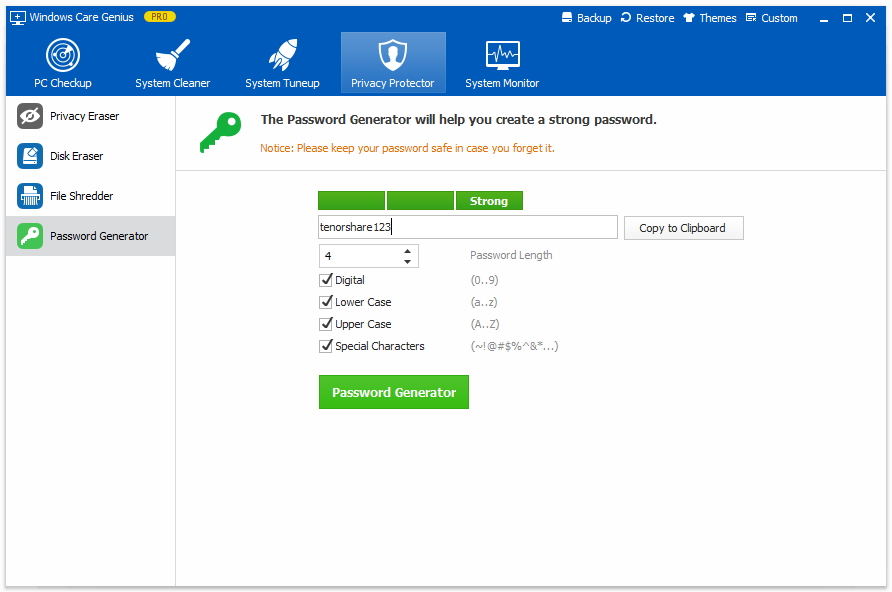 That is all. With just a few clicks, you can protect your computer privacy and secure your personal information.