Most of us use Internet to do everyday tasks online. There's no denying that Internet has changed a lot on our living in many areas like online shopping, banking and etc. However, the Internet on the down side can lead to security issues. But don't concern too much about that. Here the content will share the solutions with you on how to protect Windows 10 PC/laptop.
Protect Your PC with Windows Defender
Windows 10 is safer and more secure thanks to Windows Defender and Windows Firewall.
When you start up Windows 10 for the first time, Windows Defender is on and working to protect your PC by scanning for malicious software. It will turn itself off if you install another antivirus app.
Windows Defender uses real-time protection to scan everything you download or run on your PC. Turn off real-time protection temporarily by selecting the Start button, and then selecting Settings > Update & security > Windows Defender.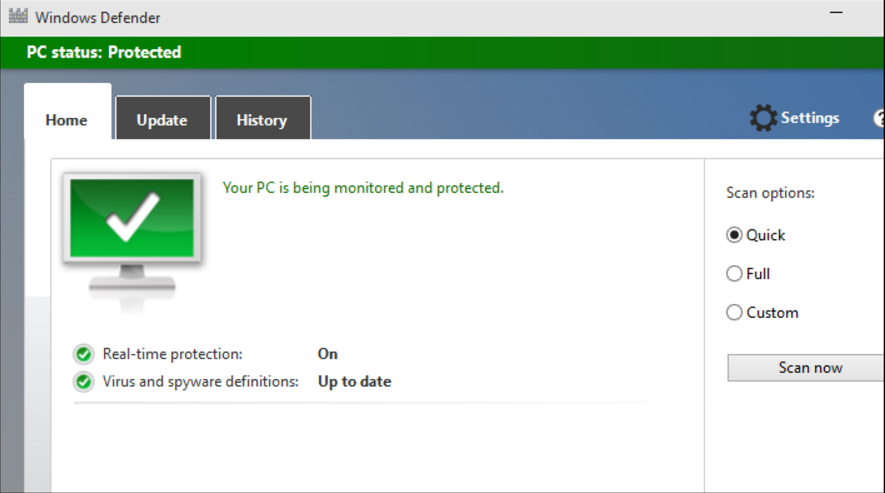 To scan specific files or folders, select them, then right-click (or press and hold)and choose Scan with Windows Defender. If Windows Defender finds anything malicious, it will notify you in the app and recommend what you should do next to keep your PC safe.
Windows Firewall filters info coming into your PC from the Internet, blocking potentially harmful programs. To turn it off, go to the search box and type firewall. Then select Windows Firewall > Turn Windows Firewall on or off.
Secure Window 10 PC with Windows Care Genius
To keep Windows 10 PC safe, you had better clear any traces of your online activities, visited pages, viewed pictures, watched movies/videos and accessed files. Windows Care Genius is such the world-class PC privacy protector for Windows 10 as well as compatible with Dell, Lenovo, HP, Asus, Acer, Toshiba, Sumsung and other computers. This tool also provides to:
Thoroughly delete any traces of your computer operation, including browsing history and accessed files, so that they will not be tracked by others.
Completely remove deleted files, shredded files from your PC, to make sure they can never be recovered.
If in need, Password Generator helps create a strong password to prevent privacy divulgement.
That's all for the ways to secure Windows 10 computer. You are also free to get help about more Windows 10 Tips. If you have any problem, you are welcomed to leave it in the comment section.