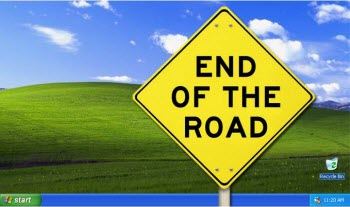 Support and updates for Windows XP will soon no longer be available on 8th April 2014. Michael Menor, a former military computer specialist and network engineer indicated that hackers will likely pounce on Windows XP ten minutes after Microsoft pulls the plug on support this April 8, 2014. Quite serious, isn't it? Now let's take a look at how Windows XP end of support will affect your desktop and how to secure your computer after Windows XP support ends.
Part 1: How Windows XP End of Support Will Affect Your Desktop
Searching from the Internet, there are plenty of articles warning of an incoming hacker storm, as cyber-criminals run riot through unpatched security holes in Windows XP when the support stops. And Microsoft officially warned that if you continue to use Windows XP after support ends, your computer will still work but it might become more vulnerable to security risks and viruses. Also, as more software and hardware manufacturers continue to optimize for more recent versions of Windows, you can expect to encounter greater numbers of apps and devices that do not work with Windows XP.
Buy Now
Part 2: How to Secure Your Computer after Windows XP Support Ends?
Since Windows XP will be vulnerable to security risks and viruses after support end, so what do you need to do to protect your PC after Windows XP computer support ends? Here are some options for your reference.
Option 1: Upgrade your current computer.
Microsoft recommends that you switch to a supported operating system, ideally Windows 8.1. You can upgrade to Windows 8.1 for $119.99 if your computer meets the system requirements. (Read about how to upgrade Windows XP to Windows 8/8.1). You also could upgrade to an older system that's still supported such as Windows 7 (Read about how to upgrade Windows XP to Windows 7).
Option 2: Buy a new computer
If your computer doesn't meet the requirements to operate Windows 8.1/8, you'll have to buy a new one if you want to use Microsoft's newest operating system. (Read about Windows 8 Laptops Buying Guide.)
Option 3: Use Third-party Internet Security Suite
Supposing that you still want to keep Windows XP, and then using third-party Internet security suite is for you. This will help negate the impact of no longer having security updates coming from Microsoft. I'd recommend that you install a free, but fully integrated Internet Security Suite, which could offer a multi-layered protection.
If you want to keep using Windows XP, besides using third-party security software, you also need to backup Windows XP regularly, keep your installed software up-to-data, and use an alternative web browser. Taking backups regularly religiously thus if something go wrong, you will have the option of going back, updating software will protect your PC from vulnerabilities in these software. And Since Internet Explorer too will not get updates, it might be time to drop IE and move to an alternative browser like Firefox, Chrome.
Now you must have a clear idea about how to secure your computer after Windows XP support ends. Since it less than 2 month for Windows XP's end of support, it's time to take action to protect your Windows XP computer now.