Oops! Windows 8 suffers from ntoskrnl.exe BSOD and even can't boot normally? How do Ifix the ntoskrnl.exe blue screen of death on Windows 8?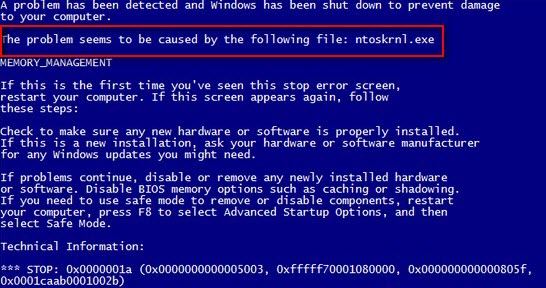 Windows 8/8.1 ntoskrnl.exe BSOD (Blue Screen of Death) occurs when the core operating system file ntoskrnl.exe) is corrupt or missing. Once you get the error, your PC can't function normally. To get the problem solved, you need to fix the corrupt or missing ntoskrnl.exe file. Now let's see the details about how to fix Windows 8/8.1 blue screen error BSOD ntorskrnl.exe.
Buy Now
Trick 1: Fix BSOD Ntoskrnl.exe Windows 8/8.1 Blue Screen Error with Driver Verifier Manager
Driver Verifier Manager is a free utility included in all Microsoft Windows. It can monitor and stress drivers to detect illegal function calls or actions that may cause system corruption. If you can restart your computer and log into it normally (fail to do this? go to trick 2), you can use it to solve BSOD error. At first, you have to run Driver Verifier and then use it to repair ntoskrnl.exe BSOD in Windows 8/8.1. Now, let's get right down to the detailed steps.
You must sign in as an administrator to open an elevated command prompt.
Open the Power User Tasks Menu, and click on Command Prompt (Admin).
In the new box, type Verifier and press Enter to bring out "Driver Verifier Manager". Check the option of "Create custom settings (for code developers)" and click Next.
Specify "Select individual settings from a full list" and tap on Next.
Uncheck "Systematic Low Resource Simulation" and "Force Pending I/O Requests", and other options must be selected. Click on Next twice.
Select all the drivers on the screen below, apart from those with Microsoft Corporation under the Provider item. Tap on Finish.
Now you have to restart your Windows 8/8.1 PC to bring the changes into effect.
Trick 2: Fix BSOD Ntoskrnl.exe Windows 8/8.1 Blue Screen Error with Professional Windows Boot Software
If ntoskrnl.exe BSOD error keeps happening and you can't boot your computer normally, steps in trick 1 will not be available at the moment. A piece of Professional Windows Boot Software will be very helpful now. Windows Boot Genius is a good example. It can fix computers with BSOD error (as well as all of other Windows boot problems) within several steps. Below is the guide to fix Windows 8 (as well as Windows 8.1/7/Vista/XP and Windows Server OS) BSOD caused by ntoskrnl.exe with Windows Boot Genius.
Install and run Windows Boot Genius on a workable computer. Insert a blank CD/DVD/USB flash drive into the computer. Specify the device that you'd like to use and click Burn to create a bootable disk.
Insert the newly-burned bootable disk into your computer with blue screen of death error and set BIOS to boot Windows 8 from USB Flash Drive.
After seeing Windows Boot Genius interface, go to "Windows Rescue" and specify Windows Backup to backup data in Windows 8.
Then choose one suitable option from the list of Solution Center: crash before loading bar, crash on loading bar, or crash after loading bar. Follow the solutions provided on the right side of Windows Boot Genius interface to repair Windows 8 ntoskrnl.exe BSOD.
Still hesitate to buy Windows Boot Genius because of its price? Don't be. Once you have it, you will find that Windows Boot Genius is a cost-efficient program. It enables you to deal with Windows boot problems within minutes, such as blue screen of death, black screen of death, freezing etc. Have Windows Boot Genius, questions like "how do I fix the ntoskrnl.exe blue screen of death on Windows 8/8.1/7/XP/Vista" will be nothing difficult.