It is already annoying getting minor errors, but it is scary when you get a Blue screen of Death error, as it can potentially damage your whole system.
Also known as BSOD, the Blue Screen of Death is one kind of computer stop error that occurs if a serious problem causes Windows to shut down or restart unexpectedly. If it happens occasionally, you curse, reboot, and go on with your work. If it happens regularly, or you can't access to Windows system with a blue screen filled with meaningless white text, you have a problem that needs fixing.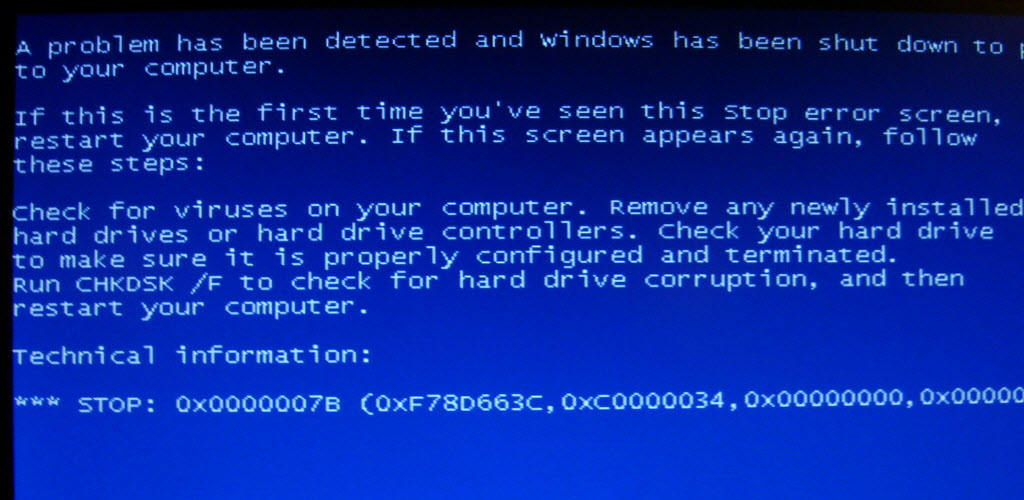 Here is a quick and effective solution that can help you fix Blue Screen of Death and get your laptop and desktop with Windows back up and running again. Windows Boot Genius is an effective, safe, and easy tool that enables you to fix blue screen on startup, repair Windows startup files to fix booting issues, and restore Windows from an earlier backup. It can used to fix Windows 7 blue screen, Windows 8/8.1 blue screen, Windows 10 blue screen, XP blue screen, Vista blue screen.
Buy Now
What Causes Windows Blue Screen Error?
Firstly, let us make out what cause Blue Screen of Death on desktop and laptop. The blue screen can occur for any reasons, for hardware and software issues.
1. Program corruption: If a program gets corrupted or a file contained in this program corrupted, the blue screen may occur as long as you launch this program.
2. Hard drive corruption: This is the main cause of Windows blue screen. If the hard drive becomes corrupt, the components are unable to communicate effectively with it, and you run into blue screen of death errors.
3. Registry error: The registry damage will cause Windows to unexpectedly shutdown and display "Registry error" on the blue screen of death.
4. Malicious files: Dangerous files such as Trojan horses (Trojans), viruses and worms have the ability to damage system components and cause blue screen.
How to Fix Blue Screen of Death on Windows 10/8/7/XP?
Here is a fast solution to fix BSOD by using Windows Boot Genius.
Step 1: Create a BSOD Fixing CD/DVD/USB
Here you need to utilize a bootable computer to burn a bootable disk. Insert a CD/DVD into your driver or plug in a USB flash drive into the USB port. Then launch this program, and get the interface like below. This software will check the CD/DVD drive or USB drive automatically, and you just need to perform one click of your mouse: Click "Burn".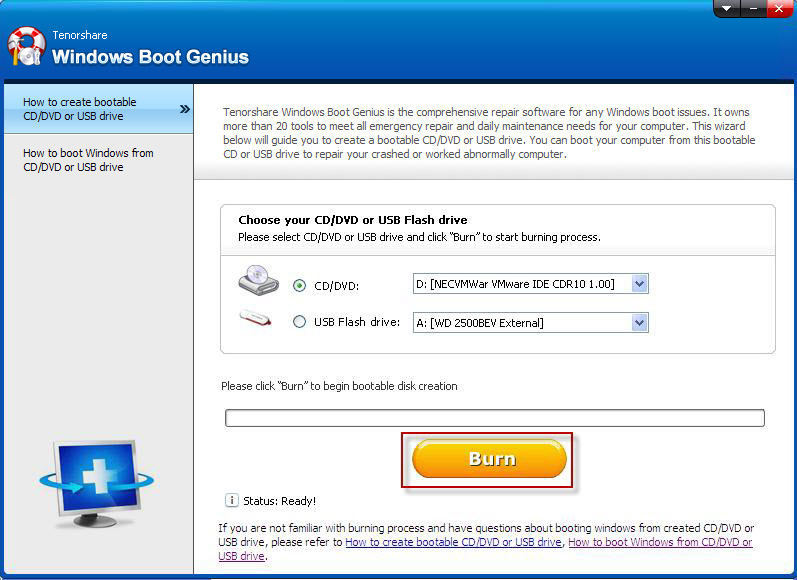 Step 2: Boot Your Computer from CD/DVD/USB
Then insert CD/DVD/USB into the unbootable computer, and set your CD drive as the first boot device in BIOS. Then your computer will restart automatically and access to the operating system which is burned in the boot disk.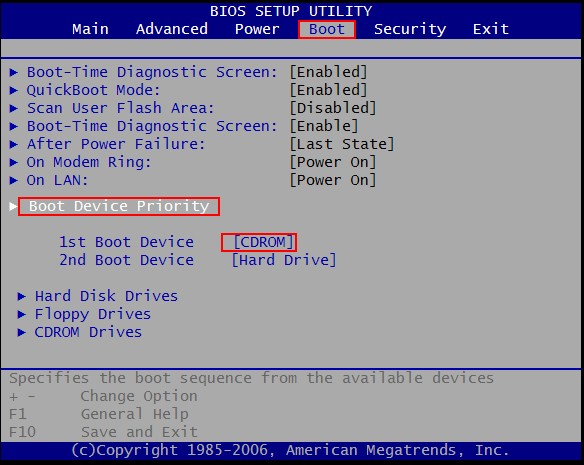 Step 3: Fix Blue Screen
Then you will enter WinPE system, launch Windows Boot Genius. Go to "Windows Rescue" Option and select the solution based on the symptoms of your crashed computer. Each solution equips with a handful of Windows repairing tools that you can try one by one until your computer works normally.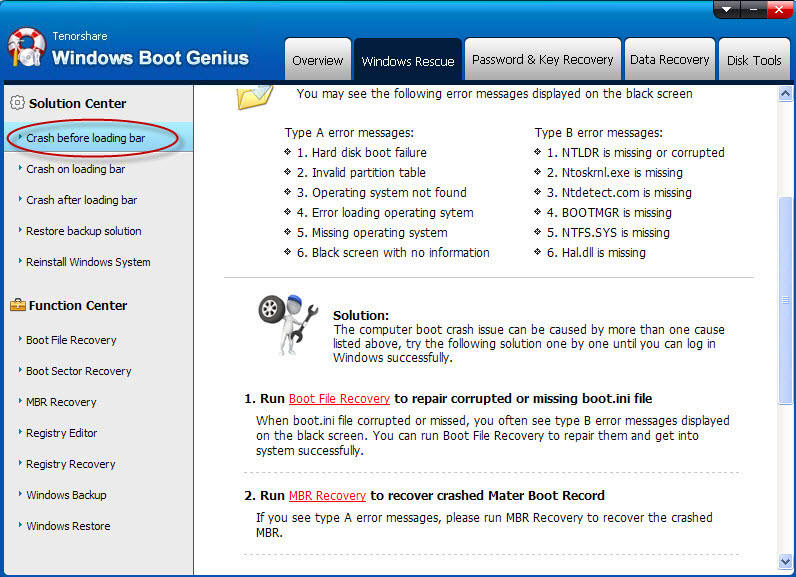 When the laptop fixed, eject the bootable CD/DVD//USB drive, and restart your computer as normal. Then you'll find that you can boot your computer successfully as normal. Of course, when you encounter laptop blue screen, you can follow these steps for Dell blue screen of death recovery and for all other PC brands.