"How can you fix your windows 8 computer that won't restart and you don't have a disk or usb? HELP!"
Windows 8 won't boot after system upgrade/restore? Windows 8 won't start after install? Windows 8.1 dnldmgr not found, windows won't boot? Have tried all possible tricks like automatic repair and much more methods found in different websites, but neither the computer goes up nor it will restart? Isn't it annoying if you badly need the computer but only face a Windows 8 won't start screen?
Buy Now
Why You Won't Boot Windows 8 Correctly?
Windows 8 won't boot problem is a complex process. Sometimes, it is caused by the incompatible software. Sometimes, it relates to the hardware damage such as Windows 8 wont boot cause boot device not found or boot partition missing. Also, different software and hardware configurations can vary greatly.
How to Repair Inaccessible Computer?
If the Windows 8 boot error is related to hardware damage, there is no software else can fix it except for buying a new hard drive. For software issues, you can use the following approaches to perform Windows 8 startup repair.
Note: Methods below also apply to the issue that Windows 8.1 won't boot. if your Windows 8.1 computer wont boot the first time opened, feel free to have a try.
Approach 1. Automatic Repair
Unlike other Windows version, the newest Windows 8 holds the feature of repairing operating system automatically when you meet blue screen, black screen or other boot errors. In this case, you can follow boot to System Recovery Option > Advanced options > Automatic Repair center to fix Windows 8 won't boot without a disk or USB.
Approach 2. Windows Boot Genius
If the first approach can't boot Windows 8, we suggest you try Windows Boot Genius, which is the 30-in-1 Windows boot repair utility that can help you recover registry, fix windows 8 boot files, Master Boot Recorder, and fix Windows 8 boot config file missing errors, boot error , Windows 8.1 system registery missing or contains errors, etc. that may lead to boot failure.
Here are some tools included in this omnipotent Windows 8 boot repair genius: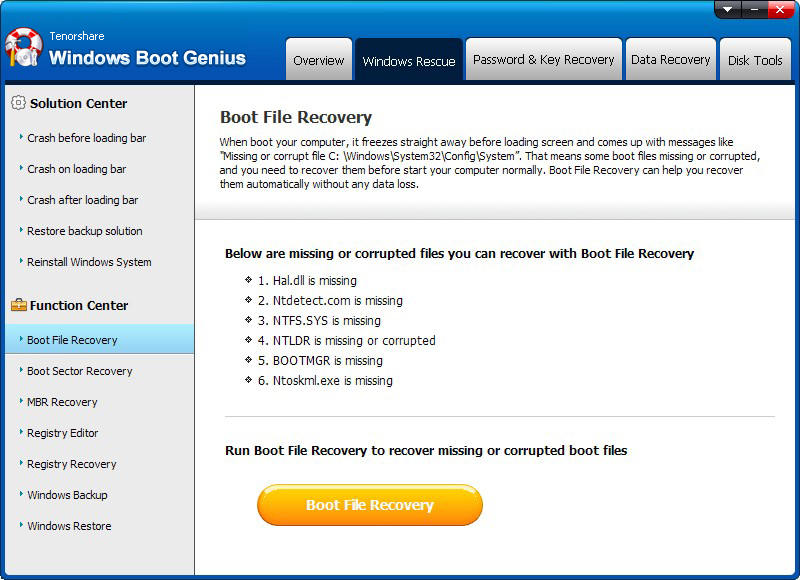 1. Boot File Recovery: Recover missed or corrupted boot files when you see error messages like "Missing or corrupt file C: \Windows\System32\Config\System".
2. Boot Sector Recovery: Recover damaged boot sector when your computer failed to boot NTLDR or BootMGR file.
3. MBR Recovery: Locate Master Boot Code in system partition's boot sector correctly and add an active partition if the first hard disk on the system does not contain one.
4. Registry Recovery: Repair registry to original state and fix registry errors.
And more…