More and more people upgraded Windows 7 to 8 since it has been released. Windows 8 becomes more and more popular these days. Compared with Windows 7, Windows 8 added the new feature of Automatic Repair which can help you fix Windows 8 startup issues. However, when Automatic Repair fails and you can't even get into Safe Mode. How can you repair Windows 8?
In general, it most probably caused by some errors or missing files on your hard disk that stop Windows 8 from starting correctly. For example, you may come across messages like "bootmgr is missing" or "winload.exe is missing or corrupt" and so on. To fix this issue, you can create a Windows 8 boot disk and repair Windows 8 with the help of third party software.
Windows Boot Genius is the useful Windows 8 boot CD creator which is designed to make Windows 8 bootable USB or CD and fix problems that prevent Windows 8 from starting up or running correctly. It is 100% secure and reliable. You can use it to recreate boot data, restore the registry and use other powerful Windows repair software to get back sensitive files and folders. The content below tells you how to create windows 8 boot disk to repair Windows 8 startup issues.
Buy Now
How to Make Windows 8 Bootable USB/CD/DVD?
Step 1.

Download Windows Boot Genius to Any Available PC

Download Windows 8 USB boot (Windows Boot Genius) and install it on any accessible computer. This program can run well in all Windows platforms including Windows 8, 7, XP, Vista, etc. as well as Windows server computers.
Step 2.

Burn ISO File to USB/CD/DVD

Launch the program. You will see two menus in the left window. Select the first menu. In this window, choose CD/DVD or USB drive you have inserted to the computer in advance. (Here we take USB for example), and then click "Burn" button to start burning bootable .iso file. The whole progress may take one or two minutes.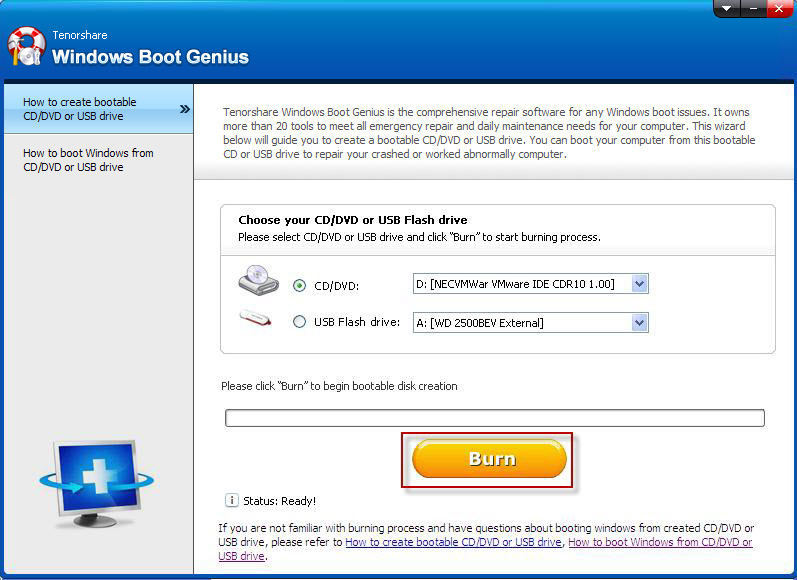 Use Windows 8 USB Boot Disk to Repair OS
Insert the newly created disc to the computer whose operating system got crashed. Restart the computer and press "F2" or "Delete" to go to the Device Boot Menu. Here please identify your computer to boot from USB Drive. When you successfully get into WinPE environment, run Windows Boot Genius and repair Windows 8 according to the instructions.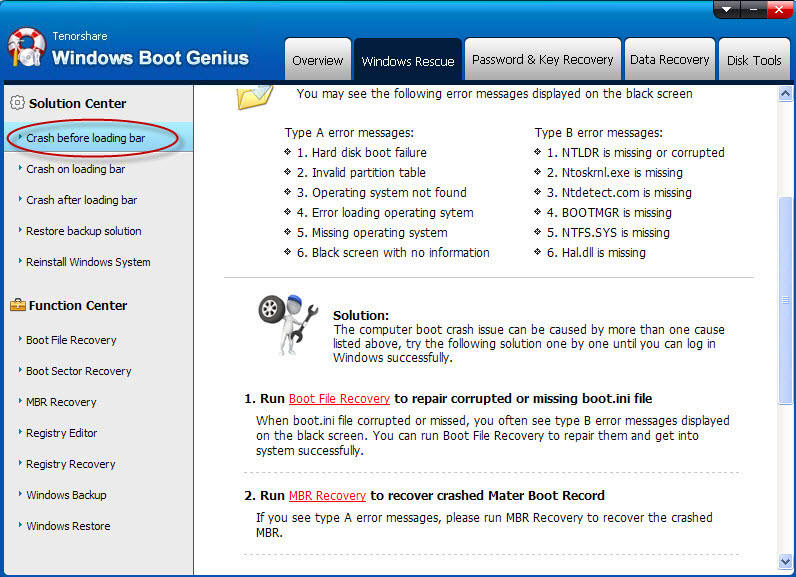 Now you have a clear idea about how to create startup disk for Windows 8 and how to use it to repair your OS. if you haven't created a boot disk yet, follow our tips and have a try.