When Your Computer Crashes, Cannot Enter Windows 8 - Recovery Disk Needed
A Windows operating system disc is usually used to reformat the hard drive and reinstall the operating system and preloaded software as it was when it was shipped. Most computer manufacturers will ship one recovery disc if customers purchased that service. However, when you just have no recovery disk in your hand, but encounter some Windows 8 boot errors, where did you download
Windows 8 recovery disk
and repair Windows 8 boot errors. The article below goes thorough tips about how to create a Windows 8 repair disk to fix Windows 8 startup issues.
Buy Now
How to Make a Windows 8 Recovery Disc?
You can create a Windows 8 recovery disk with Windows Boot Genius. Follow the guide below to learn how to make the system recovery disk. (Previously, you can easily create a full image backup of your system with Norton Ghost 15.0, however; Norton's newest version of Ghost does not support Windows 8 at the time of this posting.)
Step 1.

Download Windows Boot Genius

Download Windows 8 recovery disc create software (Windows Boot Genius) in any accessible computer. This software runs well in Windows 10, 8.1, 8, 7, vista, etc. and Windows servers.
Step 2.

Burn Windows 8 Boot Image File to CD/DVD or USB Drive

Launch the program. In the main interface, select the first "How to Create Bootable CD/DVD or USB drive" menu. Insert one blank CD/DVD or USB drive to the computer (Take USB drive for example). Choose USB drive and then click "Burn" button to create a system backup recovery disk on Windows 8.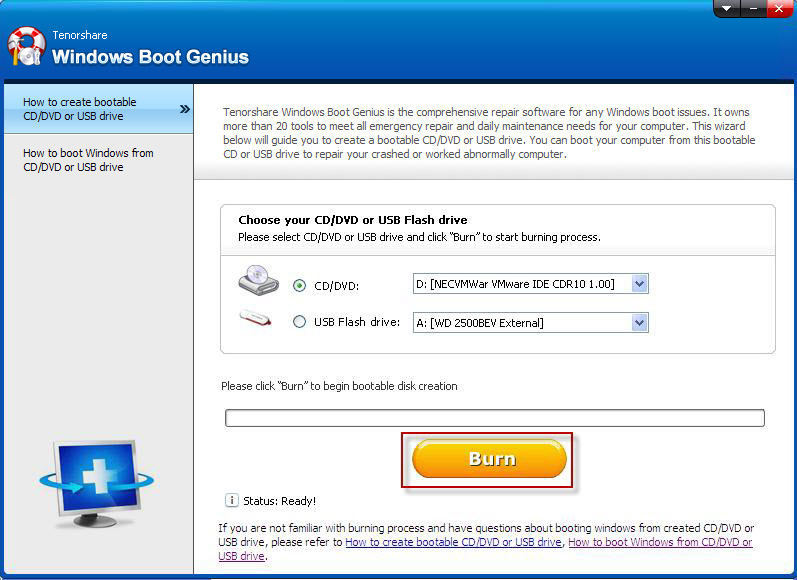 The Win 8 recovery disk has created successfully. Now let's discuss what that can do for you.
What Does Win 8 Recovery Disk Can Do for You?
Significant functions of this system recovery disk can be included in the following aspects:
1. Windows 8 system repair: There are a series of windows operating system repair tools including registry recovery, boot sector recovery, MBR recovery, etc. that can help you fix all Windows 8 startup errors like hard disk boot failure, invalid partition table, missing operating system, error loading operating system, etc.
2. Backup and Restore Microsoft product keys: Backup Microsoft product keys before reinstalling operating system. If you have lost those keys, you can also create windows 8 recovery disk to restore them.
3. Data Recovery: Recover photos, videos, audio files and documents from formatted or reformatted Windows 8 hard disk.