Microsoft's Windows 8.1 has been released to public for nearly one year. Sure, it's an improvement over Windows 8. But for many PC users, Windows 8.1 also caused many issues. Here we list the top 8 issues with Windows 8.1 and how to fix them in detail.
Top 1: Blue Screen of Death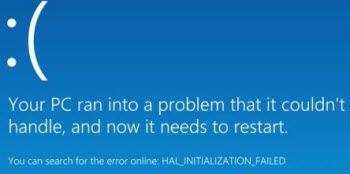 All Windows OS may not be able to escape from the curse of blue screen of death. Thankfully, you won't see this as regularly as you may have done in the past. There are many reasons for this problem to occur but perhaps the most common message that accompanies the blue screen is the dreaded "DRIVER_IRQL_NOT_LESS_OR_EQUAL." Effectively this message is informing users that Windows has crashed due to a problem with a driver.
How to fix it:
If you unfortunately encountered Windows 8.1 blue screen, you can try to fix it with Windows built-in Troubleshoot tool or use a third party Windows fix tool to fix Windows 8.1 blue screen.
Top 2: Explorer Crashes and Regularly Restarts
Some users complained that they occasionally encountered that Windows Explorer regularly crashes, making the operating system impossible to use. This problem is caused by the bug in how Window deals with hardware drivers or installed software.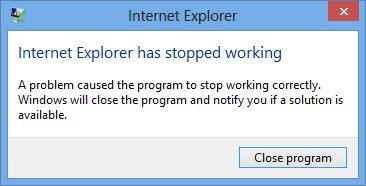 How to fix it:
To fix this problem, simply use the Refresh My PC options. Click or tap on Settings > Change PC Settings > Update and Recovery.
Top 3: Broken Internet Connection
Several users reported that they were unable to access the Internet after Windows 8.1 updating.
If you unfortunately encountered this, simply follow steps below to have it fixed.
How to fix it:
Go to Control Panel and open the "Network and Sharing Centre".
Click on "Change adapter settings", then right-click on your active network. On the menu that appears, choose "Properties"; highlight "Internet Protocol Version 4".
Choose "Properties" again and change the Preferred DNS server to 8.8.8.8 and the Alternate DNS Server to 8.8.4.4. Click OK to close the windows and your Internet should be working once again.
Top 4: Backup Makes Multiple Copies of Data that Hasn't Changed
Windows8.1 can periodically back up your Libraries (your documents, music, pictures, videos) to another hard drive if you have turned on the File History. The backup program can detect if a file has been altered and it will back it up automatically whilst retaining the old one.
However some users have the issue that the OS is making copies of the same file, even when no changes have been made to it. This leads to a hard drive full to capacity of redundant files, which is of course a huge headache.
How to fix it:
There doesn't seem to be any official fix for this. The best way around this is to disable the default backup service and use a third party service to backup data.
Top 5: Svchost.exe Uses Too Much Processing Power
Both Windows 8.1 and Windows 8 users reported that svchost.exe has been occasionally consuming processing power that it doesn't need. This will cause your computer to become progressively more sluggish or even worse- the Windows 8.1 OS crashes.
This is commonly due to the Windows uPNP service is scanning continuously your network for new plug-and-play devices until there are no system resources remaining.
How to fix it:
To fix this trouble, go to your computer's "Network and Sharing Centre", click on "Change advanced sharing settings" and check the box next to "Turn off network discovery".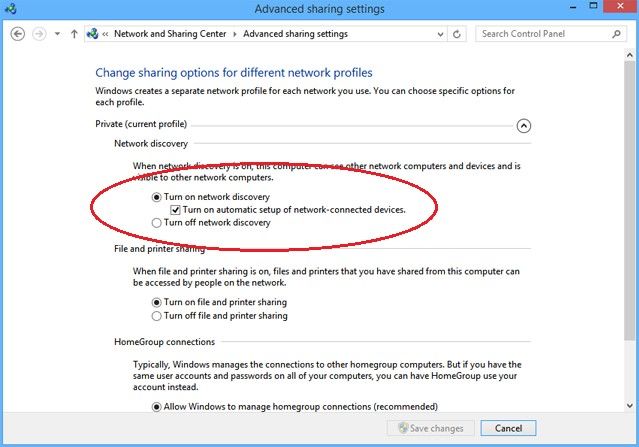 Top 6: Charms Bar is Annoying
Many Windows 8.1 users found that the Charms Bar is a hindrance especially when you are playing a game or using a website which often requires you to move your mouse to that part of the screen.
How to fix it:
Open your computer's Control Panel then click on "Mouse".
Click on the 'Device Settings tab', highlight the mouse you use, and choose "Settings".
Uncheck the box next to "Edge Swipe Right".
Top 7: Administrator Account Disabled
Some users found that after upgrading Window 8.1, the built-in administrator account is deleted or disabled. This seems strange but easy to fix.
How to fix it:
To restore the built-in administrator account firstly head to your computer's Start Screen and and type "cmd".
Right click on "cmd" and choose 'Run as Administrator'.
Enter the following command: "net user administrator /active: yes". Press Enter and your original account will be restored.
Top 8: Windows 8.1 does not Wake from Sleep Mode
From some users, their Windows 8.1 devices won't t awake and may be forced to carry out a hard reset. This may be due to the third-party apps you installed recently or the out-dated chipset drives.
How to fix it:
To fix it, do an update of the chipset driver either from Windows Update or from the manufacturer's website. If the cause is a third party app, starting Windows 8.1 in a clean boot state will enable you to investigate potential suspect apps.
That's all for the top 8 issues for Windows 8.1 and the efficient ways to fix them. if you have any other issues with Windows 8.1, leave a message in the comment place.