"Forgot my Windows 10 LOCAL ACCOUNT Password. Friends, month ago I had to send my GPU to be repaired and had to be without by PC this entire time.Now that I have my PC back I totally forgot my Windows password! Worst of all, it's a Local Account. I do have access to a second user but without admin privileges."
It's really a headache thing when you forget the login password for your Windows 10 computer, especially when you need to access important data stored on it in urgent. If you unfortunately forgot computer password Windows 10, don't be painful, it happens. Luckily, there are several ways for you to retrieve or reset forgotten Windows 10 login password.
Method 1: Making Educated Guess When You Forgot Windows 10 Login Password at Boot Up
There are so many passwords we need to remember so it is easy to forgot Windows 10 password local account. I personally suggest you try every possible password before you restore to other ways.
The password you used for your emails or other applications
Password for your Facebook, Twitter, etc.
A favorite number or set of numbers
The name of a friend, family member, or pet
A combination of your name and birthday
...
Method 2: Asking Help to another Admin When You Forgot Password to Windows 10 Laptop
If you are lucky enough to have another administrator account available on your computer, then resetting forgotten windows 10 password will be fairly easy. Just log on to Windows with this account and reset the password of your forgotten account.
Log into your PC as administrator and press Win+ R to type "lusrmgr.msc" in the Search box.
Double-click the Users folder, and all user accounts will be listed.
Right-click a user account which you want to reset its password and select "Set Password".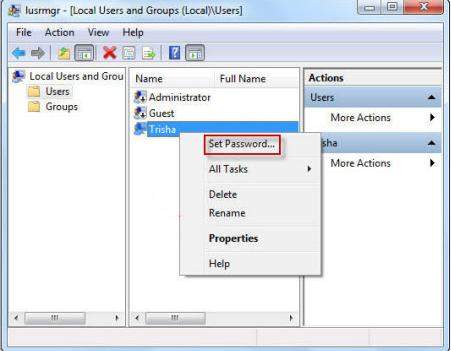 Method 3: Using Windows Password Tool When You Forgot Admin Password Windows 10
Having tried every possible password but still failed to find the right one? Forgot Windows 10 password no disk? Don't worry! The current technology provides a base for recovering lost administrator passwords for Windows 10. Windows 10 Password Reset Tool is such a tool using the most advanced password decrypting technology.
No matter you forgot windows 10 local password or Microsoft account password, it can easily reset it. Now follow steps below to perform Windows 10 password recovery. To get started free download and install Windows Password Recovery Tool in an accessible computer.
Launch Windows Password Recovery Tool and create a Windows 10 password reset USB/CD/DVD. (You have 2 options to create a bootable password reset disk, for more details read about How to Use Windows Password Recovery Tool.)
Then plug out the password reset disk and insert it into your locked computer. Reboot your computer from the CD/DVD-ROM/USB. (Click here to learn how to set BIOS to boot from the CD/DVD-ROM/USB).
After that, Windows Password Recovery Tool appears on your screen. Select the target Windows system user account you want to reset and choose "Reset your password" to reset your password on Windows 10.
Click "Reboot" to crack your forgotten Windows password. After the process, you'll reset Windows 10 password successfully.
Now you have a clear idea about what to do if you forgot administrator password Windows 10. I hope out tips will save you out from the pain of losing Windows 10 password.
Free Try Windows Password Recovery Tool
World's 1st Windows Password Recovery Software to Reset Windows Administrator & User Password.
Free Download
Free Download