There may be a time, you get a message like "Your Windows 10 is offline, please enter old password used on this PC " when you start your PC and try to login in. If you encountered the same situation, this article may help you to troubleshoot windows 10 offline issue.
"Windows 10 is offline" means that your PC is currently not connected to any network. Make sure the network on computer is not disabled or not disconnected. Check if the WiFi is on, or physically plug in a network wire to ensure that the machine you are dealing with is connected.
But sometimes the chances are your account has probably disabled due to some unusual activities. If you are using Microsoft Account as your user account, but forgot your password, what could you do? Here I highly recommend Windows Password Recovery.
Steps to solve Windows 10 Offline Issue with Windows Password Recovery
Windows 10 Password Recovery Software is best windows password recovery tool to fix PC offline on windows 10/8.1/8/7/Vista/XP. It can not only support password resetting for Windows 10 Microsoft account. But also help you reset lost Windows passwords, unlock user accounts which are disabled, locked out or expired.
Just follow the steps below on how to solve windows 10 offline issue by resetting Microsoft Account password.
Part 1: Download and Install the Program
Download, install and launch the Windows Password Recovery Tool Ultimate on an accessible computer.
Part 2: Burn Windows Password Recovery Tool Ultimate to CD/DVD
Run Windows Password Recovery Tool Ultimate program. Select "CD/DVD" and specify the CD burning drive from the pull-down list. Insert a blank CD/DVD disk into the computer. Click "Burn" to start burning. After burning successfully completes, click "OK" and eject CD/DVD.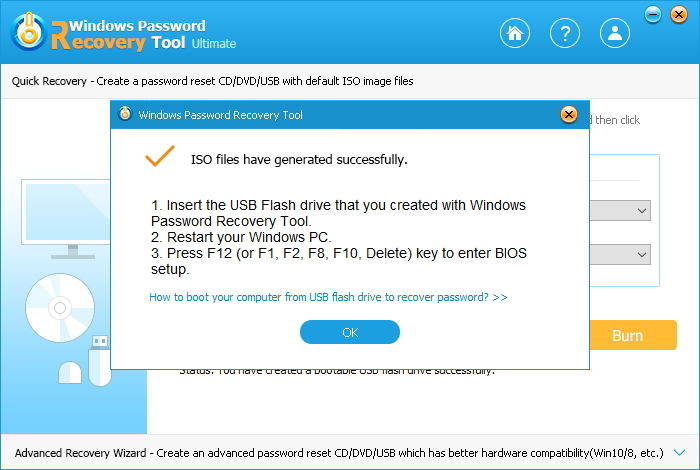 Part 3: Reset Password with Bootable CD/DVD
Step 1: Insert newly created CD/DVD and reboot your computer from CD/DVD.
Step 2: After the CD/DVD or USB disk boots and your computer reboots, you will get the main interface of this software.
Step 3: Select the Windows installation you would like to reset the password, and then choose "Reset your password". Click "Next" to proceed.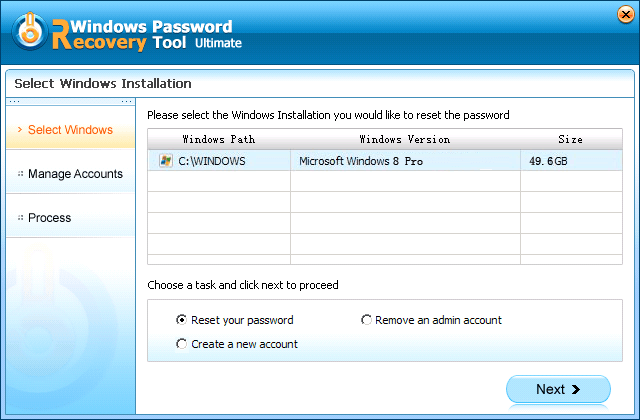 Step 4: Select the account whose password you want to reset. The Microsoft account info will be displayed automatically in the User Name and New Password box. Edit the password in the "New password", you can edit it on your own.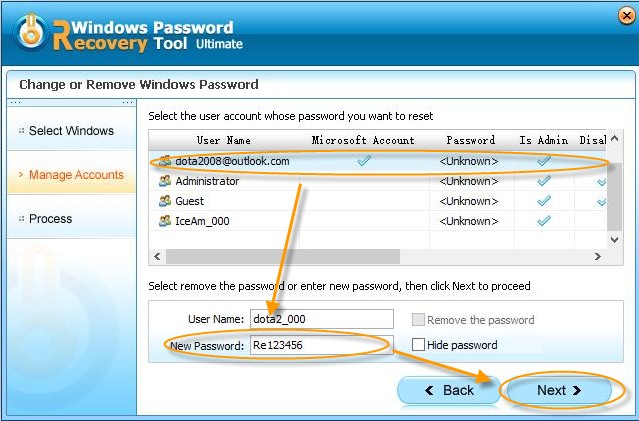 Step 5: You have changed the password successfully. Click "Reboot" to restart your computer and login Windows system with the new password.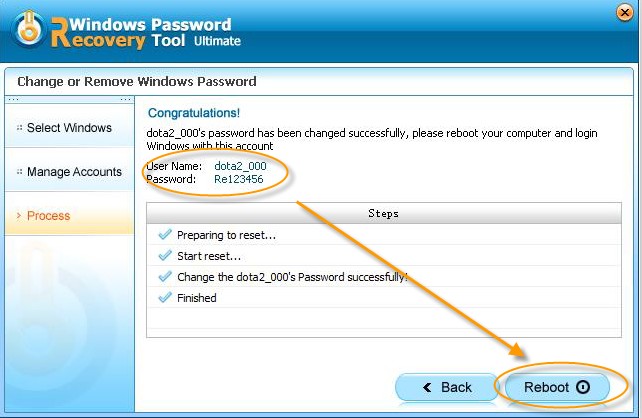 More Tips and Information
Apart from the solution mentioned above, you can also go to Reset Your Microsoft Account Password web page, and follow the steps there to reset your account's password and to re-enable the account.
In conclusion, with this amazing software, you can well deal with offline error on windows 10 and get into your Windows machine again. If your friends are facing the same problem on Windows 8/7/XP/Vista, don't hesitate to share this Windows Password Recovery Tool to them. Any problem will be welcomed to leave under the comment section.
Free Try Windows Password Recovery Tool
World's 1st Windows Password Recovery Software to Reset Windows Administrator & User Password.
Free Download
Free Download