"I've just installed Windows 10 and am getting error messages that MSVCR100.dll is missing for iCloudServices.exe, ApplePhotoStream.exe and Avgui.exe. I'm also getting MSVCP.dll missing for reader_sl. Can anyone help me fix this? Thank you."
-from Windows 10 Forum




According to the advanced search online, there are a variety of .dll files in Windows system, such as kernel.dll, mfc110u.dll, libeay32.dll, msjava.dll, hal.dll, MSVCR100.dll etc. What exactly is DLL file? DLL (Dynamic Link Library) is a kind of file type that Microsoft use to fulfil shared function library in Windows system. In that circumstance, once the certain .dll file is missing from your Windows 10 computer, how to fix? In this post, I am going to show you what to do.
Part 1: Conventional Methods to Fix DLL File Missing Error on Windows 10
Below are the ordinary tips that collect from several users on Windows forum, you may refer them and have a try based on your real circumstance.
1. Once the .dll file is accidently deleted from your computer, check the Recycle Bin where stored the deleted files. If you are lucky enough you will find it.
2. Copy DLL file from another Windows system and restore it on your PC.
3. Restart your Windows 10 computer. It's likely to know that DLL error issue is result from temporary file and a reboot it what you need.
4. Try to repair or reinstall the application if it throws up this dll file missing fault. Just like the screenshot as below.


5. Run a malware scan of your entire system. Some of the ".dll is missing" and ".dll not found" errors are related anti-virus programs that pretend as DLL files.
6. Try to download lost DLL file in Windows 10 from manufacturer site or Microsoft official website.
7. Recover deleted DLL file from a file recovery program, such as Any Data Recovery Pro.
8. Call official Microsoft Customer Service 1-888-817-5612 for "Windows 10 dll files fixes" help if you live in America or Canada.
Part 2. Ultimate Methods to Repair Windows 10 DLL File Not Found
The following step-by-step methods may need long-time patience to master, go ahead and continue troubleshooting below.
Solution 1: Repair DLL File Not Found with SFC Scan
SFC stands for System File Checker. It is a utility that allow users to scan and resolve various system-related corruption problems in Windows system.
Here's how to make use of SFC Scanner in Windows 10:
1. Right-click on "Start" button in the computer desktop task bar. Then select "Command Prompt(Admin)" to enter "Administrator Command".
2. In the pop-up black window, press "sfc/scannow" command line.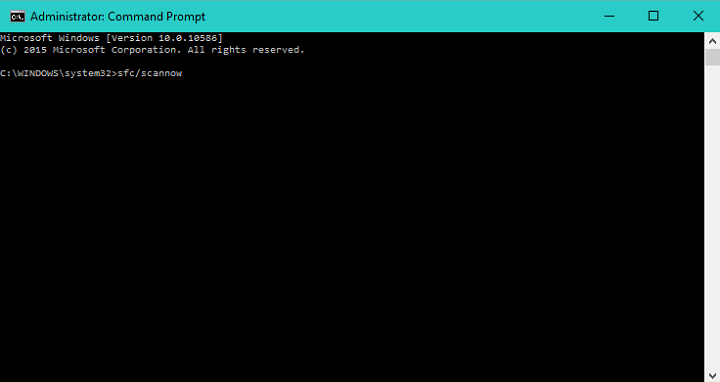 3. Wait until the process is accomplished. This will take time because it will scan your entire system for errors.
4. Restart your computer and check whether your DLL is still missing or not.
Solution 2: Fix Windows 10 DLL File Missing Error via Windows Boot Genius
To fix .dll file is missing issue on Windows 10, you need a professional Windows repair tool. The Windows Boot Genius is designed for this. As a powerful toolkit to fix 90% Windows boot issue and support all Windows system (Windows 10/8.1/8/7/Vista/XP), it has commonly known in Windows repair field.
Here's how it works:
Step 1. Get Windows Boot Genius full version from official website and then launch it on the Windows-based computer that lost .dll file.
Step 2. Insert a CD/DVD/USB to the PC, choose the target driver and then click "Burn" button.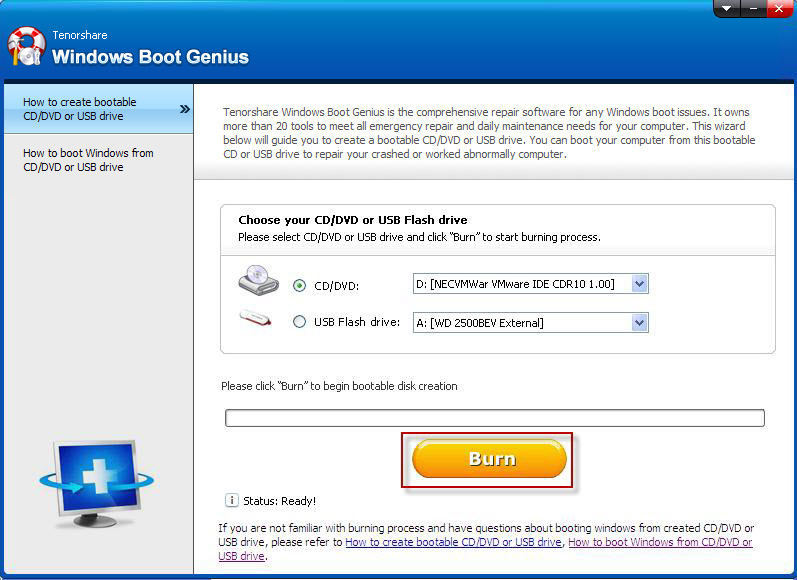 Step 3. Restart the same computer and then press F12 quickly to enter BOIS setting. Move right arrow key in the keyboard to "Boot" menu and then use up and down arrow key to "Boot Device Priority" and then set up the 1st boot device to be your CD-ROM/DVD/USB. Press F10 to save and exit BIOS.
Note: It seems that different laptop manufacturer performs different BIOS setup utility. Consequently, if F12 doesn't work, keep trying F2, F10 or Delete.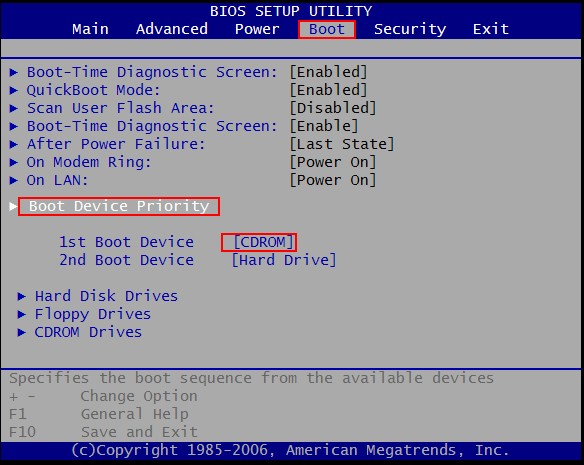 Step 4. Your Windows 10 computer will reboot again. Within a moment, you are going to see the main interface. Just click "Windows Rescue" menu and then hit the "Crash before loading bar" to fix your DLL file missing error.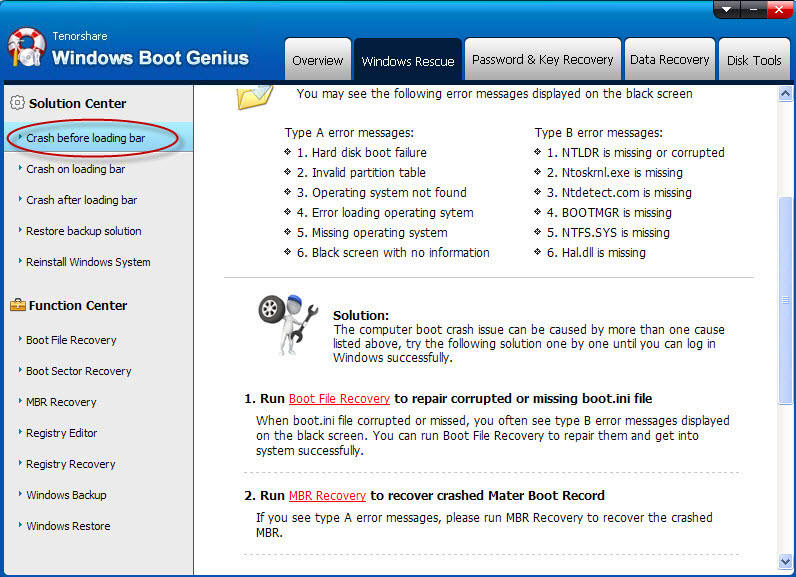 Note: If you have backed up your system files before, you can use the "Windows Restore" in the "Function Center" option to undo recent system changes.
Wow! Those are all the serviceable tricks about how to fix dll file is missing in Windows 10. Hope your error could be repaired with of them. Have you ever encountered with a similar error? If you discover extra ways to fix, feel free to mention them in the comments. All the best!