It is not like other releases of Windows; Vista does not automatically create an Administrator account during installation. Using a non-administrator account will prevent a Windows user from accidentally deleting operating system folder, files, and registry information, and prevent any Malware infecting the computer from doing the same. However, if you really need to run as an Administrator, you can easily activate the built-in Administrator account yourself.
How to create a Vista Administrator Account
1. From the "Start menu", select "Control Panel".
2. Double-click "User Accounts", and then click "Manage User Accounts".
3. Click "Create new account". Enter a name for the account, and then click "Next".
4. Click "Computer administrator", and then click "Create Account".
How to change Vista password if you have another Administrator account
1. "Control Panel" -> "User Accounts" -> "Manage another account"
2. Select the account which password you forgot and want to reset.
3. Choose "Remove the password" or "Create the password" from left menu.
4. Confirm as the windows guides you.


How to change Vista password if you lost password
If you lost vista password and want to change the password, then you have to try Windows Password Recovery to change admin Vista password.
Step 1:
Free download Windows Vista Password Tool (Ultimate). And install this Vista password changer on any computer (not the locked one).
Step 2:
After installation, you are guided to burn this Vista Password recovery to a CD/DVD or a USB. Insert a floppy or a USB.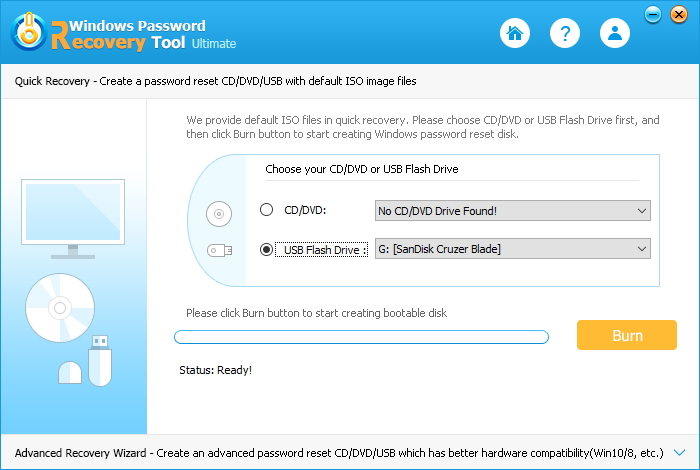 Step 3:
When burning completed, please insert the newly created floppy or USB and reboot your locked computer.
Step 4:
When the CD/DVD or USB disk boots, you'll see Windows Password Recovery (Ultimate) is initializing.

Step 5:
Select the Windows installation you would like to change the password, and then choose "Reset your password". Click "Next" to proceed.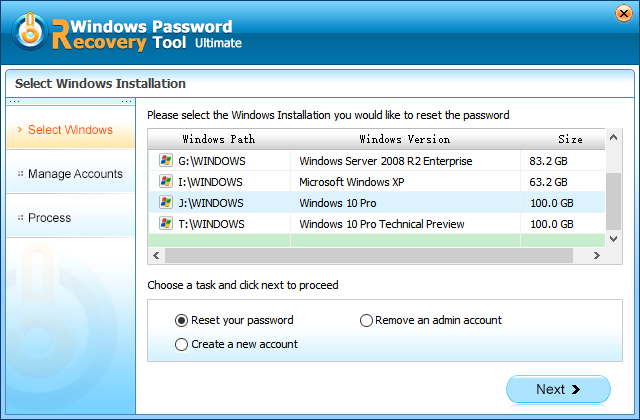 Step 6:
Select a password of the user account need to be changed. And type the password in the "New Password" box (Note: New password was changed to Re123456 by default, and which is editable).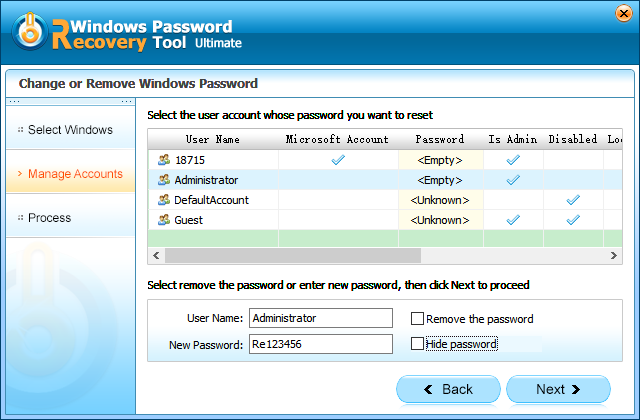 Step 7:
Now you have changed the password successfully. Click "Reboot" to restart your computer and login Windows Vista with the new password.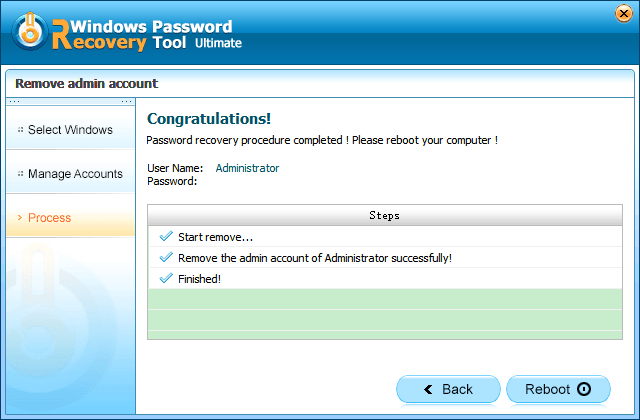 Tips: Not a Windows Vista user? This Windows Password Recovery also supports Windows 8/7/XP/2000/NT, Windows Server 2000/2003/2008 and so on. Download and have a free trial now!
Free Try Windows Password Recovery Tool
World's 1st Windows Password Recovery Software to Reset Windows Administrator & User Password.
Free Download
Free Download