Why to break Windows Vista password?
If you are here because you have lost or forgotten your Windows password, and got your computer locked, I will promise you are reaching the right place. In this article, I will show how to break Windows Vista password easily and instantly.
How to break Windows Vista login password with the things listed above.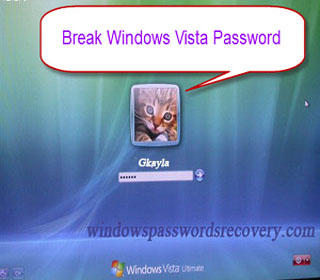 If you have a Non-password protected Windows built-in Administrator account, you then can:
Method 1: Use Control, Alt, Delete keys to reset Windows password.
Step1: Start your locked computer and press "Ctrl+Alt+Delete" keys twice when you see Windows Welcome/Login screen.
Step2: When the Classic Login box, type Administrator in username box and leave its password box blank. Then hit "Enter" key.
Step3: Now you can smoothly log on to your locked computer again and you can remove your forgotten Windows password from "Start->Control Panel->User Accounts" easily.
Any Windows operating system allows users to create a password reset disk which is used to reset a forgotten Windows password. If you created a Window password reset disk before, then you can:
Method 2: Use Windows password reset disk to break Vista password.
1. Insert the disk into your locked computer after you boot the Windows computer to the Login Screen.
2. Click the password-forgotten user, and type any text in the "Password" text box, then hit "Enter". Next, a warning window opens and shows you to reset password. You just click "Reset Password".
3. Follow the steps in the Password Reset Wizard to create a new password.
4. Log on to the locked computer with the new password smoothly.
This method is quite easy and quick, but few computer users would create such a disk in advance. Even though, there is no need to panic, because you can remove forgotten Windows password easily by a professional Windows password removal tool.
For sure, most computer users won't have the things what Method1 and Method2 require. But you can rely on another easier way to remove Windows password. Here's how Windows Password Break Tool works:
Step1: Download and run this tool on any accessible computer. (Not the locked one)
Step2: Burn a password reset disc by inserting a blank and writable CD/DVD and clicking "Burn CD/DVD" button on the interface to start burning process.
Step3: Insert the burned password reset disc to the target computer and set this PC boot from CD/DVD in BIOS.
Step4: Start Windows password removal with this password reset disc in only 3 clicks on the interface.
I think you now must have a very clear understanding of Vista password breaker. If you are in need, please feel free and easy to break your lost Vista password with any one of the 3 methods discussed above.
Free Try Windows Password Recovery Tool
World's 1st Windows Password Recovery Software to Reset Windows Administrator & User Password.
Free Download
Free Download