Sometimes you are trying to delete useless and empty folder in Windows 10, but to your big surprise, Windows doesn't allow you to do that! So why some empty folders can't be deleted? How to fix can't delete folder in Windows 10 error? We show the workarounds essentially in this tutorial.
PART 1. Windows Prompt When You Can't Delete Folder in Windows 10
As a matter of fact, there are several circumstances that Windows prompt when your unwanted folder won't be deleted in Windows 10 desktop or notebook, which are:
Case 1. Folder Access Denied
"When I try to delete the remaining folder after uninstalling a software in Program Files I get a message:
'You need permission to perform this action.
You require permission from SYSTEM to make changes to this folder.'
although I'm the administrator. Please help me to fix this problem."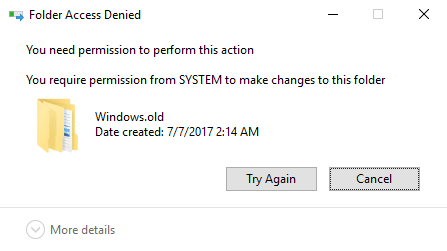 Case 2. Folder in Use
"I saw some empty folders in my C:\Program Files. Programs previously located in these folders have been uninstalled, but when I tried to remove these folders, error message occurred:
'This action can't be completed because the folder or a file in it is open in another program.
Close the folder or file and try again.'
How to clean this thing up? Thanks."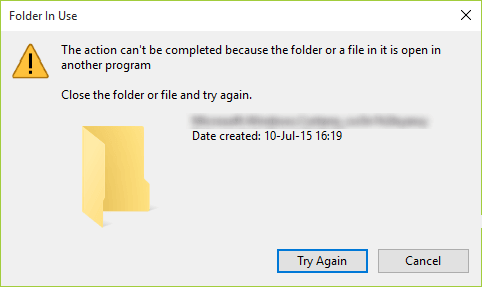 Case 3. Interrupted Action
"I have a folder on one of my memory sticks which is empty. When I try to delete the folder It says:
'An unexpected error is keeping you from deleting the folder. If you continue to receive this error, you can use the error code to search for help with this problem.
Error 0x80070091: The directory is not empty'
any ideas guys?"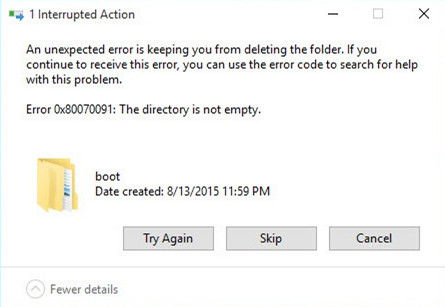 Case 4. Item Not Found
"I have an empty folder on my computer that I want to delete but when I click it says:
'Could not find this item.
This is no longer located in F:\Temp Videos. Verify the item's location and try again.'
and it tell me I can't delete it. Please help."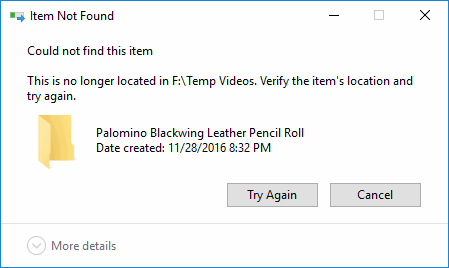 PART 2. How to Fix Can't Eliminate Folder Error in Windows 10
Aiming at the different situations, there are some approaches you can use to handle with your stubborn folder can't be deleted issue.
Scenario 1. Reboot Windows 10 System
This is an omnipotent and common way once Windows get some errors. Depending on the programs, there may be drivers loads and starts with OS, and your folder is referenced by them. Therefore, manage to restart Windows 10 operating system yet and delete the folder again. If this error message persists, try other methods.
Scenario 2. Check Antivirus Program
You had better scan this folder with antivirus software to check whether it or your computer is free from virus infection or not. If the folder is affected with virus, then it might get deleted with the help of antivirus thoroughly. The familiar antivirus programs are BitDefender, Kaspersky, F-Secure, ESET NOD32, McAfee, Norton, AVG, CA, etc.
Scenario 3. Rename Folder
This way is collected from a user on Windows forum. It the cause is that the path and file name is too long, try to rename the unwanted, useless or empty folder by appending a shorter one on the end of the folder's name, then right click on the folder, select "delete", finally the folder will disappear.
Scenario 4. View Hidden Files
Open that folder, navigate to "View" and then click "Hidden items". Then to see if there are any files in your folder. It yes, remove them and then delete the folder.


Scenario 5. Check Folder Properties
If that is a permission issue, then you can right click on the unwanted folder and then click "Properties", select "Security" tab, hit "Advanced" and then make your username permission and authorize full control. Click "OK". Now you are able to delete the folder without problems.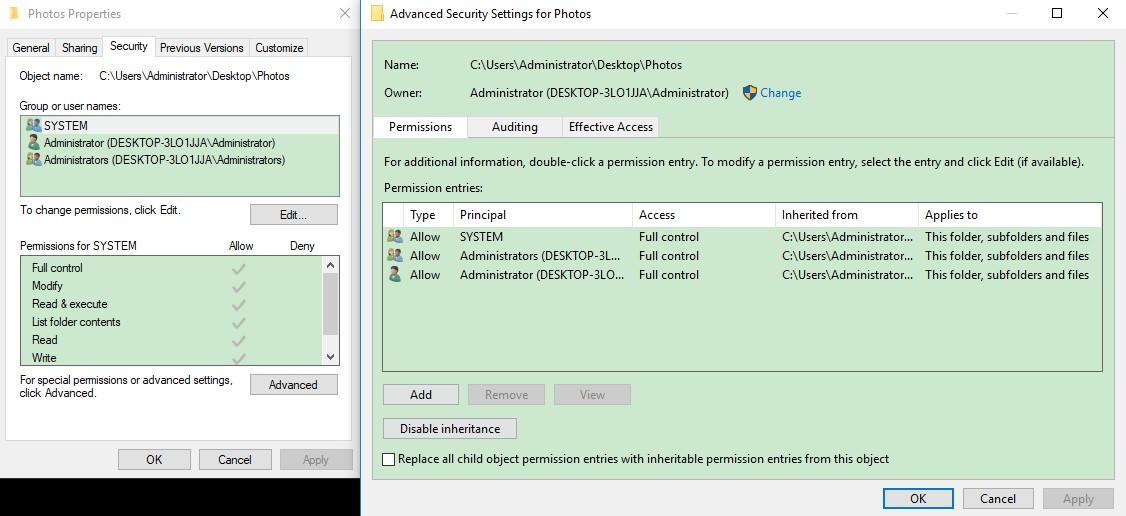 Scenario 6. Delete Containing Folder
Can't delete folder Windows 10 could not find this item? If you couldn't delete an unusual folder, try to delete the folder that contains it. Certainly, you have to make sure that other significant files are moved to another path before doing this, otherwise, you are going to delete more
Scenario 7. Search Empty Folders
This option is based on empty folder search on the system level. Just open "This PC" -> "Search" tab -> "Search" menu, set up the size filter to "Empty(0KB)", make sure that "All subfolder" feature is chosen. After finishing the search, it will show all the files and folders that don't occupy memory space. Select your target folder and delete it.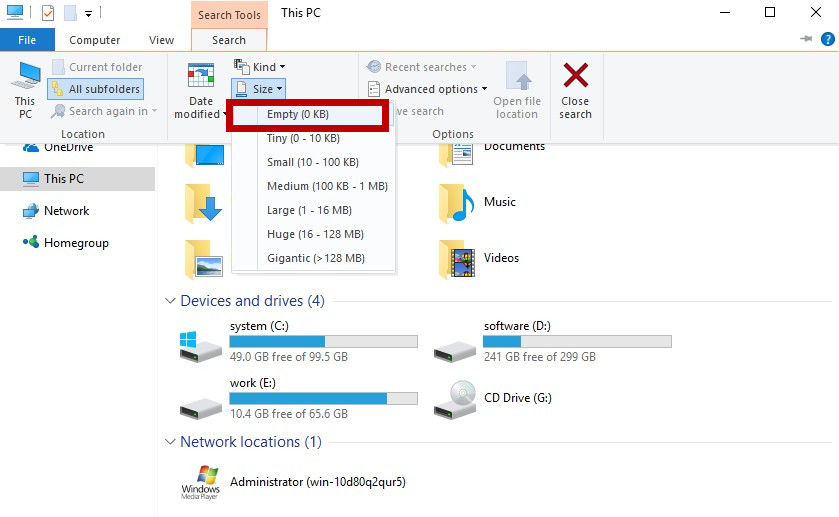 Scenario 8. Use Command Prompt
Can't delete empty folder open in another program? The command prompt may help. The command prompt for folder deletion is more efficient at times, so you should try definitely.
Press Win + R in your PC and then type "cmd", then open Command Prompt as administrator. Type this command line "RD /S /Q %SystemDrive%\windows.old"(replace windows.old with your older name) and then press Enter. Now you are force deleting it successfully.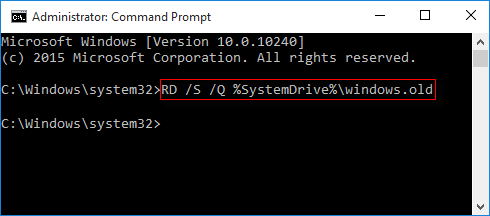 Scenario 9. Use Free Utility
If you can't delete a certain folder on account of it is in use, try to take advantage of free utility, such as Free File Unlocker and Remove Empty Directories software, which are frequently mentioned in most of the related forums.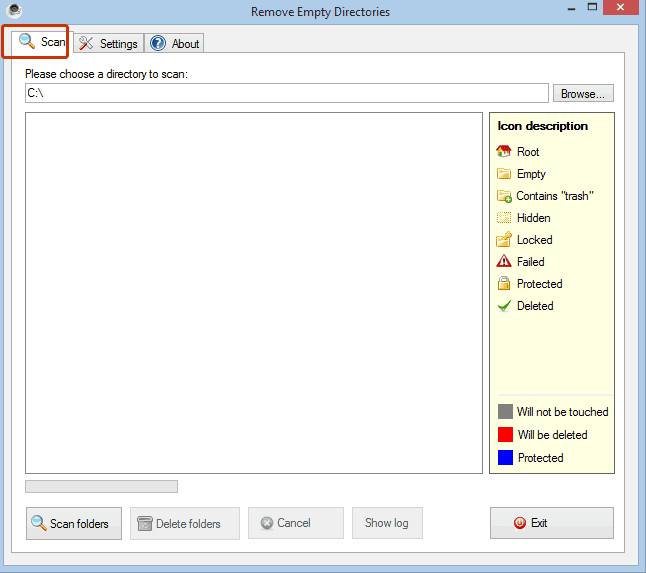 As stated above, these are the cases and possible solutions when you can't remove empty folder in Windows 10. Have you diagnosed your issue and got around from them? I hope so. Moreover, if the problem is on can't delete files or icons, you are able to resolve it with the same tricks as well. By the way, if you encounter other computer system maintenance and optimization problems in Windows OS, Windows Care Genius is the best and maximum performance tool. It's our pleasure to be of great assistance.