"I download some PDF files from the Internet and need to edit it, but in order to protect the author, the author encrypts it. Now I can't edit the PDF, it is so inconvenient. How can I remove the password and to edit the PDF file? How to recover PDF edit password? Does anybody know the solution?"
As a matter of fact, the above situation is not infrequent. Not only the person who downloads PDF file, but also the person who sets up the password has the perplexity. In order to prevent someone changing the document content, some authors will create a password in the PDF archive. However, clever people may be victims of their own cleverness. After some time, they forget the password accidently. In that case, how to recover PDF edit password when we have no idea about the password? Here you can see the solutions as below.
Solution 1: Recover PDF Edit Password via PDF Password Remover
The most effective way to recover PDF edit password is to make use of PDF Password Remover. This is a nice, easy-to-use and professional tool, which is designed to remove owner password in PDF files. No matter how large the PDF size is, you can always recover it. No need too many complicated steps, just several clicks and then you are able to remove PDF edit password instantly. You can see how to use this tool in the following.
Step 1: Download this PDF password remover software from official website and then install it to your Windows-based personal computer.
Step 2: Launch this application and then you are about to see the whole interface of this tool. You can see the blue button in the middle of it, too. Just click the "Add PDF" button to insert your PDF files to this software.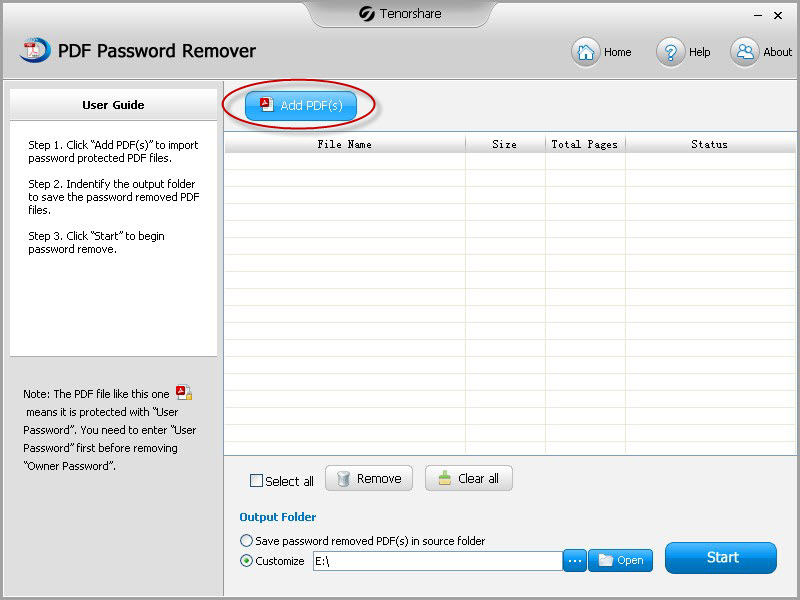 Step 3: From the above PDF files, you can see the information including File Name, Size, Total Pages and Status. Choose your target locked PDF files, select all, remove or clear all of them.
Step 4: Choose the Output Folder in the bottom. You can choose to save password removed PDF(s) in source folder or click the Open button to customize the path.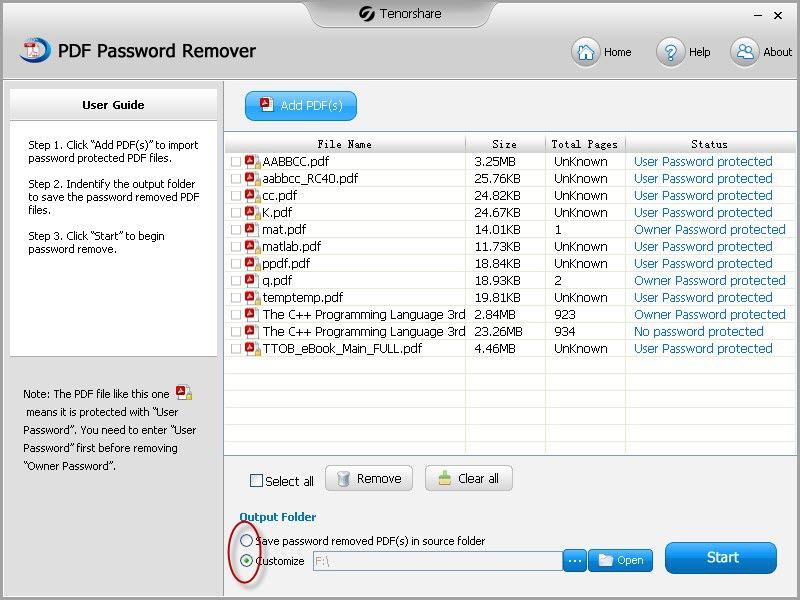 Step 5: Click the Start button to start remove PDF edit password successfully.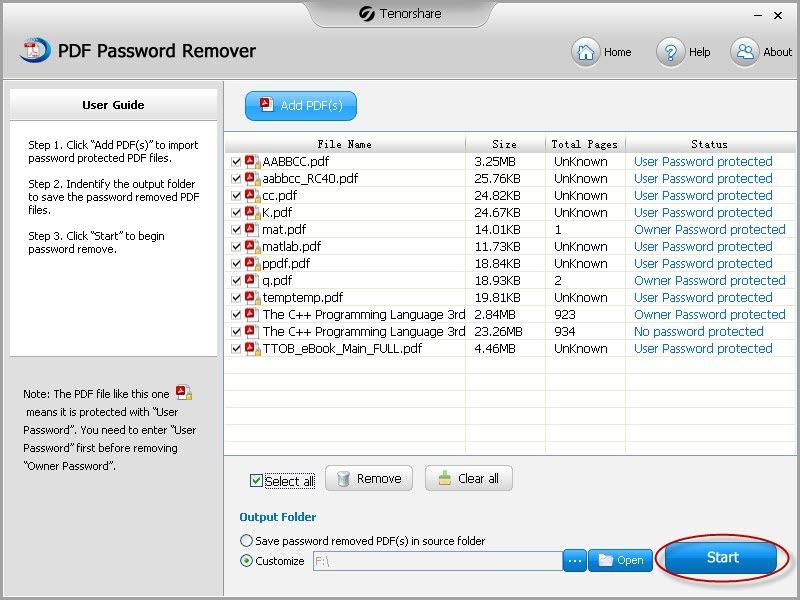 Solution 2: Recover PDF Edit Password via Online PDF Password Remover
There are also other online free PDF password removers, such as FreeMyPDF.com. You just need to upload your encrypted PDF file to the website and then wait for a while; the owner password will be removed forever. After that, download the new decrypted PDF file. However, it supports the maximum PDF file size is 250 MB.
Well, that's all about how to recover PDF edit password with PDF password remove tool. After that, you are able to edit PDF file easily. By the way, if the PDF file you use is password protected and you can't open it, you need to use PDF Password Recovery tool to open it at first, and then use PDF password remove tool to remove edit password. Last but not least, if you want to know more about PDF tips, you can visit this page.