My computer runs Phoenix-Award BIOS, but with Windows 8 was preinstalled when I purchase it, after set the computer to boot by USB disk, it directly boot into Windows login screen. What should I do???
After the UEFI BIOS applied with Windows 8/8.1, Microsoft required Mainboard Company to applied Secure Boot in the main board to protect Windows system security. But in some degree, this makes many things inconvenience for consumers, users can not run other system such as WinPE micro system even Windows 7 in secure boot mode.
For many Windows login password recovery tools and system maintenance tools runs in Windows PE micro system, users can not boot their system by a removable device after just change the boot option in BIOS. Here you will know how to set Phoenix-Award secure BIOS computer to boot by USB flash disk and reset your login password.
To get started, download Windows Password Recovery Tool to an available computer and launch it after install.
Step 1 Inset a USB flash disk or a CD/DVD into the computer, click the "Burn" button to burn a bootable disk.
Step 2 Insert the burned USB disk into the locked computer and power on. Press "Delete" (the key may depend on your computer brand) to enter Phoenix SecureCore Setup.
Step 3 Use arrow key change to Security tab, change Secure Boot to Disable, this will allow your computer to boot by the extend device.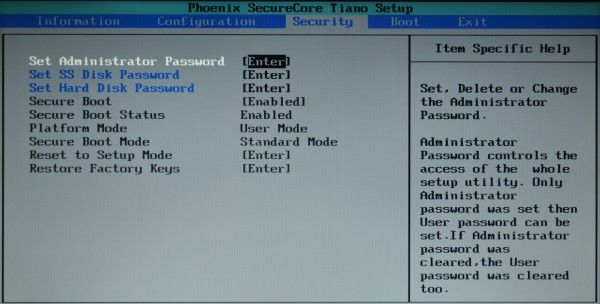 Step 4 In Boot tab, change UEFI Boot Support to Disable, this will allow your computer boot in Legacy mode.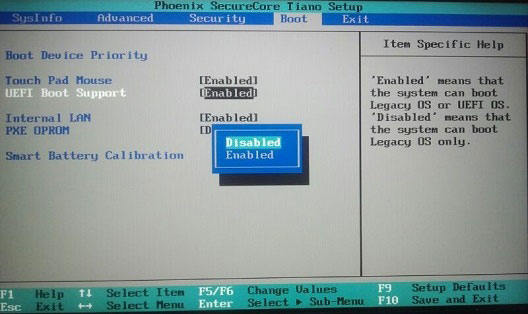 Step 5 Press F10 to save the changes, restart your computer and press F8 or F12, then a boot list will popup, choose the USB flash disk and hit "Enter", your computer will boot to the password recovery procedure.
Step 6 Choose your system install path, check the "Reset your password" option, you will see the user account list with detail information in the box. You can reset/remove the login password of any use account.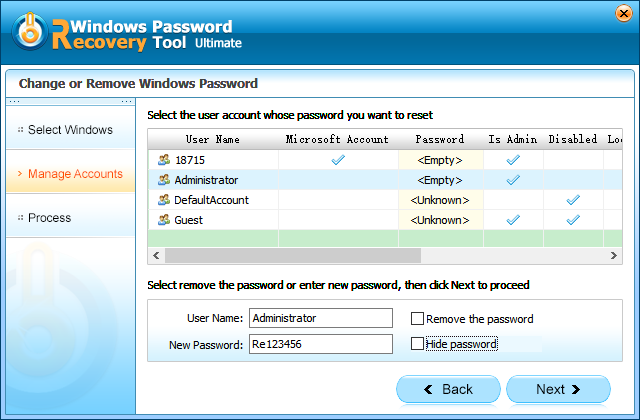 Tips: If the locked account is of no use anymore, you can also delete it, you can also create a new admin account and login the system with full admin privilege.
After that, your computer will not normally boot in Legacy mode, now you have to enter Bios and revert the original settings.
Free Try Windows Password Recovery Tool
World's 1st Windows Password Recovery Software to Reset Windows Administrator & User Password.
Free Download
Free Download