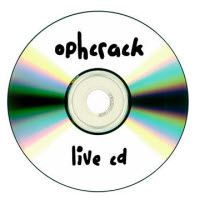 Use computer constantly and have a ton of passwords to remember? Forgot your Windows password and need it back so that you could have access to important files or computer accounts? Many people wonder if there is a way to recover Windows password quickly and easily. In this article we will explain how to use Ophcrack to crack Windows password.
Ophcrack LiveCD V3.4.0 is a free Windows password recovery tool that could recover lost Windows 7/Vista/XP password, a Windows password cracker based on rainbow tables. Meanwhile we highly recommend you an alternative rick free Windows password recovery tool – Windows Password Recovery which also allows you to recover Windows password with a USB flash drive if you can't find an empty CD/DVD.
To give you a better understanding of Ophcrack LiveCD, we will show you how to do Windows password recovery free with Ophcrack.
Free Download
Free Download
Free Windows Password Recovery with LiveCD
Step I. Visit Ophcrack's website www.ophcrack.sourceforge.net to download an appropriate version of Ophcrack LiveCD for your Windows. The size of the Ophcrack LiveCD software you're downloading is fairly large, for instance, the Windows XP version I downloaded is 425MB. After downloading you should burn the Ophcrack LiveCD ISO file to a bootable disc.
Step II. Click "Load" in the menu that appears on-screen, then click "Local SAM" to import the SAM contents of your PC.
Step III. Click any user in the menu that appears whose password you are not interested in. Then press the "Delete" on the keyboard to remove it, which will speed up the process.
Step IV. Click "Tables" button, then click the "Install" button next to the "XP free small" table (click "XP free fast" instead if you have 512 or more megabytes of RAM). Click "XP free tables" to install it, and then click the green and yellow buttons next to both tables to enable them. Keep in mind that storing the rainbow tables on a fast medium like a hard disk will significantly speed up the cracking process.

However in this step many have had "No Tables Found" problem. In this case you might find some help from yahoo answer. You could see through the answers and see if there is one that could help you.

Step V. Click on the "Crack" button to begin cracking the Windows password. The password will show in the "NT Pwd field." When a password is found, it will be displayed in the NT Pwd field. You can then save the results of a cracking session at any time with the "Save" button.
Some Limitations of Ophcrack LiveCD
1. Ophcrack free LiveCD takes too much room and the downloading will cost some time. 506 MB (7/Vista) / 425 MB (XP) LiveCD ISO image must be downloaded.
2. You must prepare a bootable CD to crack Windows password, which is sometimes not easy to find. Because LiveCD ISO image must be burned to a disc before being used.
3. The loading of the tables also takes a long time.
4. Cracking Windows passwords with more than 14 characters or numbers won't be available with this program.
5. Some antivirus programs mistakenly identify Ophcrack as a Trojan or virus.
Ophcrack is, to some degree, best designed for computer geek. For ordinary users it's better to choose an easy-to-use tool alternative of the above free Windows password recovery tool, Windows Password Recovery which could also help us recover Windows password might also be a good choice. Different from Ophcrack LiveCD, users could not only use a disk to burn the ISO image for booting Windows, but also use a USB flash drive to burn the ISO image to, which is more convenient.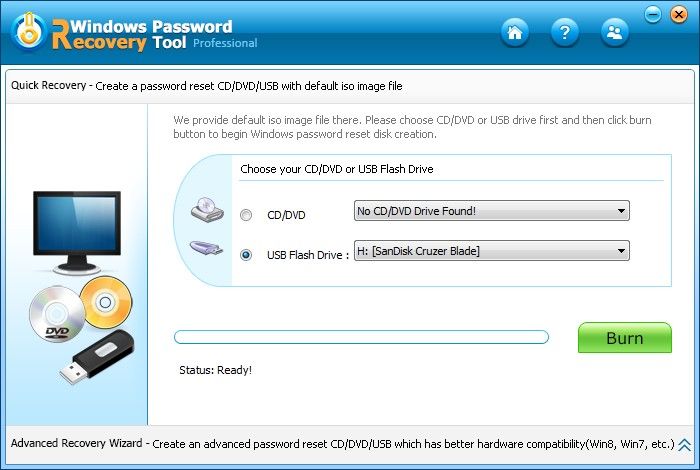 Like the above picture shows, the user-friendly interface makes Windows password recovery extremely easy, even a computer newbie could manage to crack Windows password with Windows Password Recovery. Besides recover Windows passwords, Windows Password Recovery enables users to change Windows password, create a new Windows account and remove Windows accounts as well. You can free download Windows Password Recovery and have a try.
Free Try Windows Password Recovery Tool
World's 1st Windows Password Recovery Software to Reset Windows Administrator & User Password.
Free Download
Free Download