"I forgot administrator password for Asus Q200e notebook, is there any suggestions for how to figure out the password to ASUS computer. I need to regain the access to my PC urgently. Help!!! "
The operating system password on Asus laptop or notebook, such as the password in Windows 10/8.1/8/7/XP/Vista, etc. is a double-edged sword: it can offer security for you to stop others accessing your personal files without permission, but at the same time, you wouldn't log into your Windows if you forgot Asus password .
Take it easy! Windows Password Recovery Tool is right here for you. It can easily and quickly reset or change forgotten password on Asus laptop on all popular Windows OS, such as Windows 10/8.1/8/7/XP/Vista, Windows Server 2012(R2)/2008(R2)/2003(R2), etc.
Honored as the top-tier Windows password recovery software, Asus Password Recovery (Windows Password Recovery Tool) will never let you down.
How to Reset Password on Asus Laptop in Windows 8.1/8/7/XP/Vista, etc.?
The steps for how to unlock ASUS laptop forgotten password for administrator and user accounts are the same. Here we'd like to take Asus laptop password recovery for administrator account as an instance.
Step 1: Download Asus Password Recovery
Download and install Windows Password Recovery Tool on any available PC.
Step 2: Create a Password Reset CD/DVD or USB for Asus laptop
Here USB Flash Drive is the example to show.
Insert a USB Flash Drive into a USB port on the available PC and specify the USB burning drive from the pull-down list of the USB flash options. Click "Burn" button to create Asus laptop password recovery disk.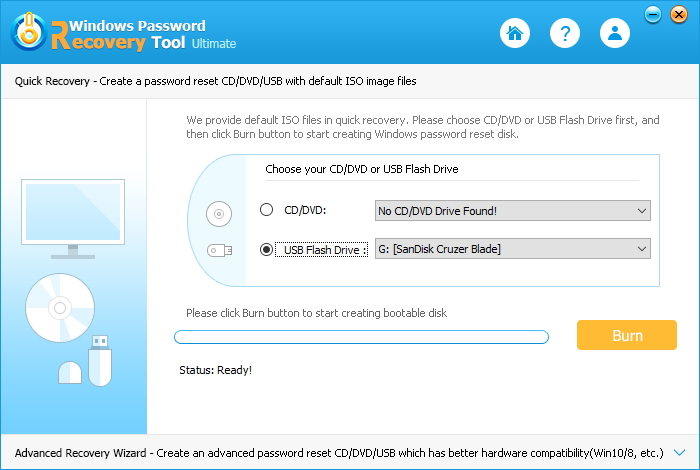 Step 3: Reset Asus administrator password on laptop.
1. Insert newly created USB Flash Drive and restart your Asus laptop.
2. Select Windows installation to remove the password, and then choose "Reset your password". Click "Next" to proceed.
3. Choose "administrator" account, select "Remove the password" and click "Next" to proceed.
4. Click "Reboot" to restart your Asus laptop.
You have finished Asus laptop password reset or changed your password successfully! No matter what pop models of Asus laptop or notebook you own in the following list, you can use Windows Password Recovery Tool to reset or change your password.
| | | |
| --- | --- | --- |
| Asus ZenBook 3 | Asus ZenBookUX | Asus ROG GL |
| Asus Vivibook | Asus ROG GX | Asus ROG Stix |
| Asus ZenBook 13 | Asus ZenBook Pro | Asus ZenBook UX |
| ASUSPRO | Asus VivoBook S15 | Asus ZenBook 15 |
| Asus VivoBook X | Asus VivoBook Max | etc. |
Part 2: How to Avoid Password Forgotten on Asus Laptop?
Here are some suggestions to avoid forgetting password on your Asus laptop:
1. Create a password reset disk in advance. It is the safest way to prevent from forgetting your Asus password, but you need to create this tool before losing your password.

Tips to create a password reset disk:
Inset your removable media –> Click the Start button on your Asus laptop –> Click Control Panel, User Accounts and Family Safety, User Accounts –> Click Create a password reset disk –> Follow the instructions.

2. Make a Windows password hint for your Asus laptop. When you are creating a password on your Asus laptop, you must also create a password hint that is intended to remind you what the password is for the user account.
3. Write down the Asus password on a paper and keep it in a safe place.
That's all about how to reset Asus laptop password on Windows 10/8/7. Just get Windows Password Recovery Tool and The recovery process is simple and straightforward.
Free Try Windows Password Recovery Tool
World's 1st Windows Password Recovery Software to Reset Windows Administrator & User Password.
Free Download
Free Download