With the release of Windows 8, more and more people are enjoying this new system on Asus laptop or notebook. As one of the users, you may feel depressed when you forgot Asus Windows 8 password and want to find out the best solution to reset Asus password in Windows 8.
The Best Solution to Reset Forgotten Asus Password in Windows 8
For Asus laptop password recovery in windows 8, the perfect solution is to use Windows Password Recovery Tool. This software can help you easily reset or change Asus Windows 8 password for both local account and Microsft account, without system reinstallation.
Here are the instructions of how to reset Windows 8 password on Asus laptop for administrator account. (The user account password reset is the same)
Note: Someone asks about how to steal the administrator password on a Asus? Stealing other's password is illegal. Make sure the you use this program to reset the password for your own PC.
Step 1: Download Asus Windows 8 Password Reset
Download and install Windows Password Recovery Tool on any available PC.
Step 2: Create a Password Reset CD/DVD or USB.
Here we take USB Flash Drive for example.
Insert a USB Flash Drive into a USB port on the available PC and then create a password reset disk either with Quick Recovery or Advanced Recovery Wizard.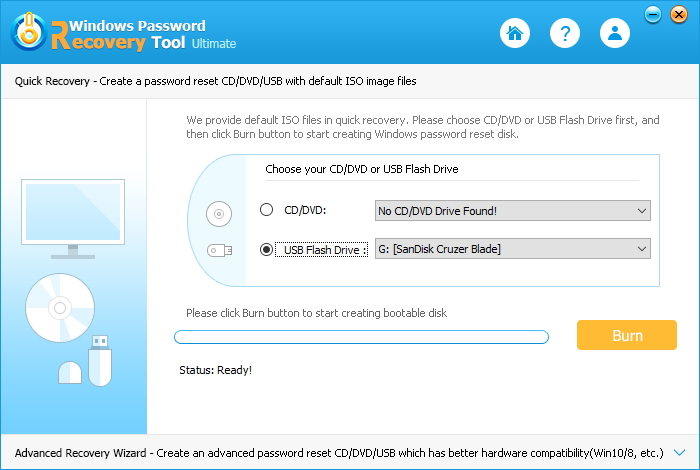 Step 3: Reset Asus administrator password in Windows 8.
1. Insert newly created USB Flash Drive and reboot your Asus laptop. To reboot your Asus from this bootable disk, you need to set BIOS. If your Asus is preinstalled with Windows 8 and use UEFI, you have to disable UEFI Secure Boot before the BIOS setting.
2. Select Windows installation to remove the password, and then choose "Reset your password". Click "Next" to proceed.
3. Choose "administrator" account, select "Remove the password" and click "Next" to proceed (For Microsoft account password, this program only supports to reset it instead of recovering or removing).
4. Click "Reboot" to restart your Asus laptop and login Windows 8 without any password.
For safety consideration, you may wonder how to change Windows 8 password on Asus laptop. Just follow the instructions on the pop up windows.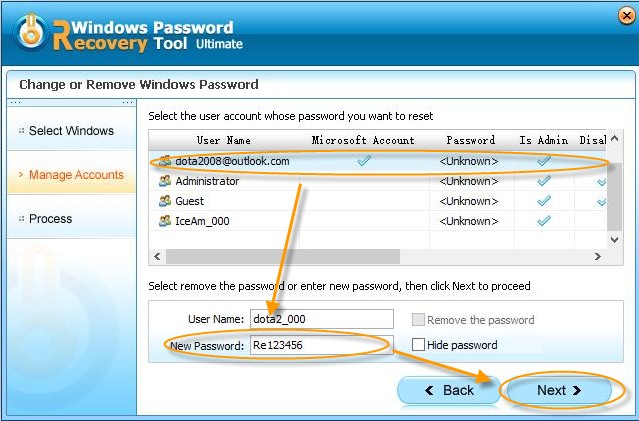 Other Ways of Asus Password Recovery in Windows 8
If you search the Internet, you may find some other ways for Asus laptop password reset in Windows 8. However, they are not reliable all the time because of their weaknesses.
1. Use a password reset disk. It is a hot and useful suggestion, but you have to create it in advance before you forgot your Asus password. What's more, it only applies to user account password reset. Thus it is not workable for an instant Asus laptop Windows 8 password reset.
2. Try a Microsoft Account. It is another good choice if you happen to get one in advance, but you have to connect your Asus laptop to the cloud, which is not safe for your privacy.
3. Use Ophcrack. This program isn't almighty. It has many limitations, such as no violent decryption, no decryption with only NT hash, no dictionary attack, etc. What's more, it doesn't apply to Windows 8.
Below are the pop models of Asus notebook in Windows 8. No matter which one you are using, you can try Windows Password Recovery Tool to help you finish Asus password recovery in windows 8 or change passwords.
| | | |
| --- | --- | --- |
| Asus A55A-Ah21 | Asus VivoBook X202E-Dh21T | Asus F55A-AH91 |
| Asus N56VJ-DH71 | Asus A55A-Ah21-WT Asus F55A-AH91 | Asus X55U-EH11 |
| Asus A55A-AH51 | Asus A55A-Ah21-RD | Asus A55VD-AH71 |
| Asus A55A-Ah21-BU | Asus Republic of Gamers G75VW-AH71 | Asus A55A-Ah21-PK |
| Asus Q200E | Asus VivoBook S400CA-DH51T | Asus A55A-AH51-WT |
| Asus S56CA-DH51 | Asus Vivobook X202E-Dh21T | etc. |
Free Try Windows Password Recovery Tool
World's 1st Windows Password Recovery Software to Reset Windows Administrator & User Password.
Free Download
Free Download