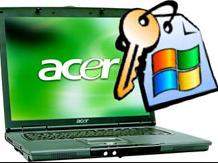 Forgot Acer password for local administrator or user accounts when logging into Windows 10/8/7/Vista/XP? Want to reset password on Acer laptop, such as Acer Aspire (V5, S3, S7, E1, etc.), Acer Iconia (W51, W510, W700, B1, Tab W500, etc.)? Here I would like to introduce some solutions to you for Acer password reset.
Solutions to Reset Forgotten Acer Laptop Password in Windows 8/7/XP/Vista
When we lost Acer password for administrator or user accounts on laptop, there are several ways to reset Acer password.
For Acer laptop administrator password reset:
1. Try leaving the administrator password blank. Press "Enter" without typing anything when asked for it.
2. Type the user account password. When Windows system was setup on your Acer laptop, the primary user account will be configured with administrator privileges.
3. Try to remember the Acer laptop administrator password. It is strongly recommended by some experts that users should write down the administrator password on papers.
4. Reinstall the Windows system on your Acer laptop.
As to the password for user accounts, check whether you can reset the forgotten password with the administrator account: 1. Open command prompt: Start, Run, and then type in: cmd.exe. 2. Type in: net user username password to reset password for username.
If all the above ways are unworkable or impracticable, then you are strongly recommended to try Windows Password Recovery Tool to help you reset Acer password on laptop.
Windows Password Recovery Tool is the top-tier password recovery software for users to easily reset password on Acer laptop, including passwords for administrator and other user accounts. With good compatibility, it fully supports Windows 8, Windows 7, Windows Vista, Windows XP, Windows 2000, etc.
How to Recover Acer Laptop Password by Using Acer Password Recovery?
Here We Take Acer Administrator Password Reset For Example.
Step 1: Download Acer Password Reset
Download and install Windows Password Recovery Tool on any available PC.
Step 2: Burn Windows Password Recovery Tool to CD/DVD or USB Flash Drive.
Here we take USB flash drive for example.
Insert a USB Flash Drive into a USB port on the available PC and specify the USB burning drive from the pull-down list of the USB flash options. Click "Burn" button.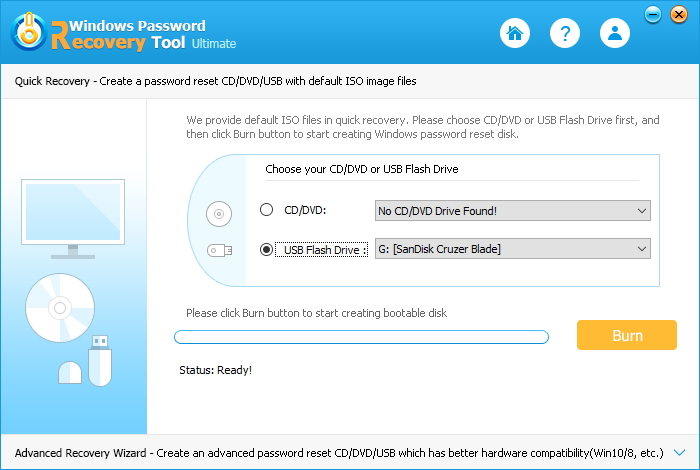 1. Click "Yes" button.
2. Select "OK" in the pop up burning completed successfully window.
Step 3: Reset Acer administrator password on laptop.
1. Insert newly created CD/DVD or USB Flash Drive and reboot your Acer laptop.

Note: To reboot your Acer laptop with a CD/DVD disk or with a USB Flash Drive, it's necessary to change your laptop's setting to make it boot from the CD/DVD or from the USB Flash Drive.

2. Select Windows installation to remove the password, and then choose "Reset your password". Click "Next" to proceed.
3. Choose "administrator" account, select "Remove the password" and click "Next" to proceed.
4. You have finished Acer password reset successfully. Click "Reboot" to restart your Acer laptop and login Windows 8/7/XP/Vista without any password.
Free Try Windows Password Recovery Tool
World's 1st Windows Password Recovery Software to Reset Windows Administrator & User Password.
Free Download
Free Download