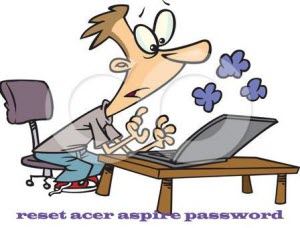 "Aspire one Acer forgot password, is there any way to reset it quickly. Help!"
With high performance, Acer Aspire laptop models, such as the hot Aspire One, Aspire 5738, Aspire S3, Aspire S5, Aspire S7, Aspire V5, Aspire E1, etc. offer a wide range of processor and memory alternatives for glitch-free multitasking, so there is no doubt that Acer Aspire laptops have greatly won warm welcome among users. However, many users may have an urgent need to reset password after they forgot Acer Aspire password for local administrator or user accounts on laptop in Windows 8.1/8/7/Vista/XP, etc.
The Best Way for Acer Aspire Password Reset
The best solution to reset Acer Aspire password is to use Windows Password Recovery Tool. With high functionality, this top-tier tool can help you easily and fast reset Acer Aspire laptop password for both administrator account and user account with 100% Windows password reset rate. It fully supports Windows 8.1/8/7/XP/Vista, Windows Server 2012(R2)/2008(R2)/2003(R2), etc.
How to Reset Password on Acer Aspire Laptop or Notebook in Windows 8.1/8/7/Vista/XP With Windows Password Recovery Tool?
The steps of administrator password reset and password recovery of user account are the same. Here we show you the steps of how to reset Acer Aspire administrator password.
Step 1: Download Windows Password Recovery Tool
Download and install Windows Password Recovery Tool on any available PC (Standard version for local account password recovery and Ultimate version for Microsoft account password reset).
Step 2: Burn Windows Password Recovery Tool to CD/DVD or USB Flash Drive.
Here we take USB flash drive for example.
Insert a USB Flash Drive into a USB port on the available PC and specify the USB burning drive from the pull-down list of the USB flash options. Click "Burn" button.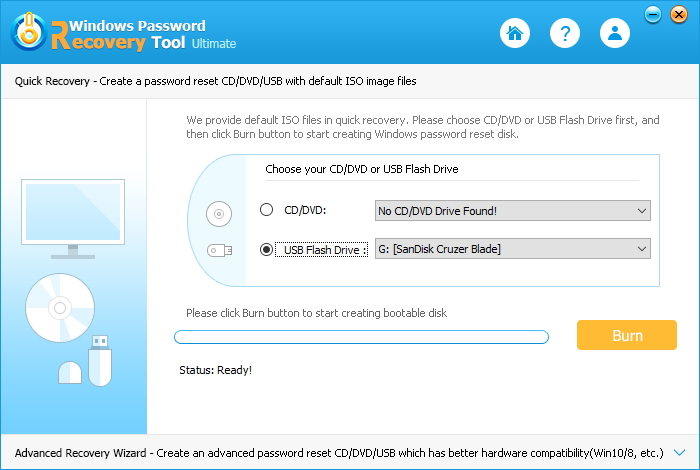 1. Click "Yes" button.
2. Select "OK" in the pop up burning completed successfully window.
Step 3: Reset Acer Aspire administrator password on laptop.
1. Insert newly created USB Flash Drive and reboot your Acer Aspire laptop (Aspire with Windows 7 or lower preinstalled, you need to set the BIOS to boot it from USB or CD/DVD, and for Windows 8/8.1 preinstalled, you need to disable UEFI secure boot and then set the BIOS).
2. Select Windows installation to remove the password, and then choose "Reset your password". Click "Next" to proceed.
3. Choose "administrator" account, select "Remove the password" and click "Next" to proceed.
4. Click "Reboot" to restart your Acer Aspire laptop and login Windows without any password.
Other Ways to Reset Forgotten Password from Acer Aspire Laptop
There are some shortcuts you can try to reset password from Acer Aspire laptop, but they are not always workable and reliable.
I: For administrator password:
1. Try the primary user account password which may be configured with administrator privileges.
2. Reinstall Windows system. This method will cause data loss on your Acer Aspire laptop.
3. For Windows 8 system, try the Microsoft account if you are lucky to have one.
II: For user account password:
Use the password rest disk to reset password for user account, but you have to create this tool before you forgot Acer Aspire password.
Tips: To create a password reset disk, you need to "
1. Inset your removable media.
2. Open User Account by clicking the Start button, clicking "Control Panel", "User Accounts and Family Safety", "User Accounts".
3. Click "Create a password reset disk", and then follow the instructions. Make sure you keep the password reset disk in a safe place.
Free Try Windows Password Recovery Tool
World's 1st Windows Password Recovery Software to Reset Windows Administrator & User Password.
Free Download
Free Download