Another Windows 8.1 Update 1 build 9600.17025 has leaked on the web. This new built was compiled on February 14 and said to be available for both x86 and x64. It's not clear what's new in this build; however it's highly likely that changes in this build include bug fixes.
In fact, last week, WZor has posted up a screenshot of an earlier build of Update 1, with the version number 17019, and said that it had entered the escrow stage of development. That means that work on the Windows 8.1 update1 is basically done, save for perhaps a few more bugs. Windows 8.1 Update 1 will include numbers of improvements to enhance the user experience of keyboard and mouse users.
Improvements of Windows 8.1 Update 1
Although, Microsoft has not confirmed anything about Windows 8.1 Update 1, which will add a number of improvements for the OS, we still a get some information from the screenshots leaked from Jan 22, 2014 to now.
Title bar on Metro apps
Windows 8.1 Update 1 will include a title bar across the top of all Metro-style apps, making it easier to use a mouse to minimise and close apps, as well as snap them side-by-side next to each other. It's also now possible to see how the dedicated shutdown and search icon will operate.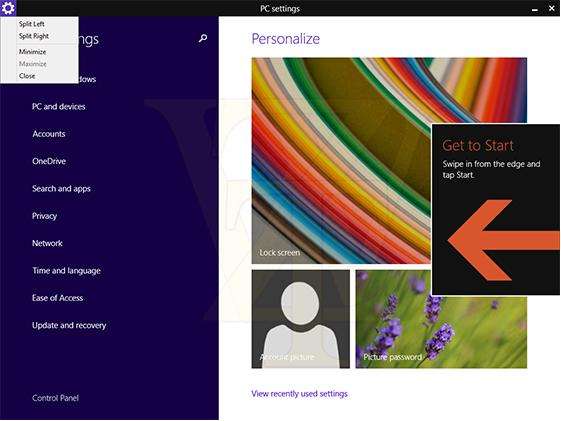 Pin Metro apps to the taskbar
Leaked screenshots suggest Update 1 will allow Metro apps to be pinned to the desktop taskbar, meaning users won't have to flip back into the Start screen to access them. And the pinned Windows Store apps in taskbar also support thumbnail previews.


Add Search and Power buttons next to user account menu
Microsoft is now adding two new buttons next to user account menu. You now have Search and Power buttons which will allow you to access search and power options. Previously, these two options were hidden in Charms menu.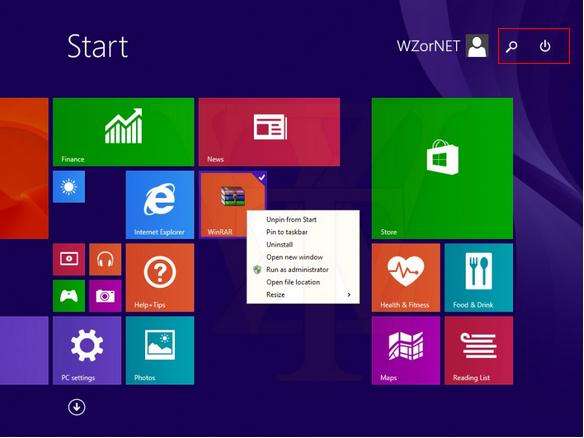 Traditional Context Menu Support In Start Screen
Windows 8.1 update 1 enables its users to better control over how they sort the Start screen. By right-clicking an app to get the context menu up which allows you to unpin that item from Start screen and/or taskbar, resize the tile, or even uninstall it.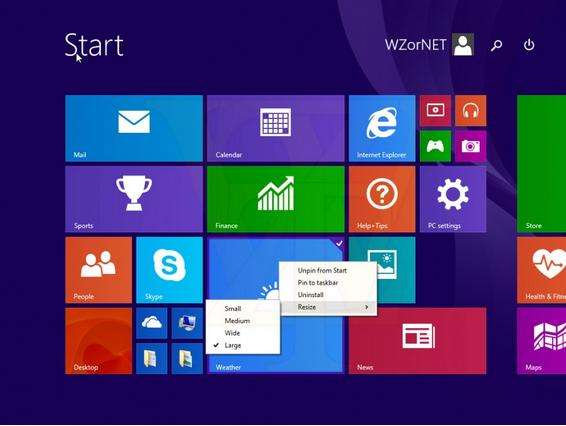 Include New Disk Space Manager
Leaked screenshots suggest that Windows 8.1 update 1 will include new Disk Space Manager. Disk Space allows you to manage your storage in your device. You can see the total free space available, how much each apps/games occupy in your disk, get overview of the storage, and the ability to empty recycle bin. This Disk Space manager can be accessed from PC Settings screen.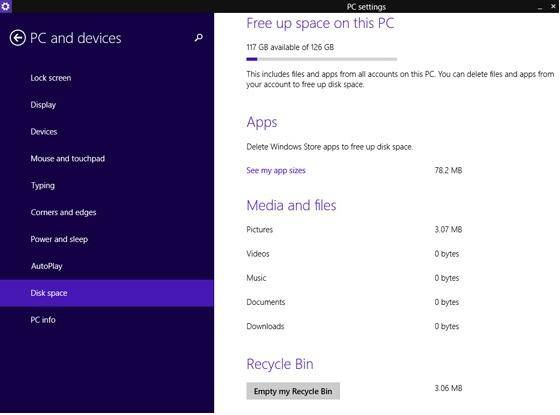 Finally, this latest leak is an RTM Escrow build, meaning it's not complete and it's possible that it could contain bugs. We do not recommend you install any RTM Escrow builds on any production machines as this could lead to terrible problems with your system. The final version of Windows 8.1 Update 1 is set to launch sometime in April, and will be talked about at Microsoft's BUILD developer conference. For more Windows 8.1 news, click here.
Free Try Windows Password Recovery Tool
World's 1st Windows Password Recovery Software to Reset Windows Administrator & User Password.
Free Download
Free Download