Shortly after its launch on October 17th, we've seen Windows 8.1 doubles its market share in October to 1.72%. According to new data from NetApplications, Windows 8 now holds a market share of 7.53% while Windows 8.1 holds a share of 1.72%. Windows 8 and Windows 8.1 both account for a 9.25% combined share in October 2013.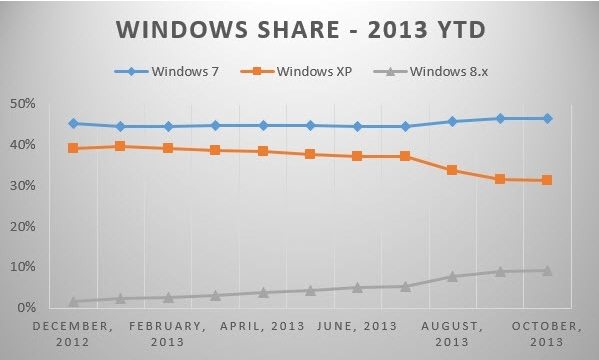 From this new data, we've seen that Windows 8 is slowly dropping in market share as Windows 8.1 is seeing an increase. Of course, this is due to the Windows 8.1 update being released mid-October. As a free update to Windows 8 users, it is not surprise to see a larger market share for Windows 8.1 this time around.
Comparison between Windows 8.1 and Windows 8
Compared to Windows 8 launched on October 26th 2012, whose global market share is 0.41% at the end of October 2012 and 1.09 percent market share by the end of its first full month in the market, November, Windows 8.1 really grew quickly in the first month, though unfairly, as Windows 8 had to sell a unit to grow its market share, while Windows 8.1 had to only enact downloads.
Reason for Windows 8.1's Increase
Windows 8.1, shortly after launch, had reached 1.72 percent market share by the end of that month. It is really growing far more quickly. But is it due to the upgrade from Windows 8 to Windows 8.1 or Windows 8.1 sold by itself? Of course, its market share path has been smoothed by the sales work that Windows 8 put in but Windows 8.1 also sold units by itself on new PCs in the second half of October. From this new data, Windows 8.1 picked up 0.85 percent market share, while Windows 8 lost 0.49 percent market share in the month. Thus, we can say that Windows 8.1 sold about half of its market share gain, and raised the other half through upgrades.
At the same time, Windows 7 grabbed 0.03 percentage points (from 46.39 percent to 46.42 percent). Windows XP dropped 0.18 percentage points (from 31.42 percent to 31.24 percent). Windows Vista declined 0.35 percentage points (from 3.98 percent to 3.63 percent).OS X 10.9 was released later in the month, and it managed to hit 0.84 percent, passing OS X 10.4 and 10.5.
Now comes to November, the first full month for Windows 8.1. We expect to see Windows 8.1's share will be much higher in November.
Free Try Windows Password Recovery Tool
World's 1st Windows Password Recovery Software to Reset Windows Administrator & User Password.
Free Download
Free Download