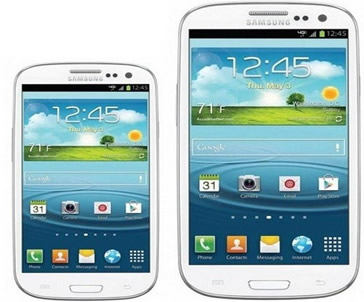 Samsung Electronics showed off a cheaper version of its Galaxy S4 flagship smartphone, the Galaxy S4 Mini at the London Premier on Thursday. Rumors and speculations has been around for quite a long time, and now we could finally get a close and real look at the Samsung Galaxy S4.
Tech Specs
Galaxy S4 Mini offers up a 4.3-inch Super AMOLED 960 x 540 display, 1.7GHz dual-core processor, 1.5GB of RAM and 8GB of internal storage, although only 5GB is actually available to use.
The device is running the latest version of Android (Android 4.2.2) and is layered with Samsung's TouchWiz user interface. It features a lot of the goodies from its big brother, Galaxy S4, such as S Translator, Samsung Hub, S Travel, S Voice, S Health. However on the software front, you are missing a few key innovations from the GS4, most notably Air View, Air Gestures, Smart Scroll and Smart Pause.
Round the back you'll find Samsung has equipped the Galaxy S4 mini with a decent 8MP camera with a single LED flash, while round the front you've got a 1.9MP camera for those all important vanity checks. If you let the auto-focus settle before hitting the shutter, the Galaxy S4 Mini will instantly take a snap, and in less than a second you're ready to take another picture.
Note: Worry about losing beautiful pictures shot with Samsung? Free trial Data Recovery Professional and get back your deleted or lost photos from your cell phone's SD card or memory card with a few clicks.
Release Date and Price
Rumor has it that the 4G variant will arrive in the UK before the end of June, which could be around the date Apple announces iPhone 6.
Price of the Galaxy S4 Mini hasn't been announced yet, but we reckon it will come in around the £25 per month mark, or about £300 (around $460, AU$480) SIM-free.
Samsung is hoping that by launching the Galaxy S 4 mini, the stripped down version of its high-end flagship smartphone, it will be able to grab more consumers especially in emerging markets.
Last month, Samsung said it had shipped more than 10 million Galaxy S4s since the smartphone hit markets in late April. The company hasn't provided sales-figure updates since then.
Earlier this month, Samsung also introduced the Galaxy S 4 Zoom, a new version of its top-of-the-range smartphone containing a high-quality camera with an optical zoom that extends out of the body of the phone.