Last year, Apple reported that the upcoming version of the iPad could be released in "Middle of 2013", but some analyst said Apple is preparing a brand new fifth-generation iPad model as early as September. Even though Apple has long led the market with its tablets and phones, it has come under more pressure from rivals, specifically Samsung regarding to innovating. This version of iPad will surface with a new look.
The rumor added that the device would come with a new look, closely resembling the iPad mini that features the iPhone 5' black/slate and white/silver designs.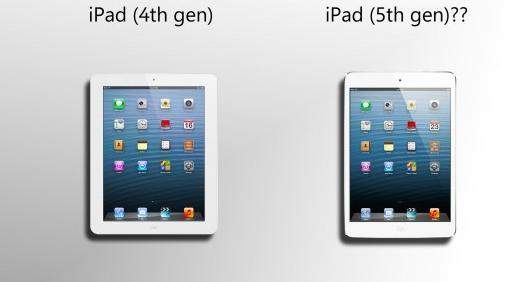 Analyst says: some dimensions for the fifth generation iPad are believed like "4mm in height, 17mm in width, depth 2mm." Although "these numbers are obviously unrealistic expectations for the fifth-generation iPad's actual size, these numbers would make sense in the context of being millimeters smaller in all of the iPad's physical dimensions than the current iPad."
Given that the existing fourth generation iPad comes in dimensions of 241.2mm by 185.7mm by 9.4mm, subtracting analyst's numbers "would point to a thinner iPad that is slightly shorter and narrower."
If the rumors turn out true, the next-generation iPad could be as thin as 7.2mm thin iPad mini.
Some analyst also claimed that the second generation iPad mini was also under preparation. The smaller iPad would like feature an all-new 7.9-inch Retina display with the same resolution as the new iPad and iPad 4 and an A6X processor.
Additional Tips: If your iPad backup file is locked, you can try iPhone Password Unlocker to gain access to information stored in password-protected iPhone, iPad and iPod Touch backups: contacts, text messages, photos, call history, notes, calendar and etc.