It is reported in the Korea Times, which is one of the biggest newspapers in South Korea, that Samsung has been excluded from the development process of Apple's next-generation custom chip for the iPhone and iPad. The Apple's so-call "A7" processor is said to be released in the first half of next year, 2014, to power upcoming iOS devices and Apple has turned to cooperate with Taiwan Semiconductor Manufacturing Company (TSMC), the world's leading independent semiconductor foundry.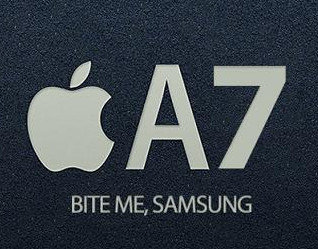 An executive at one of Samsung's local partners in Korea said, "Apple is sharing confidential data for its next A7 system-on-chip (SoC) with the Taiwan Semiconductor Manufacturing Company (TSMC). TSMC has begun ordering its contractors to supply equipment to produce Apple's next processors using a finer 20-nanometer level processing technology."
It is also reported that Apple and TSMC had work on the design for the A7, though much work remains before the chip will enter production and that Apple and TSMC have been pushing forward on a20-nm A7 design for launch early next year.
Apple has been employing custom designs for its iPhone and iPad chips for years, but Samsung is the one who entirely handle the production of those chips. It has been highly rumored that Apple is going to exclude Samsung out of its business of making chips, but Apple's latest iPhone and iPad models still use the chips built by the Korean electronics manufacturer.
Note: If you didn't encrypt backup files but it is locked and you can't restore your new iPhone or iPad, you can use iPhone Backup Unlocker to help you get back your data from iPhone or iPad.
An official of the top-tier parts supplier said, "Apple is cutting the use of Samsung displays for its products. Now the deterioration of ties has expanded to chips. You should remember that the application business is one of Samsung's new growth engines in which the firm is heavily investing." It is noted that if Samsung fails to win orders for Apple's A7 chips, it could cease some of its chip-manufacturing lines.
Now Samsung is reported to making a plan to grow its business partnerships with Nvidia in order to counterbalance any losses that it will be departed from Apple as a customer, and it is hoping its own Galaxy handsets, which use custom Exynos-branded ARM chips, can fill the gap to be left by Apple, as the firm has made important investments in its processor production facilities.
Although many rumors about noncooperation between Apple and Samsung have sprung up, Samsung is continuing to get benefits from intact partnerships with Apple. It also can be speculated in those rumors that Apple's iPhone model for 2013, the so-call iPhone 5S, will not feature a full-fledged next-generation A7 processor.