Windows Server 2012 makes group policy easier. Microsoft adds three enhancements related to Group Policy to the latest Windows Server 2012 which will give you even more control over the computers that are part of or connect to your corporate network.
Improved Troubleshooting
Windows Server 2012 offers enhanced data reporting including better tracking capabilities for the Resultant Set of Policy. Within GPMC in Windows Server 2012, Microsoft has added some useful additional data to Resultant Set of Policy (RSoP) reporting, to help you understand how your clients are processing GP.
In Windows Server 2008 R2 and previous versions, if you want to see why a policy didn't apply properly, you had to both look at the RSOP report and check the event log and tracing logs to see why a policy didn't apply properly. The RSOP report in Windows Server 2012 now contains additional troubleshooting details and tips that can help users really get to the heart of any processing issues.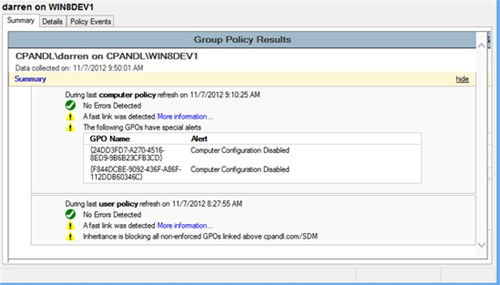 Remote Group Policy Update
Within the new GPMC (Group Policy Management Console) in Server 2012, you can remote GP refreshes (i.e. gpupdate /force) from a central location. But you cannot just locate the person's machine in the GPMC and kick off the group policy update. The updates must be done to all organizational units and subunits, not just an individual PC. At that time, all computer policies are refreshed and all polices for users are logged in. The tool provides the success and failure information for scheduling the update to occur. In addition, it's not an instantaneous action; the update runs about 10 minutes after the task scheduler is activated.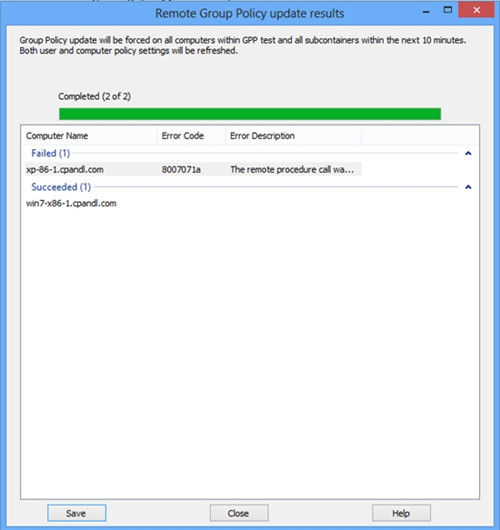 Group Policy Infrastructure Status
Infrastructure Status is a new feature in the new Group Policy Management Console which shows the replication state, such as whether it is in progress or if the sync is complete, as well as the status of both Active Directory and the SYSVOL folder, both of which are important to ensure the group policy objects are replicated.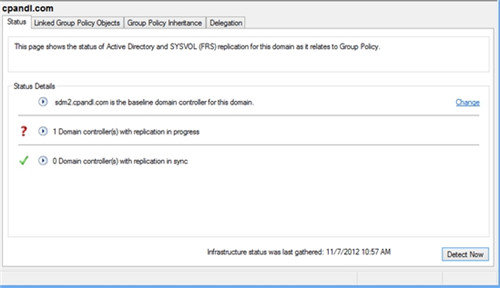 Also, there are many other changes to Windows Server 2012 group policy to make Group Policy really your best friend for enterprise-class configuration management. In addition, if you forgot Windows Server 2012 password, Windows Password Recovery Tool can be a great assistant for you to reset your forgotten password.
Free Try Windows Password Recovery Tool
World's 1st Windows Password Recovery Software to Reset Windows Administrator & User Password.
Free Download
Free Download