It is getting closer to October 26, the day for Windows 8's release. Microsoft is carefully planning the launch and recently the company has scheduled some updates of the built-in apps for Windows 8 before the final release.
The apps included in the Release-to-Manufacturing (RTM) build of Windows 8 are scheduled to receive updates starting this week so they will be ready for 26 October public release of the OS.
Apps within the new operating system will be updated much like the mobile apps on your phone. "The Store tile will notify you when updates are available, and you can open it and click the updates link in the top right corner to see the list and install the ones you want," Gabriel Aul with Microsoft's program management team wrote in a blog post.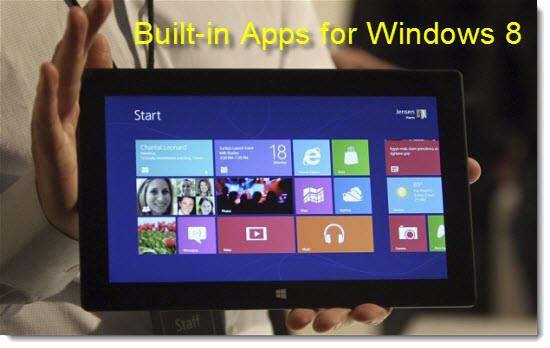 The apps and tools Microsoft is to update this week include more than 50 changes affecting everything from search and messaging to photo and music management.
First up was Bing, which got an overhaul on Friday. Richer search results for local content and images, Bing rewards integration, the ability to use zoom on your search results to see related queries, and the option to select an image from Bing to use on your lock screen or in your other apps are included in this update.
The collaboration apps received a number of enhancements, including conversation views of inboxes, IMAP support, better search, and a function that lets users accept or decline invitations through e-mail.
Sports fans should appreciate some of the additions Microsoft has made to its Sports app. They include more slideshows, videos, news and magazine content, and access to content from soccer leagues like Major League Soccer and the Brazilian league.
With the updated photo app, users can now crop and rotate pictures and view photos from networked locations that have been added to their Picture Library. Slideshow management is also improved.
"We are excited to get these updated apps out to all of the people who have been using Windows 8 so far, and to have them ready for the Windows 8 launch for people buying new PCs or upgrading their existing PCs," Aul wrote. Aul added that there are already "thousands" of apps in the Windows Store, and "we're working with developers from around the world to bring more in every day."
The updates to the built-in apps are largely minor tweaks to provide extra functionality. And for those users who have already downloaded and installed the Windows RTM code from either MSDN or TechNet, the updates will be provided via the Windows Store app, which will automatically alert users when updates are available and ready to download.