PC maker Hewlett-Packard decided to unify the design of every thin and light laptop it sold. With the 11.6-inch-screen Pavilion TouchSmart, which is prices at $399, being the cheapest among the touch models HP redesigns.
HP Pavilion and HP Envy Coming Soon
The $399 HP Pavilion TouchSmart 11 uses AMD's new low-power Temash processors to power a classy little 11.6-inch touchscreen machine, which still manages to house a full keyboard, a two-button touchpad, and a full array of ports, including three USB sockets, an HDMI port, VGA, Ethernet, and a SD card slot into its fairly minuscule frame. HP expects it to be on the market on June 26th.
"This would by far be the most affordable touchscreen (laptop)," said Kevin Wentzel, technical marketing manager from HP.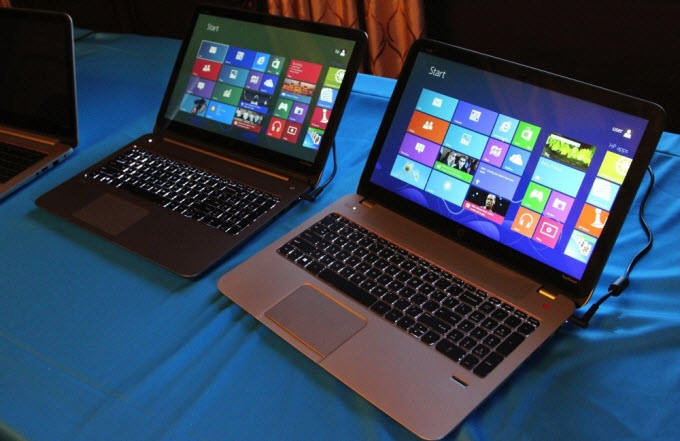 Still you might be excited about the HP Envy 14 TouchSmart Ultrabook which is to model itself on the MacBook Pro with Retina Display. The Ultrabook has Intel's upcoming Core chips code-named Haswell. It also has a 3200 x 1800-pixel display, and is said to be available later this summer. It starts at $699 with a low-res 14-inch, 1366 x 768 screen. Edge-to-edge glass touchscreens come standard on the Envy 14 TouchSmart, and its bigger brother the HP Envy 15 TouchSmart Notebook as well. Why "notebook" instead of "ultrabook"? The 15-inch model has a cheaper $529 starting price because it comes with AMD processors and no solid state storage by default. They both have fingerprint readers though, a feature that's now going to be standard across all of HP's Envy laptops. Just wait for one more month and you can get Envy 14 TouchSmart on June 26th. And the 15-inch model is arriving on June 5th.
Dean McCarron, principal analyst at Mercury Research noted that AMD's processors are considered less expensive than chips from Intel. Still many PC and Laptop manufactures choose to use AMD processors. The demand for touchscreens has increased due to Windows 8, and panel prices are coming down.
Now that HP has proven it can make a touchscreen laptop priced under $400, other PC vendors may follow suit, McCarron said.
Solution for HP Laptop Login Password Recovery
If you are one of the laptop users you may be troubled by losing Windows login password from time to time. Actually programmers have already saved us this trouble by developing software tools like Windows Password Recovery which could find login password for laptops running Windows 8, Windows 7, Windows XP, etc. Feel free to download and have a try. You will be surprised by what you find.
Free Try Windows Password Recovery Tool
World's 1st Windows Password Recovery Software to Reset Windows Administrator & User Password.
Free Download
Free Download