"Help! I forgot the login password on my Surface Pro, with Windows 8.1 preinstalled. This Surface tablet is preinstalled in UEFI Boot mode. How should I reset password so that I can get access to it again? Any suggestion?"
Locked out of Windows 8 administrator password on Surface? How to recover password for Surface Pro/Book with UEFI BIOS? To solve this problem, you can use Windows password recovery tool, allowing you to reset Windows 10, 8.1, 8 passwords on Surface Tablet preinstalled with UEFI BIOS. The following part shows the detailed 3 steps.
How to Recover Windows Password on UEFI-based Surface Tablet
To start the UEFI based Surface password recovery, download and install the Windows password recovery software on any workable PC (Windows 10, 8.1, 8, 7, XP, Vista) firstly.
Step 1: Create a UEFI Bootable CD/USB for Surface PC Tablet
Run Windows Password Recovery Tool. Insert bootable a CD or USB drive into computer, and create a bootable password reset disk by clicking "Burn" button.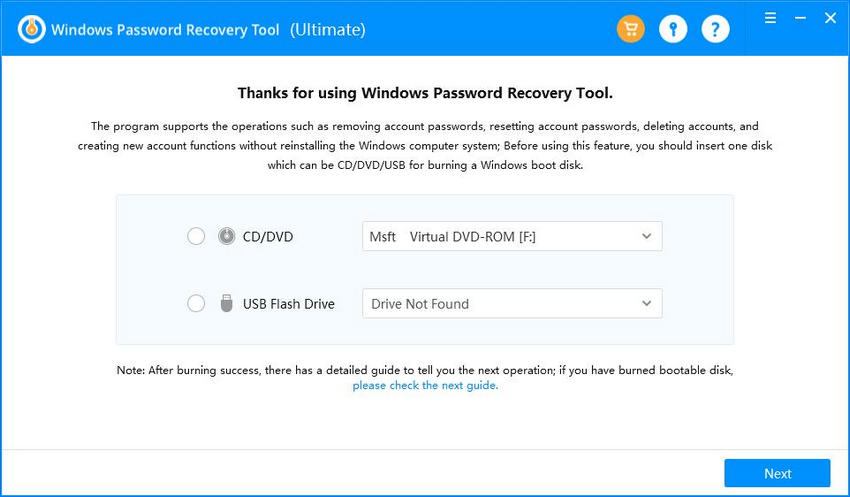 Step 2: Set Boot Settings and Boot Surface with UEFI BIOS from Bootable CD/USB
In UEFI-based Surface, your computer won't directly boot from CD/USB as soon as you insert the password reset disk into it. You need to make some changes in boot settings.
1. Power off the Surface – a reboot is not sufficient.
2. Insert the bootable CD/DVD/USB flash drive to Surface.
3. Press and HOLD the Volume UP button (on the left side of the tablet)
4. Press and HOLD the Power button for FIVE seconds (on the top of the tablet)
5. Release the Power button after five seconds but keep holding the volume button until you see BIOS UEFI
Then your Surface tablet will boot from the password reset disk you just inserted.
Step 3: Reset Lost Windows 10/8.1/8 Password for Surface Tablet with UEFI BIOS
This is the last step for UEFI based Surface Windows password reset. Select Windows installation you'd like to change password and then you will see 3 options: reset your password, remove an admin password or create a new account. Here we take reset password as an example. Select it and click "Next".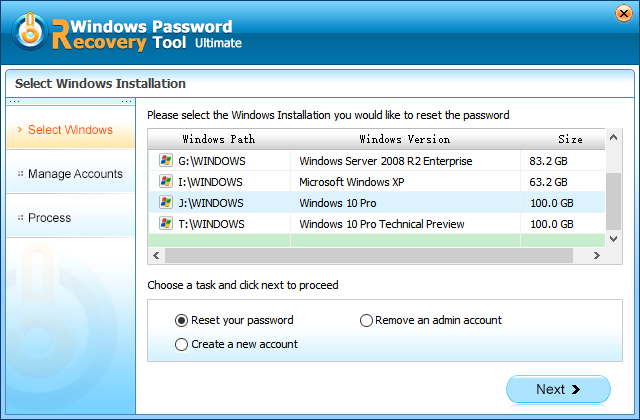 Select user you want to reset password for Surface PC tablet. Enter the new password you would remember and click "Next" to proceed. Click "Reboot" to restart your computer and you can log in successfully.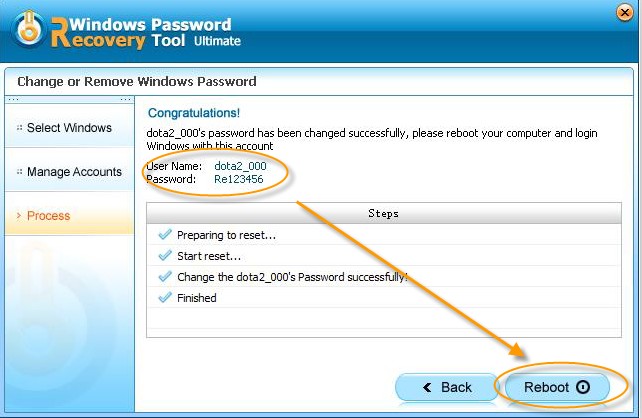 Then you can exit the bootable disk and reboot your tablet. Now your Surface tablet will restart and you can successfully unlock it when you lost Windows admin password on UEFI based Surface Tablet.
Free Try Windows Password Recovery Tool
World's 1st Windows Password Recovery Software to Reset Windows Administrator & User Password.
Free Download
Free Download