You may restore iPad backup for a variety of reasons such as saving data before iOS upgrading, restoring new iPad from old iPad's backup, and jail-breaking, losing iPad, etc. However if you forgot the backup password for iPad (iPad Air,iPad 4, iPad mini 2/mini, the new iPad, iPad 2, etc.), it is impossible to restore backups. Do we have to lose all important data in the iPad? I bet no one expect this. Then what should we do if we forgot iPad backup password? Is there a way to Recover iPad backup password?
This article explains to you in details how to unlock encrypted iPad backup with a easy to use iPad Backup password unlocker, which is specially designed to recover backup password for any iOS devices including iPad Air, iPad 4, iPad mini 2/mini, iPad 3, and iPad 2.
Free Download
Add iPad Key Container File
After download and install iPad Backup Password Unlocker on your computer, you then need to launch the program. On the interface of the program, press "Add" and the user-friendly program will lead you to the directory of the Key Container File. All you should do is to follow the wizard with several click of the mouse.
Select an Attack Type to Unlock Encrypted iPad Backup
Altogether you have three types of attacks to choose from, i.e. Brute-force Attack, Brute-force with Mask Attack and Dictionary Attack.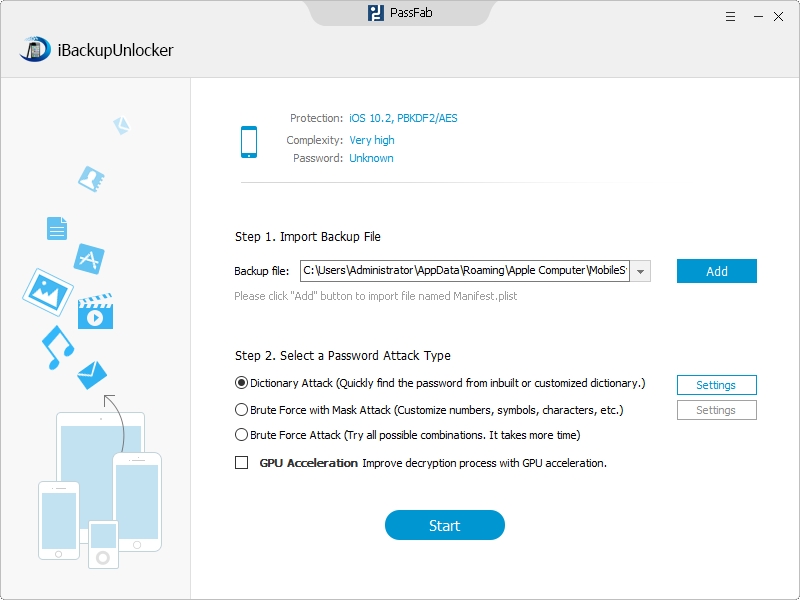 Choose Brute-force Attack if you don't recall anything of the lost backup password for iPad. If you remember minimal password length, maximal password length or special characters in the password, etc., you'd better choose Brute-force with Mask Attack. Choose Dictionary Attack if you are sure it is among your frequently used passwords, but you are just not sure which one it is. And in this case, you need to set up a text file as "dictionary" for the reference of the program.
After choosing attack type, don't forget to click "Setting" next to Type of Attack bar. However you don't need to do this if choose Brute-force Attack.
Set Options for the Selected Attack Type
For situation described in the beginning of the article, it is advised to use Brute-force with Mask Attack. And we take this for an example to demonstrate how to set options.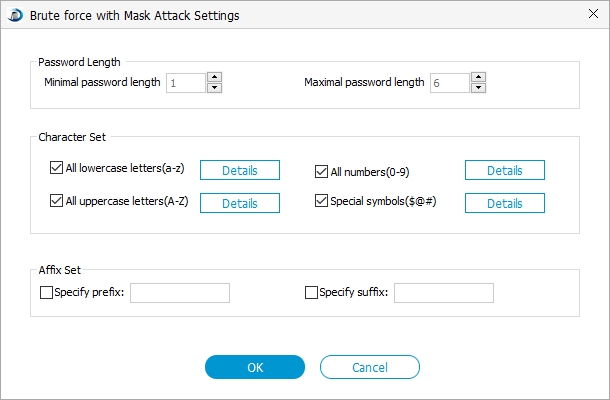 As we've known that it is a four-character password, we could set both minimal password length and maximal password length to "4". Then click "OK" when you finish setting.
Click "Start" to Crack iPad Password for Backup
The password recovery process will take some time, and the password will be displayed in a pop-up window.
As you've learned how to Retrieve iPad backup password, I believe you will never worry about the backups when upgrade iPad 4 from iPad 2. And if your other iOS device has backup password problem, don't forget to use backup passwords recovery to unlock iPad Backup Password.